Lloyd's of London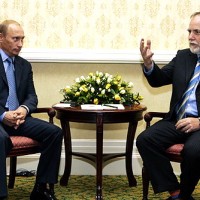 The money trail ends with Lloyd's of London but not for wealthy Americans; at least not for the last 20 years. According to their website, "Lloyd's has been a pioneer in insurance and has grown over 300 years to become the world's leading market for specialist insurance."Why bother trying to sell a worthless diamond when you can use Lloyd's London to borrow against it?Why would De Beers-German-South African Oppenheimers, one very small but super gun-money-diamond-power rich family continue to promote this September 5, 2006 photo taken in Johannesburg, South Africa

showing very skeptical looking President Putin very much in the diamond business bowing to De Beers head Nicholas Oppenheimer?

When one of Lloyd's of London's banks which is any bank in the world that recognizes by their actions that Oppenheimer is the mafia of mafia boss even if he is listed as only 139th on Forbes' richest billionaires, issues a certificate of insurance for a diamond, that certificate functions as a line of credit to borrow money from virtually any bank in the world. So regardless of the origin of your wealth, be it through theft, genocide, or pillaging Wall Street, Lloyd's of London will insure you but if you are an American you cannot invest with them.

The silence of our judges, politician-bankers, lawyers, all those who profit from war on the poor who are only economically poor because they don't have this information, and these hypocrites who have a lot to say about a law and order society that is necessary for justice to prevail, speaks volumes, the same with knowledgeable and credible Gary S. Gevisser's $4 million Texas DEATH SENTENCE that all the corrupt validate with their silence.

The numbers of senior American Government officials who have known about this most important 2 decade banning order by De Beers-Lloyd's is mind-boggling. The number of American soldiers killed and permanently disabled in defense of what they believed were freedom and liberty for all Americans is more than what the perpetrators and profiteers on this contrived War on Terror have sacrificed.

We should begin naming those American politician-bankers who remain unaware of this ploy by De Beers-Lloyd's to turn Americans on Americans CLICK HERE.
6,988 total views, 6 views today