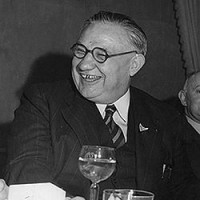 Origin
Born:March 9, 1881
Died: April 14, 1951
Location: Winsford in Somerset, England
Father: ?
Mother: ?
Wife: ?
Children: 1 daughter
Religion: ?
Education
Primary: Crediton, Devon (dropped out of school at age 9)
Secondary:
College:
Politics
Opposed to the plans of the Zionist movement to create a Jewish state, and supported the creation of a unitary and exclusively Arab-ruled state in western Palestine.
Political Career
January 1, 1922 – July 27, 1945: General Secretary of the Transport and General Workers Union
May 13, 1940 – May 23, 1945: Minister of Labour and National Service
July 27, 1945 – March 9, 1951: Secretary of State for Foreign Affairs
2,509 total views, 3 views today
Search
Most Talked About
Twitter Feed: Gary S. Gevisser
Welcome to the show :)

A chicken thinks of two things: can I eat it, can it eat me? youtu.be/5IhGaG8vp4M via @YouTube

I have something important to share with you and Viacheslav Fetisov regarding "money and resources". How can I reach you?

To: Texas @ACLUTx . You know you are fraud. A fraud can never hide its unhappiness from itself, not even when following me.

The blindness to the photo of Putin meet Uranium King, Nick Oppenheimer can be corrected to expose Africa's genocide. http://t.co/vIkOwpyPaI