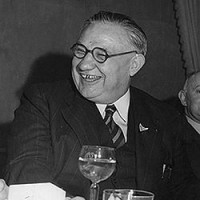 Origin
Born:March 9, 1881
Died: April 14, 1951
Location: Winsford in Somerset, England
Father: ?
Mother: ?
Wife: ?
Children: 1 daughter
Religion: ?
Education
Primary: Crediton, Devon (dropped out of school at age 9)
Secondary:
College:
Politics
Opposed to the plans of the Zionist movement to create a Jewish state, and supported the creation of a unitary and exclusively Arab-ruled state in western Palestine.
Political Career
January 1, 1922 – July 27, 1945: General Secretary of the Transport and General Workers Union
May 13, 1940 – May 23, 1945: Minister of Labour and National Service
July 27, 1945 – March 9, 1951: Secretary of State for Foreign Affairs
2,695 total views, 3 views today
Search
Most Talked About
Twitter Feed: Gary S. Gevisser
We are born on the same day! Don't you want to hear about more coincidences?

Climbing 2 rainbows youtube.com/watch?v=g4wDJX…

Welcome to the show :)

A chicken thinks of two things: can I eat it, can it eat me? youtu.be/5IhGaG8vp4M via @YouTube

I have something important to share with you and Viacheslav Fetisov regarding "money and resources". How can I reach you?