1902 Engelhard Minerals & Chemicals Corp. is Formed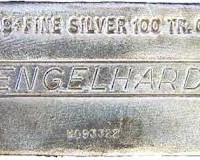 Who: Charles Engelhard Sr.
What: Begins building mineral empire starting in 1902 when he purchased the Charles F. Croselmire, subsequently founded the American Platinum Works in 1903 and acquired several other companies. In 1904, he purchased Baker & Co., a platinum smelting and refining business located in Newark and in 1905, he established Hanovia Chemical and Manufacturing Company also in Newark.
Where: Newark, New Jersey, USA
Why:  Engelhard became the world's largest refiner and fabricator of platinum metals, gold and silver, a producer of silver and silver alloys in mill forms, operator of the world's largest precious metals smelter. They also developed liquid gold for decorative applications.
The Golden Rule: He who has the gold, makes the rules.
2,319 total views, 3 views today