1913 December 23 Federal Reserve Act Signed into Law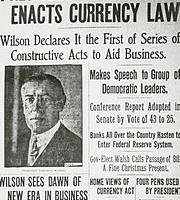 Who: Federal Reserve & US Government
What: Federal Reserve is granted control of the issuance and regulation of US currency.
Where: United States of America
Why: Provide a ready reserve of liquid assets in case of financial panics and would also provide for a currency that could expand and contract as the seasonal U.S. economy dictated.
Where: USA
Player: JP Morgan, co-founder of the Federal Reserve
Player: JD Rockefellar, co-founder of the Federal Reserve
Player: President Woodrow Wilson

1,900 total views, 3 views today
Search
Most Talked About
Twitter Feed: Gary S. Gevisser
We are born on the same day! Don't you want to hear about more coincidences?

Climbing 2 rainbows youtube.com/watch?v=g4wDJX…

Welcome to the show :)

A chicken thinks of two things: can I eat it, can it eat me? youtu.be/5IhGaG8vp4M via @YouTube

I have something important to share with you and Viacheslav Fetisov regarding "money and resources". How can I reach you?