1917 September Formation of Anglo-American Corporation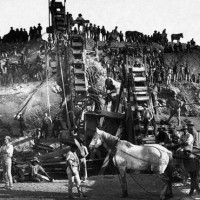 Who: Ernest Oppenheimer & JP Morgan
What:
Where:
Why: Stock pile diamonds to leverage control of the DeBeers Diamond Cartel.
Player: Ernest Oppenheimer
Player: JP Morgan, co-founder of the Federal Reserve
2,061 total views, 3 views today
Search
Most Talked About
Twitter Feed: Gary S. Gevisser
There is an important photo I wish to send you that shines the greatest light on the fate of the outcast

Why wouldn't you have discovered the concept of 2? It is like a chemical reaction; wouldn't you make the same con… twitter.com/i/web/status/9…

Conrad Strauss | Who's Who SA whoswho.co.za/conrad-strauss… via @WhosWhoSA

... everyone is looking for the "deeper truth" and it is sitting there right in front of our faces; the unimpossible dream.

Do you want to see the most wildly imaginative world is the most real; more surreal than you would ever imagine?