1931 De Beers Shuts down the only US Diamond Mine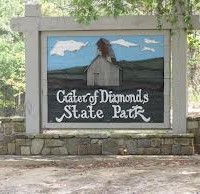 Who: De Beers Syndicate, US Justice Department
What: De Beers hires US based attorneys to shut down the only diamond mine located on US soil.
Where: Arkansas, USA
Why: Without a diamond mine, the United States would be forced to use De Beers for all industrial diamonds needed for mass production of war machines. De Beers was able to get the Arkansas land to be declared a state park, thus preventing large scale commercial mining.
2,226 total views, 3 views today
Search
Most Talked About
Twitter Feed: Gary S. Gevisser
We are born on the same day! Don't you want to hear about more coincidences?

Climbing 2 rainbows youtube.com/watch?v=g4wDJX…

Welcome to the show :)

A chicken thinks of two things: can I eat it, can it eat me? youtu.be/5IhGaG8vp4M via @YouTube

I have something important to share with you and Viacheslav Fetisov regarding "money and resources". How can I reach you?