1935 September 15 Nuremberg Laws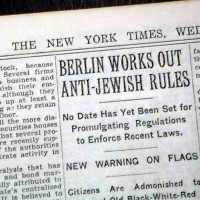 Who: German Nazis
What: Denaturalization laws passed in Nazi Germany. They used a pseudoscientific basis for racial discrimination against Jewish people. The laws classified people as German if all four of their grandparents were of "German blood" (white circles on the chart), while people were classified as Jews if they descended from three or four Jewish grandparents (black circles in top row right). A person with one or two Jewish grandparents was a Mischling, a crossbreed, of "mixed blood".
Where: Germany
Why: To define Jews as inferior people, setting the stage for further persecution and genocide.
4,513 total views, 3 views today
Search
Most Talked About
Twitter Feed: Gary S. Gevisser
There is an important photo I wish to send you that shines the greatest light on the fate of the outcast

Why wouldn't you have discovered the concept of 2? It is like a chemical reaction; wouldn't you make the same con… twitter.com/i/web/status/9…

Conrad Strauss | Who's Who SA whoswho.co.za/conrad-strauss… via @WhosWhoSA

... everyone is looking for the "deeper truth" and it is sitting there right in front of our faces; the unimpossible dream.

Do you want to see the most wildly imaginative world is the most real; more surreal than you would ever imagine?