1938 November 9 "Kristallnacht"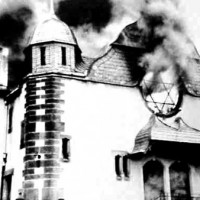 Who: Nazi coordinated attack.
What: 100 Jews killed, 30,000 sent to concentration camps, 7000 Jewish owned shops and 1668 synagogues were pillaged and destroyed.
Where: Germany
Why: To kill those that are taught to question authority and that could pose a threat to the ruling parties.
2,173 total views, 3 views today
Search
Most Talked About
Twitter Feed: Gary S. Gevisser
Conrad Strauss | Who's Who SA whoswho.co.za/conrad-strauss… via @WhosWhoSA

... everyone is looking for the "deeper truth" and it is sitting there right in front of our faces; the unimpossible dream.

Do you want to see the most wildly imaginative world is the most real; more surreal than you would ever imagine?

We are born on the same day! Don't you want to hear about more coincidences?

Climbing 2 rainbows youtube.com/watch?v=g4wDJX…