1939 June 4 MS St Louis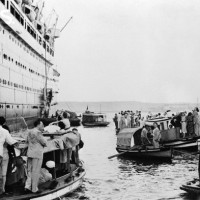 Who: 939 Jewish Immigrants fleeing Nazi Europe
What: US President Roosevelt refuses to provide political asylum to Jewish passengers aboard the MS St. Luis and threatens to impose trade sanctions on Cuba and Canada if they were to provide the MS St. Luis safe harbor.
Where: USA, Cuba, Canada
Why: Vehement opposition came from Roosevelt's Secretary of State, Cordell Hull, and from Southern Democrats — some of whom went so far as to threaten to withhold their support of Roosevelt in the 1940 Presidential election if he allowed any passengers to enter the US.
2,851 total views, 3 views today
Search
Most Talked About
Twitter Feed: Gary S. Gevisser
Why wouldn't you have discovered the concept of 2? It is like a chemical reaction; wouldn't you make the same con… twitter.com/i/web/status/9…

Conrad Strauss | Who's Who SA whoswho.co.za/conrad-strauss… via @WhosWhoSA

... everyone is looking for the "deeper truth" and it is sitting there right in front of our faces; the unimpossible dream.

Do you want to see the most wildly imaginative world is the most real; more surreal than you would ever imagine?

We are born on the same day! Don't you want to hear about more coincidences?