1939 May 17 The White Papers of 1939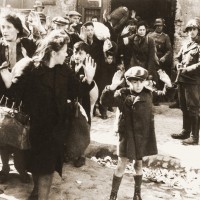 Who: United Kingdom & United States
What: Limited immigration of Jews to 10,000 per year and prevented the legal importation of weapons.
Where: Palestine
Why: The White Papers were established and enforced at the same time that European antisemitism was reaching critical mass; limiting emigration into Palestine to 10,000/year at a time when Auschwitz was killing Jews at a rate of 10,000/day. The limitation of Jewish immigrants reflects the antisemitism of the United Kingdom and the United States who were enforcing the White Papers.
2,374 total views, 3 views today
Search
Most Talked About
Twitter Feed: Gary S. Gevisser
We are born on the same day! Don't you want to hear about more coincidences?

Climbing 2 rainbows youtube.com/watch?v=g4wDJX…

Welcome to the show :)

A chicken thinks of two things: can I eat it, can it eat me? youtu.be/5IhGaG8vp4M via @YouTube

I have something important to share with you and Viacheslav Fetisov regarding "money and resources". How can I reach you?