1942 October 20 Trading with the Enemy Act Enforced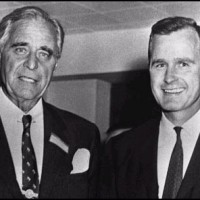 Who: Prescott Bush
What: US government seizes US $2 million from Prescott Bush.
Where: USA
Why: Under the Trading with the Enemy Act, the United States government seized Prescott Bush's assets from business dealings profiting from Jewish slave labor along side Nazi investors and banks.
Note: Due to political connections, all of the assets seized under the 'Trading with the Enemy Act' were returned to Prescott Bush following the end of World War II.
2,493 total views, 3 views today
Search
Most Talked About
Twitter Feed: Gary S. Gevisser
We are born on the same day! Don't you want to hear about more coincidences?

Climbing 2 rainbows youtube.com/watch?v=g4wDJX…

Welcome to the show :)

A chicken thinks of two things: can I eat it, can it eat me? youtu.be/5IhGaG8vp4M via @YouTube

I have something important to share with you and Viacheslav Fetisov regarding "money and resources". How can I reach you?