1942 October 20 Trading with the Enemy Act Enforced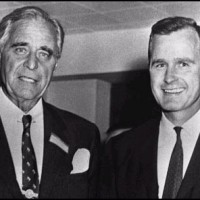 Who: Prescott Bush
What: US government seizes US $2 million from Prescott Bush.
Where: USA
Why: Under the Trading with the Enemy Act, the United States government seized Prescott Bush's assets from business dealings profiting from Jewish slave labor along side Nazi investors and banks.
Note: Due to political connections, all of the assets seized under the 'Trading with the Enemy Act' were returned to Prescott Bush following the end of World War II.
2,700 total views, 3 views today
Search
Most Talked About
Twitter Feed: Gary S. Gevisser
Why wouldn't you have discovered the concept of 2? It is like a chemical reaction; wouldn't you make the same con… twitter.com/i/web/status/9…

Conrad Strauss | Who's Who SA whoswho.co.za/conrad-strauss… via @WhosWhoSA

... everyone is looking for the "deeper truth" and it is sitting there right in front of our faces; the unimpossible dream.

Do you want to see the most wildly imaginative world is the most real; more surreal than you would ever imagine?

We are born on the same day! Don't you want to hear about more coincidences?