1948 May 26 National Party Takes Control of South Africa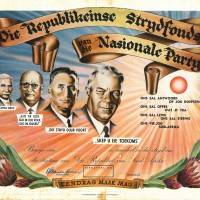 Who: Daniel François Malan & National Party
What: National Party lead by Daniel François Malan is "voted" into power in a general election.
Where: South Africa
Why: Upon taking power, the fascist/Nazi-like National Party began to implement a program of apartheid — the legal system of political and social separation of the races – a policy intended to maintain and extend political and economic control of South Africa by the white minority.
Note: The United States "opposed" the South African Apartheid government with trade sanctions but allowed US businesses like Engelhard Minerals and Chemicals Inc. to profit from the slave labor that the Apartheid government provided.
5,976 total views, 3 views today
Search
Most Talked About
Twitter Feed: Gary S. Gevisser
There is an important photo I wish to send you that shines the greatest light on the fate of the outcast

Why wouldn't you have discovered the concept of 2? It is like a chemical reaction; wouldn't you make the same con… twitter.com/i/web/status/9…

Conrad Strauss | Who's Who SA whoswho.co.za/conrad-strauss… via @WhosWhoSA

... everyone is looking for the "deeper truth" and it is sitting there right in front of our faces; the unimpossible dream.

Do you want to see the most wildly imaginative world is the most real; more surreal than you would ever imagine?