1st filings with Texas State Court on April 1, 2010 – Part V
http://assets.2facetruth.com/content/pdf/4211.pdf
From: Gary S Gevisser
Date: April 1, 2010 6:42:37 PM PDT
To: "Alan Loewinsohn Esq. – Dallas, Texas based attorney for CIA Charles Knuff"
Cc: "Patrick. J. Fitzgerald – US Attorney fitzgerald" , Adam Lee Tucker , FBI – San Diego , DonStidham@stepac.com
Subject: 4211 – Fwd: Footnote:Reference Number 2010-17988 -Response to Citation No.:DC-10-02004-
2 UPS packages were overnighted at 5pm PDT to your law offices and the Texas State Court.
Included in both are hardcopies of the response email-s – CLICK HERE – I sent you earlier as well as 2 CDs. One a CD of the response and the other Adam Lee Tucker's "deposition" detailing his meeting on December 23rd, 2008 with your client, Mr. Knuff, which he did on my last birthday, March 24th.
The CD with my response will allow the judge/court to click on the hyperlinks and peruse 2FaceTruth.com. If there is anything more I should do pleases advise. See Twitter on 2FaceTruth. Ps – My prior email to the "Footnote" below went out at 2:22:41.
My last phone to my French-Canadian wife visiting with her family Canada, which was to her cell phone 1-858-WIL-NEXT was at 2:42. Today date is4.1.2010
The Citation number assigned by the State of Texas to this very important Defamation Lawsuit that will put all honest people, meaning those in a search for the truth and who are willing to be tested on it 24/7, on a fast track to everlasting prosperity and peace is "CD" [sic] 10-02004.
4 digits 1421 when added or multiplied result in the same number 8 which is "lucky" to the Chinese. 1421 THE YEAR CHINA DISCOVERED AMERICA is a non-fiction book. 11 is the number of our Stone Home/cabin in the Cleveland National Forest.
42 is the number stamped on top of 2 nails we found hanging on an inside wall when we purchased it in the fall of 2002.
How many coincidences does it take before it is no longer a coincidence?
Does it make a difference to you that it is me telling you that there is no such thing as a single coincidence, versus you telling yourself that?
Does it make any difference in your life knowing that you do not have truth on your side?
The fact that I don't feel the need to convince anyone that there is an Intelligent Designer, versus Intelligent Design, that is very equivocal, should have you thinking more, what you hope to achieve.
The last I heard from my webmaster Adam Lee Tucker was at 8:20 am on Tuesday, the day after we last met at the E. Street Cafe in Encinitas, Calif, when he handed me the CD containing his "deposition" as well as have me insert into my Apple laptop a flashcard that he later told me belonged to his current Israeli-British owned multi-national conglomerate and which I still have; and now that I have had my computer and the flashcard checked out, I am more than happy to hand this less than a $100 item over to his employer Stepac.
You would know that you can reach Mr. Tucker through his immediate boss Mr. Stidham – DonStidham@stepac.com
The email at 8:20 reads, "I am not at home anymore. It will have to be tomorrow."
The "it" he was referring to was my digital equipment he used to do the videotaping of his "deposition." He was supposed to drop it off at the E. Street Cafe yesterday.
I just called the E. Street Cafe and they don't see to have it.
What do you suggest?
PS – do you have any idea how beautiful things look to me right now, and you would agree the only missing that is so perfectly at one with Mother Nature- God-Logic is my one-of-a-kind French-Canadian wife who did a marvelous job, I believe, in putting the finishing touches to my response; all the while she and her elder nurse sister are taking care of their most beautiful 86 year young mother Rachelle Dion who I had the best conversation with earlier.
Would you believe me when I tell you that the surf in front of the cliff house just a moment ago look just like Master painter-teacher Sebastian Capella's
"signature piece" – The wave catches my peripheral vision as I look out and see God.
Do you know how important it is when you know that the infinite universe that we think it is out there is in fact finite; that there is this one Omnipotent Power.
Think.
You have to know I am right.
Your gut and every other part of your body tells you so.
I cannot imagine what it must feel like to know, versus believe, you have lost the game of life; and here I am telling you that in person; and when I am long dead you and others will remember I provided you all the evidence of this One Power long before you read it in a book.
Hope to see you in court, better yet here in California where you know this lawsuit belongs, which still begs the question, what are you all up to?
Remember, you have every crooked lawyer and non-lawyer rooting for you.
Even if you had every human on the planet backing you, you are still backing the wrong horse. Begin forwarded message:
From: Gary S Gevisser
Date: April 1, 2010 2:56:23 PM PDT
To: "Alan Loewinsohn Esq."
Cc: "Patrick. J. Fitzgerald – US Attorney fitzgerald" , Adam Lee Tucker , FBI – San Diego < san.diego@ic.fbi.gov >
Subject: Footnote: Reference Number 2010-17988 -Response to Citation No.:DC-10-02004- Footnote:
The people who have "hijacked" my name and purchased the two websites garygevisser.com and garysgevisser.com, have placed up on garygevisser.com a "doctored"
photograph – placing the word, "SHITHOUSE" just below the name of the 42 B.GEVISERIS 42 small shop – which is the only photograph we have of our family who were all murdered by the Nazis during The Holocaust.
The original photo is below: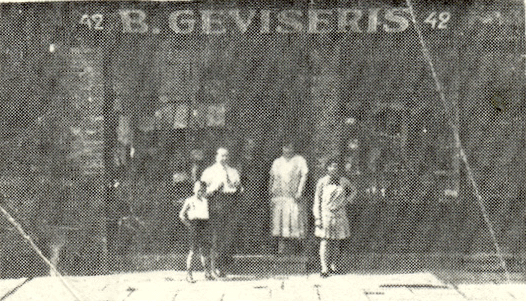 1,595 total views, 6 views today