inCITE
From: Gary S Gevisser
Date: February 8, 2012 10:27:51 AM PST
To: "Shane, Scott" , scottfrancie@gmail.com
Subject: Re: READER MAIL: Scott Shane
Do you have any problem with me copying individuals such as Mr. Jeffrey R. Krinsk Esq., a very skilled and experienced shareholder class action litigator with whom I have had a going on 13 year intimate relationship?
Suffice to say this communication below from him back in March 2001 speaks for itself: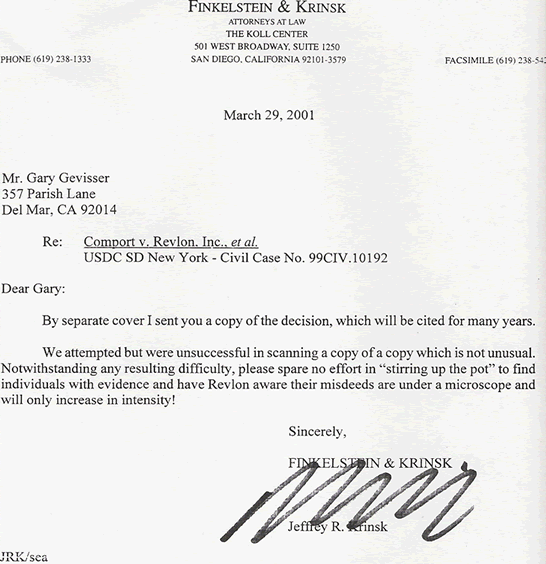 Also, should I stop using your New York Times email address?
On Feb 8, 2012, at 9:20 AM, Shane, Scott wrote:
You can send something to my personal email, if you like (please don't spread it around!):
scottfrancie@gmail.com
Scott Shane
New York Times
Washington Bureau
202-862-0305 office
443-834-3648 cell
shane@nytimes.com
—–Original Message—–
From: ordercs@nytimes.com [mailto:ordercs@nytimes.com]
Sent: Wednesday, February 08, 2012 12:10 PM
To: Shane, Scott
Subject: READER MAIL: Scott Shane
Email: garyniod@gmail.com
URL:http://www.nytimes.com/2012/02/06/world/asia/army-colonel-challenges-pentagons-afghanistan-claims.html?src=mv&ref=world
Comments:Is their a private email I can communicate with you?
Suffice to say I provided Lt. Col. Davis a couple of days ago a "smoking gun" email that any genuine whistle blower in the US military would have gone "ballistic".
2,251 total views, 3 views today