A conversation with Snowden's Guardian protector-Re
From: GaryStevenGevisser <garystevengevisser>
Subject: A conversation with Snowden's Guardian protector-Re: You have something infinitely beautiful going on – Re: James Carroll won't be replying to email until late July – Re: Due Process-Fwd: Pass-Re: American Security Project Advisory Board-Fuck-What is the right thing to do? – Fwd: loewinsohn contributions to easiest to bribe Democratic Party
Date: July 14, 2013 10:22:47 PM PDT
To: "thetonightshow" <thetonightshow>
Cc: rest; Annabel Linder – South African Radio Talk Show Host – hosts, "EDITOR" <EDITOR>, "ESSAKOW" <ESSAKOW>
Begin forwarded message:
From: GaryStevenGevisser <garystevengevisser>
Subject: A conversation with Snowden's Guardian protector-Re: You have something infinitely beautiful going on – Re: James Carroll won't be replying to email until late July – Re: Due Process-Fwd: Pass-Re: American Security Project Advisory Board-Fuck-What is the right thing to do? – Fwd: loewinsohn contributions to easiest to bribe Democratic Party
Date: July 14, 2013 7:48:51 PM PDT
To: charles ivie <charles.ivie8>
Cc: rest; Michael <michael>, Jonathan Beare – founder Investec <jbeare>, "Andile Madikizela – First cousin of Winnie Mandela and close confidant of Nelson Mandela who acknowledged in private meetings with Andile of his knowledge that the CIA turned him in to the South African Apartheid Regime during the Kennedy Administration." <mad11a>, "lynnebentel" <lynnebentel>, "bool.smuts" <bool.smuts>, "Geoffrey Rothwell – Principal Economist at OECD Nuclear Energy Agency of the Organisation for Economic Cooperation and Development – Professor Stanford University – World authority on the pricing of uranium." <geoffreyrothwell>, NANCY SPIELBERG <nancyspielberg>, Tumi Makgabo <yourevent>, "Jann Turner – daughter of Richard Turner murdered in Durban, South African on January 8, 1978, 119 days after his co-founder of The Durban Movement, Steve Biko was tortured to death, beginning on September 11, 1977. 8" <jann>, "Hlumelo Biko – son of Steve Biko, now running a Wall Street charity-investment portfolio. 11" <ali.ayala>, "Devin Standard – eldest son of former President of New York State Bar Kenneth Standard." <devinstandard>, Laura Malter – ex CIA <lauramalter>, Chief Rabbi of South Africa Goldstein <office>, "danqal8y" <danqal8y>, "david.altman" <david.altman>, "Rock legend Cyndi Lauper – referenced in VP Dan Quayle's response to Major Sam Samples on December 9, 2011." <cl.dreams>, "psc" <psc>, "alanl" <alanl>, Alan Dershowitz – Harvard Law School <dersh>, Noam Chomsky – I AM movie <chomsky>, Adam Lee Tucker – Alternate email address <adamtucker619>, "United Sec. of State John Kerry ℅ Jeffrey R. Krinsk Esq. Krinsk" <jrk>, Tefo Mohapi <g00g0lpl3x>, "The coupon clipper is the Jeffrey Jack The Ripper Essakow – co-owner of the Marc Rich and Co. Flower Hill Mall, Solana Beach, California" <jessakow>, "Adele Strous Im not interested in history of Israel Clingman – wife of CIA oil trader Alan Clingman and business partner of Roy Essakow-Marc Rich and company." <adelec>, Adam Hochschild – author of Blood & Treasures – founder of Mother Jones <adamhochschild>, Roy Essakow – Marc Rich Lieutenant <ressakow>, "Patrick K. Tillman Sr. Esq. – father of American Football athlete Pat Tillman who was killed by friendly fire in Afghanistan." <pat>, "ron.bellows" <ron.bellows>, "Patrick. J. Fitzgerald – US Attorney – prosecuted successfully Presidential Pardoned Marc Rich's attorney, Scooter Libby." <patrick.j.fitzgerald>, "james.carroll43" <james.carroll43>, Matthew Margo – CBS senior attorney <matthewmargo>, 60 Minutes <60m@GGreenwald>, "jphillips" <jphillips>, "acluinfor" <acluinfor>, Keisha Whitaker – wife of Forest Whitaker <kbabies1>, "Newell The Big Lie Starks – Citicorp Venture Corporation officer." <newell>, Michael The Big Lie Grant <mageph520>, Neil Gevisser <neil>, US Marine – Corporal Kevin Gipe <kevingipe>, Matthew Hoh – former US Captain who resigned from US State Department <ggreenwald>, "Rabbi Capers C. Funnye – close cousin of First Lady Michelle Obama who is married to President OBAMA" <ravfunnye>, ggwms, "gwen.anderson95" <gwen.anderson95>, rwrincorp, Kingdelmar, letters, letters, "glenn.greenwald" <glenn.greenwald>, trilateral.valder, "lbagley" <lbagley>
You realize that your incoherent writings reflect the minds of the world's most powerful and richest individuals, who wished that you would simply be quiet, but you couldn't help yourself because Coward Awerbuch's heavily broadcasted response sent you into a tailspin.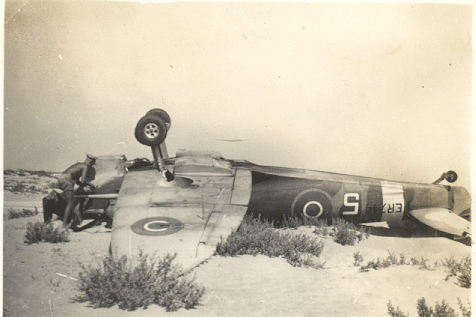 When in 1995, at age 38, and just beginning to date my future French-Canadian wife Marie Dion who is busy carpentering the most beautiful wooden box, I refused the offer to manage the world's richest and most powerful estate that was controlled by my father's first cousin David Gevisser [1926-2009], I understood the merits of not being a "household name" to keep "testing the waters" to find the very first person who would prefer to be dead than live among fools who feel boxed in because it is out of choice that they have never thought out of the box as much as they profess otherwise; and so did David Gevisser who only began to let the world know with his 2006 memoir, THE UNLIKELY FORESTER – click here – how unimaginably rich and powerful he was, long after his 4 year reign as Chief Executive Officer [1970-1973] of Engelhard Enterprises South Africa which had the power to do exactly what it's officials wanted the very moment its founder, German-American Charles W. Engelhard Jr. [1917-1971] began selling off his South African assets to the "Liberal Democrat" German-South African Harry Oppenheimer, and there was not a single American, including leader of the "Liberal Democrat" Kennedy clan, Senator Ted Kennedy who "cried foul".
Jump back to 1985 when Senator Ted Kennedy visited Apartheid South Africa and received the most "cold shoulder" from the last remnants of the South African resistance.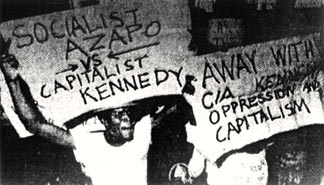 You have heard the words before, "A picture tells a thousand words".
What do you think became of those non-White South Africans?
You didn't hear Steve Biko crying out on their behalf because Biko was tortured to death by the CIA-US State Department beginning on September 11, 1977 and then his partner in the Durban Movement, Richard Turner was shot through the window of his home 119 days later, and bled to death in the arms of his 13 year old daughter.
Were you aware that when kill off all the resistors, the bloodshed stops and the crime rate drops?
Try reaching the Azanian Research Project, – CLICK HERE – who published the May 1986 pamphlet in remembrance of the 1976 Soweto Riots. They are non-existent.
Try reaching white Jewish South African Sandy Jacobson who is the exact same relation as I am to David Gevisser.
She was tortured to death in South Africa right before David Gevisser published his 2006 memoir in what D. Gevisser intimates was a retaliation going back to when Sandy was an active member of the military wing of the ANC whose puppets, starting with Mandela have always known that David Gevisser was lying through his teeth when stating that he and his most vocal son Mark were opposed to their and their major benefactor, Protestant-Roman Catholic Charles W. Engelhard Jr.'s Apartheid Regime.
You cannot possibly say as David Gevisser did in his memoirs, that he supported the "armed struggle" of the ANC against the Apartheid Regime and be taken seriously,
Cutting and pasting – THE UNLIKELY FORESTER – CH 2 – MY FAMILY – GROWING UP IN DURBAN – click here.
Sandy had an unusual history for anyone of her background. She joined Umkhonto, the armed wing of the ANC, and saw very active and dangerous service. She and her husband retired to a farm outside Johannesburg after the Mandela miracle. She was recently found tortured and murdered in circumstances which are as yet unexplained, but thought to be connected with internal ANC feuds that dated back to the years of the struggle. Stephen has emigrated to Australia.
The only thing that was a miracle about the "Mandela Miracle" was how effective De Beers have been in silencing all opposition, most of whom have received no compensation, but their oversized egos prevent them from first coming clean with their immediate family members who they know are all about money even when they say they are not, which De Beers-Sir Ernest Oppenheimer figured out right at the start of The Diamond Invention.
It really is not a good thing the fact that the vast majority of you are deep down rooting for De Beers and hoping that they will find a way to have me silenced once and for all, which has you quite content living with your despicable behavior and knowing that the information of who knew what and when continues to get out, and not one of you have the voice to actually write and intimidate the likes of Snowden and Greenwald to join you in your misery because you can only give me the "silent treatment" at the same time Greenwald-Snowden and others only just learning about The Diamond Invention outrage are in that better position to work an alternative plan amongst those who have not yet become FOOLS NAMES FOOLS FACES IN PUBLIC PLACES; i.e. 2facetruth.com's $HIT list that of course needs updating.
It is also not smart unless it results in more of you changing your minds and following that much closer in the footsteps of people like my FB "friends", Black American Rabbi Caspers Funnye and Lynn Bentel; and never to forget my buddy, Geoffrey Rothwell who understands well the Russian-South African connection.
If Mr. Putin is providing Mr. Snowden safety until he reaches safety in a De Beers "free zone", then maybe Mr. Snowden wants to show Mr. Putin the photo of him and De Beers head Nicholas Oppenheimer taken in Johannesburg, South Africa on September 5, 2006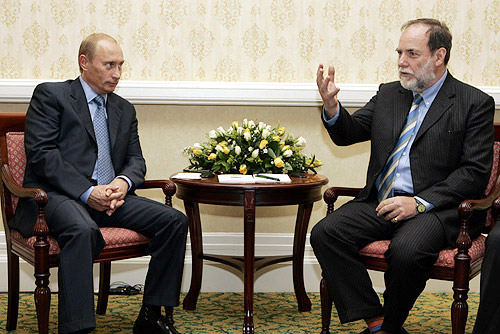 which shows a most sinister picture.
You are a Headline News junkie, just like every member of the "common herd". For a great many hours the name Glenn Greenwald has become a "household name" around the world.
Fugitive former U.S. spy contractor Edward Snowden controls dangerous information that could become the United States' "worst nightmare" if revealed, a journalist familiar with the data said in a newspaper interview.

Glenn Greenwald, the Guardian journalist who first published the documents Snowden leaked, said in a newspaper interview published on Saturday that the U.S. government should be careful in its pursuit of the former computer analyst.

"Snowden has enough information to cause harm to the U.S. government in a single minute than any other person has ever had," Greenwald said in an interview in Rio de Janeiro with the Argentinian daily La Nacion.

"The U.S. government should be on its knees every day begging that nothing happen to Snowden, because if something does happen to him, all the information will be revealed and it could be its worst nightmare."

Snowden, who is sought by Washington on espionage charges after revealing details of secret surveillance programs, has been stranded at a Moscow airport since June 23 and is now seeking refuge in Russia until he can secure safe passage to Latin America, where several counties have offered him asylum.
Look at the time on your computer clock and compare it to the time you see in the email below which I sent Greenwald after he first replied, "Yes, or I can give you a PGP key if you use encrypted mail" after I first sent him at 12:08 PM, "I have information on people more senior to Snowden. Is this the best email address to share the information?"
From: GaryStevenGevisser <garystevengevisser>
Subject: Re: I have information on people more senior to Snowden.
Date: July 14, 2013 1:37:59 PM PDT
To: Glenn Greenwald <Glenn.Greenwald>

I am quite comfortable in using regular email because I [trust] that you will act quickly and responsibly with the information I am about to give you.

First, here is some background on myself. I am 56. When I was 38 [1995] I was offered by the "male heir" – click here – of German-American Charles W. Engelhard Jr. [1917-1971] to manage the world's richest and most powerful estate which included control of all the world's strategic mineral resources. When you click on the previous hyperlink taking you to chapter 18, THE AMERICAN CONSPIRACY of The Diamond Invention book, first written in 1978 by highly respected investigative journalist Edward Jay Epstein, you do not see the word "platinum" because Engelhard Jr. did not like the "title" he inherited, "Platinum King" when his father of the same died in 1950. [It is not important right now] why I refused such an unimaginably rich offer which I could have easily asked for given how by this time I had the "goods" on my "lucky uncle" David Gevisser who Engelhard Jr. made his Chief Executive Officer in 1970 when Engelhard Jr. knew he was dying and needed someone he could trust to finish off the transfer of his mineral rich South African assets to his German-South African partner, Harry Oppenheimer who is mentioned in chapter 18 executing a most extraordinary meeting with President elect John F. Kennedy whose younger brother, Senator Ted Kennedy, along with former President Lyndon Johnson and Vice President Humphrey showed up at Engelhard Jr.'s funeral at St. Mary's Abbey Church, New Jersey following Engelhard's death on March 2, 1971, having turned just 54 the month before.

No, I am not writing a fiction spy novel or about to ask you for a donation, which inevitably comes from all the very carefully orchestrated email rackets.

Snowden was over his head the moment he decided to speak out, the same with Daniel Ellsberg who released the Pentagon Paper in March 1971 to the New York Times who began publishing them in June 1971, one month prior to Henry Kissinger's not so secret visit to China that preceded by one month President Nixon informing the world on August 15, 1971 that the United States was officially going off the Gold Standard, and replacing gold which cannot be eaten and nor can it be reproduced in machines and is very difficult to mine, would be worthless, price fixed, and unlimited in supply diamonds.

In 1995 I was an expert in more than perfectly understanding how all the government currencies that we mostly use to barter with is valued as well as distributed, and of course how it is distributed has a significant impact on the value of all the world's currencies.

I also knew that just like most business meetings are about meeting for the next meeting when the decisions taken ahead of the meetings are simply rubber-stamped, when a government agency like the Pentagon produce the Pentagon Papers that place the US Government in the most negative light, the principal goal is to have them leaked at the perfect time, and to find the right person with the "bad conscience".

This Snowden affair is a distraction from something far more ominous which the US government knows how very easy it is to fix; but to those who profit from war which helps keep the people that much more living in fear, peace is war on their profits.

Would you like to hear more, or do you just want to meet?

Gary
Between when you responded yesterday at 10:16AM when you chose once again not to hit the "reply all" and when you got your copy of Michael "The Coward" Awerbuch's response which had him hitting the "reply all", you had a lot to think about.
I include those 40 individuals first in the cc section up to and including your spouse-partner Gwen Anderson.
You can thank The Coward for driving you off the "deep end".
Your thinking is that because you give him support which is to support war on the poor who are only poor because they are poorly informed and also much poorer than you and your spouse's combined holdings which include a roof over your head as well as two desks for the two of you to punch away at your laptop keyboards, that he will act rationally and follow your lead when knowing when is the best time to stop hitting the "reply all" button.
No matter how many FB "friends" an irrational person has, it will not have them behaving rationally, and why you felt the need to show that you are no longer quite as aligned with Coward Awerbuch when stating, "I stand alone".
Ever since Awerbuch began to attack me publicly you began showing your comradeship by not only hitting the "reply all" but endorsing most of his points of view without ever once condemning his trash talk.
There is no need now to rehash all of that because the digital record is clear.
You sleep with dogs, you get fleas
Dogs must be God's principal vehicle for guiding each of us and when we pay careful attention, we cannot go wrong.
Coward Awerbuch didn't mention in his not exactly brief response that there is nothing prohibiting you from asking him to be your 7th Facebook "friend" prior to you deciding to disable your account because it is all getting too "out of hand", just in case he were to decide to visit his FB account that much sooner than "once every 2 months."
Even the dumbest of you wouldn't believe that nonsense, given how it takes quite a bit of effort for even rational humans to accumulate 661 Facebook "friends". Just look at the difficulty you are having finding your 7th FB "friend", and you still haven't deleted yourself as one of your existing FB "friends".
My goal with my 57 FB "friends" is to learn from the best and worst of them, and to share that knowledge with everyone including all their FB "friends". I am exceedingly happy with my progress.
What are your goals and how would you rate your performance?
We all know that The Cowards mind is very busy because it is working overtime to keep that much better track of his lies which has his few remaining neurons exploding uncontrollably which you see in his writings and which you picked up on cue.
Please don't go on in this fashion unless you feel that my request will have you that much eager to prove me wrong.
Marie says, "You should eat more alfalfa" which might improve your sex life as well as your partners.
Of course she was not talking to you. She has given up on you, the same with a great many out there who continue of course to help get the information out including Tordu Awerbuch who has managed to accumulate his huge number of FB "friends" while accessing his Facebook "maybe once every 2 months" because he is so busy trying to keep track of which of his friends take him to be a joke or big joke, don't you agree?
His oldest and "best friend" remains Lynn Karen Bentel, one of my first girlfriends, and who has now 143 FB "friends" including me and The Coward who would surely know that Lynn continues to allow me to post up on her FB "wall".
You can still see my 2 postings from Friday that include the full list of those The Coward included in the cc section when hitting the "reply all".
Let us now look again at his last heavily broadcasted 79 odd word communique sent on July 12 at 6:51:07 PM PDT:
Gary Prize Prick Clown

Please thank Charles for exposing to you, that only 9 people from your list actually receive your same story every week.

Facebook this and friends that and he said and she said…….and also Oppenheimer, Debeers Diamonds and that crap u preach.

Chales we have mever met, but when I get to my facebook.:

.which is maybe once every 2 months I will certainly request your friendship.
Gary again……..please go and get some help.
Your 32 word response to me, again, only to me, 15+ hours later, must be examined as closely as the hot news item of today that has Glenn Greenwald dire straight warning.
i have done all for nothing, including your dirty work. i stand alone free and antigovernment, corporations, toxic relationships have cost me everything, and I don subscribe to any of it ever!
BTW, we all know that the US Government knows that there cannot be any more damaging information than the US Government's support of Nazi Germany whose great success in wiping out the best half of European Jewry led very quickly to the US Government's South African Apartheid Regime establishing a foothold in the world's mineral richest country and making absolutely certain that the only voices of Jewish people that were heard opposing the Apartheid Regime during their 46 year uninterrupted diamond studded iron fist rule, were Jewish puppets who were identical in every respect to the Jewish Kapos that Hitler's Nazi SS used to maintain order in the 300 death factories such as Auschwitz which murdered 2 million humans, the vast majority Jewish people, as well as the 42,500 slave camps that fed the death factories.
Nor should we forget that that the 6 million murdered were only guilty of being Jewish and the survivors and the generations that have followed have never once actively sought out prosecuting the principal perpetrators who came away with sufficient wealth to be most generous with those who actively supported them as well as those bribed to be quiet.
Were I to be killed tomorrow, do you think I waited too long to illustrate how unimpossible it is for there to be so many hypocrites who profess to the world that they actually care about doing the right thing, and their bodies tell them when commiserating with someone who is suffering either from illness or from abject poverty, a sincerity of being at one with their plight?
Look how long you have all known about this injustice of how the resources of the world are fraudulently allocated and your thinking remains that not a single individual like Snowden or Greenwald will have the courage to speak out because they are too concerned about keeping their job.
Assume for the moment that US Navy SEAL Commanding Officer Job Price did in fact commit suicide last December 23 because he out of the blue went insane, and the US military news blackout that immediately followed was because the investigation showed that he simply couldn't deal any longer with knowing that he was on the "wrong side", do you think he might have first emailed everyone he knew explaining all my knowledge, before pulling the trigger?
Logic-truth would tell all rational minds that he would have done exactly that.
Not every Special Forces Commanding Officer has committed suicide.
The fact that your minds cannot compute how impossible it is that not a single reporter anywhere in the world has reported on "my findings" convinces you of the impossible that because it hasn't happened, it won't happen.
You keep forgetting that when living in denial you are living a lie, and the only time a lie is perpetuated for any extended period of time is when there is an equal distribution of the stolen wealth not only amongst the perpetrators but all those who eventually know of the misdeed.
How long do you think it is reasonable to leave the pay of our soldiers to bought government officials who remember the oath of the US military, "To defend the United States from all enemies, foreign and domestic"?
How would you see Snowden reacting to reading this?
You know the chances are very high that he is totally clueless about how the real world works; the same with Glenn Greenwald, at least up until this afternoon.
The difference, however, between Greenwald and Snowden and the rest of you in denial, is that they don't carry at this time your baggage of distraction and diffusion; and should they choose to follow in your footsteps then logic-truth will tell you that others will learn from all your legacies.
Again,
"i have done all for nothing" says nothing other than you make out that the slave manual labor you do for Gwen to maintain her ever expanding real estate holdings that extend from California to Canada to the Bahamas, you do for love, food, company, overcome boredom, etc etc and/or all of the above."
The only "dirty work" you have done for me, that I can think of is helping move a few personal belongings out of storage which you charged Marie and me, and it also allowed you to take a breather from your captivity. Surely you are not suggesting that with you now throwing in your lot fully with The Coward who openly supports the thief, perjurer, despicable CIA Charles Knuff, the legal assistance you have given me in the past to defend myself against an impossible situation given how transparently corrupt all the judges have so far proven themselves to be, the work you did was "dirty work" and which you now prefer not to have had any involvement?
Bear in mind, I do not expect anything coherent out of you in the future.
You are not a friend. You have shown your true colors.
Again, that does not mean others will not learn from all of you shameless.
You don't talk fondly about your toxic long time relationship with Gwen Anderson, and not once have I seen you chained to the fence surrounding the main estate where she has you slaving away; and of course she knows that she can hire a true professional, just like The Coward Awerbuch when having his sex needs filled.
In those 15 hours you were figuring how best to respond to me, you most likely did not figure what has The Coward-Bully Awerbuch so very upset that he would totally blow his lid.
There is an article hot off the press, MILITARY WORKS TO CHANGE CULTURE TO COMBAT RAPE – CLICK HERE – which covers in a matter of fact way that the US military estimates that during the past 12 months the number of rape victims in America's Armed Forces is 26,000.
Many rape victims prefer afterwards to be dead.
The number of American soldiers killed over the course of the past 12 months in Iraq was 1, and in Afghanistan, 310, according to this one report – CLICK HERE. [Please let me know if there is a more credible source.]
All US fatalities since the start of the 1st Gulf War in 1990 including 9/11 victims don't come close to 26,000.
The success, however, of the refugee crisis that first spread to western Europe, cannot be overstated.
So how far do you want to go back in US military history to count the number of male rape victims by other male members of the US military?
That 26,000 number for 2012 alone must include male rape.
Women are far more inclined to talk about their rape than males who only talk when they can barely move.
You know that male rape is not quite the same as homosexuals engaging in orgies which is far more common than amongst heterosexuals.
Can you imagine what it must have been like for one day if you were a young good looking male in any of the 42,500 slaves camps of World War II.
The main reason why male and female Holocaust survivors rarely talk is because they cannot forgive themselves for having survived to remember the raping of the men.
The rape of males which is mostly by males is horrifically violent even if you don't believe that homosexual sex is violent which many of us do.
When the General of Generals David Ben-Gurion didn't hesitate to send Holocaust survivors fresh off the ships into the front lines in Israel's War of Independence, where they were all, men and women mowed down, not one known to have survived, and most not even removing the trigger safety, and so unimaginably heroic and thankful were they all to now be dead and to have finally been so brave, it did not mean that Ben-Gurion felt the need to give speeches or write about it in his memoirs.
The 3rd Reich's Southern Division that took root in South Africa right after the huge success of the FINAL SOLUTION watched every Jewish South African boy far closer than Snowden.
There are extraordinarily few of us born after The Holocaust in South Africa who did not serve in the Apartheid Regime's military, where exemption required a physical disability or we had to leave the country.
The only true resistor I know was my eldest brother Neil who spent most of his compulsory military service in a military prison after coming to the aid of Black South African cook who was being beaten to death, and the South African officer that my brother knocked out wouldn't have forgotten to tell my brother's prison guards what punishment to mete out.
When my father went to the military base to pick up my brother when he was released, he couldn't recognize him because they had half starved him to death.
I only tell you all this to give you an idea of what befell Jewish South African boys who didn't have parents as well connected as mine.
Were you to poll all Jewish South Africans who served in the Apartheid Regime if they were raped and all said "no", would you think it important to ask if they were aware of a single incident where a male rape occurred?
To ensure that male rape was kept to a bare minimum during World War II, Jan Smuts saw to it that his top warriors, his Fighter-Bomber-Pilots such as my father were given time off to visit places like Canne in the south of France.
What do you do when you are constantly in a state of war and you have a degenerate society?
Of course you must invest in brothels if you don't have the common sense to find an alternative to war.
You had told us during one our dinner gatherings that you had been brutally intimidated by a gang of guys and when you were older you actually sought them out and they gladly accepted you. I remember the look on Gwen's face like it was yesterday, and you surely must remember the look on all our 3 faces.
My one cousin Mark Gevisser, the eldest son of David Gevisser is the most prolific writer on gay South Africans when not writing the biography of Mandela's successor Thabo Mbeki. I have never read any of Mark's many books including Mbeki's 2007 biography, but I doubt very much he explores in any depth the rape of Jewish South Africans when he did his military service.
So why isn't the gay and lesbian communities around the world up in arms about this degenerate behavior.
26,000 rape victims.
Doesn't the conscience of the world want to speak out now to end military rule that has the human regressing into the abyss?
The uplifting story remains, however, the fact that we can begin immediately to attack the overpopulation problem without having to use very polluting war to cull human overpopulation.
The most important person I know, Principal Economist for that National Energy Agency headquartered in Paris, France, Geoff Rothwell provided me with the unbeatable ammunition; not you, not Gwen, not Obama, not Warren Buffet, not any member of the US Congress, no human rights group, no United Nations, because he chose very carefully to only inform me when replying to what I sent you, "Not much else to talk about" on June 24 which you and nor did anyone else, other than Dr. Rothwell Phd respond to.
He also chose his words most carefully when writing me back, beginning with:
GG,
I agree that it's a miracle that no body has taken you out.
which was in reply to me first sending him:
You know you have dropped a bigger bombshell than the 2 A bombs on Japan that was designed to intimidate anyone questioning the decision by Roosevelt and the puppet Stalin to hunt down Nazi war criminals following the Conclusion of the Yalta Conference on Feb 11, 1945 which resulted in not one Captain of Industry war criminal being brought to justice, quite the reverse in fact
He did not feel the need to repeat anything that either of us had previously written to each other.
You probably don't remember the rest of the 434 words my buddy Geoff wrote me back or the rest of the 175 that followed my first paragraph, "You know …. quite the reverse in fact."
You did however, decide to go on a Crusade against nothing to speak of President Truman who if wasn't him, then the industrialist-philanthropists led by Sir Ernest Oppenheimer who just happens to have coincidentally the same last name as Robert Oppenheimer who led the Manhattan Atomic Bomb Project, then it would have been someone like puppet Obama.
You cannot live in the past only when it suits you. You have to apply relevant history to today and tomorrow.
There is a big difference between August 1945 and today, starting with the fact that I continue to broadcast, and the chances of President Obama being able to pull off what Truman did is less than infinitesimally small, because it is in my humble but seasoned opinion, nil.
In other words, if you and The Coward Awerbuch who you both know are not the sharpest tools in the shed can understand perfectly what I am explaining in a way a 12 year can, then so can the smartest of the analysts who work for all the worlds intelligence agencies and the smartest of them are of course smarter than CIA Charles Knuff.
Again, you chose not to hit the "reply all", instead thinking that by running off at the mouth it would distract from this nastiness of yours which must stem from way back; most likely from before you found out from me the connecting dot between human overpopulation and the production of printing machine and even easier digitized money.
It is very easy for people who do not read military intelligence reports for a living to say that they do not read, because they first of all know that they would not lose their jobs when not reading something that is required to do their job.
You probably don't know anyone as high up in American military intelligence as my longtime pal, Roger W. Robinson [February 6, 1951 – ] because since he joined the National Security Council in March 1982, by which time he knew that I was smarter than his "bosom buddy" King Golden Jr. who was just beginning to be my one American attorney of umpteen years, there has never been anyone in the United States Government who has understood the nexus between banking and military as well as "Our Man Roger".
Note that "Our Man Roger" which is the wording King Golden Jr. Esq. was the first to use, is included along with King Golden Jr. in the cc section right after Gwen's email addresses.
In March 1982, Roger W. Robinson was the most knowledgeable born and bred American on both banking and Soviet Economics, which of course we would joke was quite the oxymoron, but nothing close to the perfect oxymoron as the word, "humankind".
"Our man Roger" hadn't forgotten that immediately before joining the NSC when it wasn't long before he had the ear of the Being There President Ronald W. Reagan who shared the same initials with Roger as well as born on the same day, just 40 years apart, he was the right hand person of David Rockefeller who is still very much alive.
As incompetent was Ronald W. Reagan he never confused "Our Man Roger" with anyone else because there is in fact only one Roger W. Robinson who is not one of my FB "friends" but that does not mean he has forgotten about me.
"Our Man Roger" was the most important guest of honor at Reagan's 80th birthday party in Los Angeles back in 1991 when the night before all three of us, Roger, King and I, partied until the wee hours of the morning, ending our dinner with dessert at Spagos in Hollywood where seated across from us was a gentleman wearing a 10 gallon Cowboy hat surrounded by the most long and beautiful legged Las Vegas dancers all dressed in the shortest of shorts, and of course all of them wearing high heeled cowboy boots.
It was only years later that I found out that all of them were Mossad agents who knew about Our Man Roger when he was still the protege of David Rockefeller, the only surviving grandchild of Standard Oil founder, John D. Rockefeller, who was chairman and chief executive of Chase Manhattan Bank and founder of the toothless, but very distracting Trilateral Commission.
Now take a look at the date when I began an email dialogue with David Rockefeller's Personal Assistant,
From: Gary S. Gevisser
Sent: Thursday, December 01, 2005 10:48 AM
To: contactus
Subject: Is David Rockefeller a supporter of the Democratic Party?
From: Mary Valder
Sent: Thursday, December 01, 2005 8:03 AM
To: 'Gary S. Gevisser'
Subject: RE:

No
Do you know what you were doing on December 1, 2005 when no one thought much of Senator Barak Obama?
Is it important to you when Obama and/or his wife became aware of Edward Jay Epstein's 1978 The Diamond Invention book?
It would be to any prosecutor of Obama and the current US Congress for crimes of genocide starting with the 6 million genocide in the Congo that followed Senator Obama deciding to become the primary sponsor of President George W. Bush's Congo Relief, Security & Democracy Promotion Act that became law in December 2006.
Prior to meeting me, how did you go about researching candidates for political office in the United States of America?
When next you bring up Truman would you please place his name in the subject line so that I know it is you?
Now look at my follow up to Ms. Valder's "no":
From: Gary S. Gevisser
Sent: Thursday, December 01, 2005 2:58 PM
To: 'Mary Valder'
Subject: RE:

The reason that I ask, when doing research on Roger W. Robinson who worked closely with David Rockefeller at Chase Manhattan before joining the Reagan Administration I came across on The Internet the following:

The Rockefeller influence has not been confined to the Republican Party. Both Kennedy and Johnson sought to have David Rockefeller become secretary of the treasury. David Rockefeller, although declining the position, "helped convince Kennedy to adopt" tax measures that resulted in "a massive redistribution of income from the poor to the wealthy." (quoted from "The Rockefellers: An American Dynasty" by Peter Collier and David Horowitz)

I am trying to figure out what exactly is meant by being a supporter of either the Republican or Democrat Party that has people like you quite definitive and to your credit quite precise using the word "No"?
BTW at 8:51 AM today, I text messaged the following to a "gifted child" homosexual American who last told me when we met that Democrats are not only more enlightened, they are far better in business because they are more visionary, and care about their workers who they would never pay them so low wages like he says the Republican owners of Walmart, to the point that they couldn't afford to even shop at Walmart, and end up on welfare at the same time all the small shops in rural America and the rest of the world that were there before Walmart came to town, are now out of business and his belief that Walmart will inevitably suffer horribly.
Next question and only answer when you get to your texts.

You have heard of this Snowdon [sic] who is all over the news, which means also that the people you know are talking about him to more than just you.

Here is the question

When the Guardian [Glenn Greenwald] says that no harm should come to Snowden because it will result in much more damaging information about the government spying [being released], do you think the people who first shared the information with Snowdon because they knew he was likely to be one of the first to release it, have heard of my revelations about the US Government supporting both Nazi Germany and the South African [Apartheid] Regime, and at the forefront of these 2 most important genocides of the last century, were America's most powerful Democrat Party members?

Do you still think Democrats are more forward thinking?
He hasn't responded.
Let's go back to my December 2005 dialogue with David Rockefeller's PA:
From: Mary Valder
Sent: Thursday, December 01, 2005 12:13 PM
To: Gary S. Gevisser
Subject: RE:

To be honest, I don't really know. I based my "no" on past history and what I've read about his political preferences many years ago. I've not discussed partisan politics with him so in truth, I shouldn't even be venturing a guess. Mr. Rockefeller is a fascinating man who knows and enjoys many people on both sides of the aisle. You'd have to ask him.

Mary

The Trilateral Commission
1156 15th Street, NW, Ste 505
Washington, DC20005
Tel: 202-467-5410
Fax: 202-467-5415
My response:
From: Gary S. Gevisser
Sent: Thursday, December 01, 2005 3:31 PM
To: 'Mary Valder'
Subject: RE:

First, I want to tell you what an incredible breath of fresh air it is to hear anyone let alone someone who moves in the circles that you do spell things out so extraordinarily clearly but with integrity to boot.

How do you suggest I go about asking him? I live on the west coast but would be more than happy to jump on a plane in less than an hour, possibly even work something out with my rather rich wife to charter her jet?
Ms. Valder:
From: Mary Valder
Sent: Thursday, December 01, 2005 12:38 PM
To: Gary S. Gevisser
Subject: RE:

Send me an email with your request and I'll send it on to his office.

Mary

The Trilateral Commission
1156 15th Street, NW, Ste 505
Washington, DC20005
Tel: 202-467-5410
Fax: 202-467-5415
My response:
From: Gary S. Gevisser
Sent: Thursday, December 01, 2005 1:37 PM
To: Mary Valder
Subject: RE: MEETING WITH DAVID ROCKEFELLER

Why not forward him our "back and forth" and at the same time let him know that at one point in my career I was a very high ranking member of theDeBeers-Anglo American Cartel and shortly after uncovering while working on 47th Street in New York City that money laundering is the "backbone" of the diamond industry to whom the world's money laundering laws do not apply I first met Roger W. Robinson who was at the time Senior Director of International Economic Affairs at the National Security Council.

Please let Mr. Rockefeller know there is an urgency I attach to getting his input on RWR who may not be delighted that I have already got this far but I am quite certain RWR wont have any objection to me sharing with his former boss the delightful evening he, our mutual close buddy, King Golden Esq. and I shared back in early I believe it was 1991 when Roger flew out to Los Angeles to celebrate the 80th birthday of former President Reagan to mention little of so far I have shared nothing with you that I know about RWR and Mr. Golden Esq. who was also my personal attorney for more than a decade during the roaring 1980s that Mr. Rockefeller wouldn't already know at least at it pertains to Roger to mention so little of both Ronald W. Reagan and my pal Roger sharing not only the same initials but born on the same day, February 6th, just 40 years apart.

Again, I am available with less than 24 hours notice to meet with Mr. Rockefeller as well as each and every member of the United States Congress who will receive a copy of this within the next 72 hours should I not hear back from you in a timely manner.

Ps – Allow me to be crystal clear on the subject of me chartering my wife's jet.

I make it my business not to delve into her personal finances as well as her "play toys" and although my wife, Marie Dion Gevisser has yet to tell me she has purchased her own private jet, given what I know about her finances when we met more than a decade ago, been extraordinarily happily married going on 3 years, that when combined with the "insight and analysis" I have shared with her over the years, just trust me when I tell you my extraordinarily analytical wife who jumped a couple of years of school because of her math could very well be in perfect position to beat me to die the richest person ever in the grave making the purchase of a top of the line Lear Jet with all gold finishing nothing more than a "drop in the bucket" to mention little of my uncle David Gevisser receiving back in early 1971 a $6 million "advance" for taking on the title, "male heir" of the Charles Engelhard's estate although officially he was simply "executor" of this not altogether poor American's worldwide estate.

In order to make our meeting-s "informative" I suggest strongly that Mr. Rockefeller read The Diamond Invention only available, to the best of my knowledge, on The Internet beginning with Chapter 18 which he can access by clicking on the hyperlink covering "male heir".
The next day I followed up:
From: Gary S. Gevisser
Sent: Friday, December 02, 2005 9:15 AM
To: trilateral.valder
Subject: FW: MEETING WITH DAVID ROCKEFELLER

Have you confirmed a date and venue for my meeting with Mr Rockefeller?
With no further word I followed up on December 18, 2005 – CLICK HERE.
The Diamond Invention book which has a hyperlink over the words "online university" at the bottom of Chapter 18, THE AMERICAN CONSPIRACY to the Washington Post's Kaplan University
If history and criminology interests you continue to grow your knowledge of these topics with an online university
mentions the Rockefellers because they are important players, without any mention of the United States of America going off The Gold Standard on August 15, 1971 because to do so would have connected America's most powerful Democratic Party member, Charles W. Engelhard Jr. who died on March 2, 1971 to this most important financial event in the modern day history of the United States since the formation of the US Federal Reserve in late 1913, right before the onset of World War I.
All intelligence personnel know "Our Man Roger's" National Security Council is more up on military spying matters than the National Security Agency because the NSC has far less individuals working in the basement of the White House than the NSA which feeds the NSC, unless of course things have changed.
What hasn't changed is the way human population is controlled by the money which you never once questioned prior to meeting me, how it was valued and distributed.
The fact that you are not alone in your ignorance does not make sitting in the same sinking boat any more comfortable, because the only thing worse than being in the same room as fools is not being able to escape and so your minds go that much crazier, "i have done all for nothing… I don subscribe to any of it ever!"
All you can do to ease the permanent pain is to try your hand at distraction and diffusion and why earlier today you sent me and your wife-partner Gwen a customized email letter you received from President Bill "Rhodes-De Beers Scholar" Clinton's charitable foundation.
Unhappy people, you would agree, cannot possibly believe in God; worse yet they feel so uncomfortable with themselves for never having the wisdom to have ever questioned the IN GOD WE TRUST $ which has you that much angrier with yourselves, and what you take out on me is just the tip of the iceberg in terms of the damage you do to yourselves internally.
Bear in mind at all times that the time in-between weak-kneed Jewish South African David Gevisser, the "male heir" – CLICK HERE – of openly racist and anti-Semitic Democrat German-American Charles W. Engelhard Jr., first greeted me very warmly at his well lit offices in Sandton, Johannesburg, just 24 hours after I met with puppet Nelson Mandela's total idiot South African Minister of Trade & Industry, Trevor Manual, and the time I departed his longtime, non-ostentatious home when it was already closer to nightfall than dusk, I didn't do close to all the talking because despite D. Gevisser's lifetime bout with the most horrible stutter which he talks freely about in his 2006 memoir, THE UNLIKELY FORESTER, he was extraordinarily comfortable with me, and fully believing I was the best person to make the most of his extraordinary wealth and power that rose exponentially the very moment he told the Hungarian countess sent by President Nixon's Attorney General John Mitchell at the time D. Gevisser was attending the funeral of Engelhard Jr. at, not a Jewish cemetery, but Roman Catholic St. Mary's Abbey Church in New Jersey, the birthplace of Hollywood, that he had no reason to suspect "foul play" in the death of Engelhard Jr. which at the time D. Gevisser very possibly believed to be true because he was a stooge who didn't have the mental capacity to think any differently because he too was very full of himself.
Cutting and pasting THE UNLIKELY FORESTER – CHAPTER X – THE ENGELHARD EXPERIENCE
So startling was it that there were rumours about the cause.This resulted in one of the most bizarre situations in which I have ever been involved.

At the time of Charles' death, President Nixon reigned supreme in Washington, but as we now know, was paranoid about real and imagined enemies. He was apparently desperate to get any evidence of peculiar goings-on in the Democrat camp (vide Watergate) and Charlie was a leading Democrat and fund raiser and a close friend of Lyndon Johnson. I was asked to join an Hungarian Countess for a drink one evening. She said that she was a confidante of John Mitchell (the Attorney-General) and his wife Martha and had asked to meet me at Mitchell's request. President Nixon would like to meet me to discuss Charlie's untimely death, his interests, ete. Although he could not insist on my accepting as I was not American, my availability would be greatly appreciated. If I agreed, would I be close to a telephone for the next 48 hours and be available to be flown by Government helicopter to the White House at short notice? I said that I had no knowledge of anything untoward but could not refuse a presidential request, and would be available. Immediately on my return to the Waldorf, I telephoned Charlie's lawyer, Ed Beimfohr, for advice. He believed that I really had little option but to agree. In the event, I heard nothing further from the Countess, the Mitchells, or the President!
Only one person in the world could tell that story.
Why would President Nixon believe anything coming out of the mouth of the person who stood to inherit a huge fortune and now hold a guillotine over the head of the 4 Branches of the United States Government?
David Gevisser believed more than anything else in the world that I would be able to predict at least as well as him how irrationally predictable would be people such as you, Coward Awerbuch and the rest of the increasingly quiet common herd once finding out the truth between the connection of worthless money and unwanted babies so late in life when your life energy is all but totally sapped, and you have invested all your time, energy and monies in worthless people including your children who you thought you were doing the right thing when paying for their worthless university education that you worked so hard for and sacrificing your luxuries, and at the same time feeling that much more that you wanted to be with them without realizing that because you were using them as much as they were using you, they still had more of life's energy to figure out quicker how best to drain you of your that much less life energy, and their resentment only surfacing were you to ask them to write down their moral code which to be truthful would have to be detached from the money that was continuously dangled at the end of their noses.
What family elder hasn't told their children, "You need to learn the value of money as quickly as possible, and get a degree that pays the most; and remember, money does not grow on trees."
For 4 generations moral teachings and money have gone hand in hand.The money has never been questioned because it is viewed as certain as anything coming out of the heavens, and if you can buy and sell water with the money, what's wrong with having the wording on the money, "IN GOD WE TRUST".
How do you tell your children it is all total bullshit and then keep the moral teachings that you linked so closely from being thrown in your face?
No, it is not easy; but the solution is not to give me a hard time.
Choosing denial is equally silly.
All about "money me" people don't give much thought to making the world more beautiful which you cannot possibly do if you are not surrounding yourself 24/7 with creative people who are not paper pushers jumping to the beat of a money printing machine operated by people who have the darkest possible view of man's humanity.
I knew back in 1995 that David Gevisser was absolutely correct because I was much smarter than him because unlike him, I had never been corrupted, out of choice simply because the feeling of being dishonest did not sit well with me; and nor did it make any difference then if the whole world felt differently because I knew the whole world was different because it was stupid not to question how a monopolist would make a big deal about all the anti-monopoly laws it had it's corrupt lawyer-banker-politiicans pass which the monopolist would never have to abide by.
It is a very different world today than 1995 when The Internet was just getting started and no one did Google Search to find out for example that despite all the damming of America's rivers, there are 103 nuclear power plants operating in the US and 3 are under construction. America's nuclear share of electricity power is 19%, significantly lower than France which is 75%, produced by 58 nuclear reactors with 1 under construction. There is a strong movement to have a nuclear reactor placed on France's Corsica island. In total there are 437 nuclear reactors worldwide and 68 are currently under construction.
The main point being, no one did their Google Search because Google didn't exist.
I was in fact one step ahead of David Gevisser because I had provided the chairman of Hearst Corporation, Randolf Apperson Hearst with an overview of the media industry with a strong focus on The Internet as we approached the "last quarter mile of the superhighway".
David Gevisser began living in the past when he chose deep denial at the time of the "asset stripping" in 1969 by Natie Kirsh of our Moshal Gevisser Group of Companies where the only competent person to "run the show" was my amazingly humble father who David Gevisser envied long before my mom and dad teamed up. One phone call to Engelhard Jr. would have had Kirsh stopped dead in his tracks.
What Engelhard Jr. wanted, he got.
Engelhard Jr. did not need David Gevisser to tell him that Natie Kirsh was going to be very hostile towards all the other Gevissers including David's older brother Leslie who was also a schlemiel, at least compared to my very spectacular father Bernie who knew that Engelhard Jr. did not like him because each time Engelhard Jr. visited with David Gevisser's favorite uncle, Sol Moshal, the managing director of Moshal Gevisser at their headquarters located at 173 Madon Road, Durban, he never bothered to say hello even though my father and his father Israel Issy Gevisser shared an office right next door to Sol Moshal who was also pigheaded and believed that he could "handle" Natie Kirsh who when seeing that there were no other bidders grabbed everything and fired everyone including Sol Moshal.
But that is just the side of the story that David Gevisser wanted the world to believe.
The true story is that Engelhard Jr. watched carefully as Sol Moshal bled Moshal Gevisser to death, and he fully approved of Natie Kirsh coming in for the kill.
With Moshal Gevisser out of the way, all the remaining trader families of South Africa would play by the banking rules prescribed by the world's banking laws that would be administered by the monopolists Central Banks including the IMF and World Bank, and all puppets whose officials know that one wrong step they take in exposing De Beers then De Beers would unload all their worthless diamonds as well as government currencies that the diamonds soaked up each time a young couple purchased their diamond engagement ring to the rich fat housewife constantly upgrading as the equally fat rich husband found himself a young girlfriend who is often times less demanding.
No Cinderella story here, but still it is Charm School.
David Gevisser felt that his very understated lifestyle compensated for having sold his soul to the Devil Engelhard Jr. who knew he couldn't go wrong when taking advantage of the US Government failing to prosecute Sir Ernest Oppenheimer for his war crimes of WW II because Oppenheimer owned the US Government the very moment the OSS/CIA didn't execute him for failing to adhere to President Franklin D. Roosevelt's direct order to stockpile 6.5 million carats of industrial diamonds on US soil; all very clearly spelled out in Ch. 9 of The Diamond Invention book, titled, DIAMONDS FOR HITLER.
Engelhard Jr. hated Jewish people more than he hated his Black mine workers paid slave wages because Jewish people were expected to keep thinking after they survived the Jewish Holocaust as well as the fact that we are continuously reminded about how we were slaves in Egypt each time the Passover rituals are performed as well as each time the word "Egypt" is mentioned in the daily prayer books.
When, however, you repeat the same thing enough times, you become numb; and then there is bad food, of course.
The Diamond Invention has to be "God's Game" because it has caught everyone up in it, and instead of saying, "I refuse to be a slave to De Beers' money" and in the next breath instead of speaking, to take action by getting everyone you communicate with to join in and start feeding all the homeless and penniless healthy organic vegetarian meals with the raw materials donated by all those who have excess produce and vegetables rotting on the vine and falling off the trees because there is no one trustworthy to pick them from their orchid estates.
To choose wrong is an individual choice, but it can never be right.
To have so many willing to be lied to by their lying government officials who you know are laughing at you when they look so serious, because it is your egos that won't let go, is way beyond insanity.
You would prefer to believe that by not helping me it will mean that your lifestyle will be maintained that much longer because the poor getting their voice will be delayed.
Yet you know that you cannot possibly assume that the future won't be different to the past when just one existing "household name" can make me a "household name", even when I am still alive.
The chronology of events is always important which does not mean that you or anyone should forget that all knowledge that exists today and what will come in the future is any different to what was all in existence at the very start of the expansion of the universe, at least from our perspective, when everything combined would have been significantly smaller than the smallest atomic particle. In other words, we cannot help but be related, which does not mean we have to agree on everything other than it is incumbent upon each of us to be as logical-truthful as we possibly can, and the more truthful-logical we are, the happier we feel inside; and this positiveness attracts first all the most positive which the negatively charged particles are no match against, as hard as they might try.
No one in the entire world was as powerful as Engelhard Jr. in 1969 because by this time he had accomplished a great deal since he first began journeying to South Africa in the late 1940s to secure a foothold in the world's mineral richest country for all the world's mineral industrialists who escaped prosecution for their World War II war crimes that began with the huge expansion of Big Government thanks to worldwide Depression following the carefully orchestrated 1929 Wall Street Crash when cash was simply made scarce by the mineral monopolists who first controlled the United States Federal Reserve when it was formed by an illegal act of the United States Congress in late December 1913, and nor were they close to losing control 16 years later.
The head of the industrialist-philanthropists was very well known German-South African Sir Ernest Oppenheimer who became Chief Executive Officer of the combined holdings of De Beers and its sister corporation Anglo American Corporation in 1929 which didn't take a lot of greasing of the wheels because by this time the mineral minority ruling elite figured that the intelligence of the voters was less than the dumbest monkey because you know that given the limited capacity of monkeys to follow political speeches, the smartest thing they could be taught to do in order to choose what candidate to vote for would be to throw darts and be rewarded with food each time the dart hit anywhere on the dartboard, and the candidate chosen would be beholden only to the monkeys who voted and wanted to continue being rewarded with healthy food because were they to die off then the politicians wouldn't have anyone to serve and their jobs would become obsolete in the process.
The non-reaction of the world's humans to the formation of the United States of America's Federal Reserve system that was allowed to create money out of thin air and become instantly valuable because another department of the US Government acknowledged that this debt which would inevitably pay for the roads and super highway-Interstates that criss-cross the United States which got the United States first out of the most contrived Depression, and of course before the rest of the enslaved world who were lagging behind thanks to American military intelligence officers who remained behind at each port of call made by the Great White Fleet which circumnavigated the globe for 434 days, starting on December 16, 1907, just months after Wall Street experienced yet another close call collapse which has been the experience of Wall Street from the very start because it was created to be a House of Cards and whose principal purpose has been to distract the expanding middle class who make up for their lack of creativity by speaking nonsense words and acronyms which they first learn at less than monkey breeding universities.
Yes, it kills you that much more to know that I am not only degreed but getting the right degree B.COMM which showed De Beers simply that I was interested in "making money".
For the thousands of years before the London School of Economics was established in 1895 the world's traders who were mostly farmers and hunters who eventually learned crafts such as carpentry, electrical engineering and plumbing that it always pays to have a professional do if one can afford a professional, didn't feel the need to go to university to earn degrees to become bullshit traders who didn't last very long as the ruling King and Queen of the region would waste no time in the con artist losing their license to trade because they would be executed on the spot and the next trader taking their place at the market stand would learn quickly the rules of the game, which meant they had to work that much harder and smarter than their competitor, which meant if they snoozed while their competitor got up that much earlier in the day to tend to the business of farming, they lost.
The Royalty also supported this highly competitive environment where no monopolist was tolerated for a single moment because they wanted their tradespeople breeding the children to do the farm work and participate in their armies; and the most effective were of course those with the best military who would attack their weakest military neighbor first, grab the food and train the best of the newly enslaved in military preparedness.
Technology advancements removed all the border conflicts that ever expanding empires like the Romans could not control because this question of "fair pay" for soldiers who were not having to fight because food production thanks to technology stopped people from having to be at each others throats when shopping at overcrowded supermarkets.
If you have a fool like David Gevisser taking all of you for fools, you can surely appreciate he thought more of me than that.
He knew perfectly well that I grasped all the fundamentals of business which simply meant one had to be on the winning side of war, and the best position was to be on the side who had executed most expertly playing all sides to war, which I first figured De Beers-Anglo American Corporation had accomplished rather well when I noticed when sitting across from David Gevisser in 1995 that there had been no change in the behavior of the increasingly fearful human afraid that his deficit needs would kick in if the truth be told about how easily he had been fooled by rather unremarkable people beginning with Engelhard Jr. who was fully obese by the time he received his final shot of lethal insulin which could have easily been self administered.
Jump forward to today. Engelhard Jr. has been dead 42 years, and besides for me you won't find one other critic of big government who even mentions that De Beers and/or Anglo American Corporation were in bed with the South African Apartheid Regime.
Let me put all this in clearer perspective.
You have admitted that you are inundated and therefore fully preoccupied when most of all being very unfriendly towards me, with your toxic waste relationships that you could detach from but then on whose property would you have your broken down Airstream and 3 equally old vehicles towed to in order to get fixed to allow you to sail the remainder of your life, and during this repair period you would still need to find someone to help you prepare your toxic food because you still enjoy eating other animals that in addition to having a heartbeat, had moving eyes, twitching noses, a mouth and most in very good shape including the cows unless beefed up with poison corn, that you have others kill because either you don't want to bloody your hands and/or you simply don't have the time like most because you enjoy your other priorities including whining.
When Engelhard Jr. died on March 2, 1971, I knew very little about his business affairs other than he purchased a controlling position in my grandfather's ACME Timber business which was a direct offshoot from his first company, the Durban Bottle Exchange where the unbroken bottles that he and his elder brother Morris, David Gevisser's father, began picking up themselves off the dirt streets of Durban after first preparing breakfast from their food establishment in very dangerous Point Road, for the poorest of the poor Black African street hawkers whose offspring 3 generations later who attended my grandfather's Jewish funeral also never forgot.
When Israel Issy Gevisser who was born around 1890 in Vilnius, Lithuania, died on February 24, 1970, I was a month off from my 13th birthday, and the only time I heard that he was sick was when my mother told me he was dead from a broken heart which was her way of telling me that he was heartbroken by having been deceived by the people he most trusted; namely, the one executor of his estate Sol Moshal who was the brother of his brother Morris' wife, Janie Moshal Gevisser who cared for her youngest son David Gevisser as much as her husband Morris, which was that they would both trust their youngest son as far as they could throw him, which was nothing new since they knew they had a problem child from the moment David stole part of his elder brother Leslie's stamp collection which David Gevisser hadn't forgotten because he mentions it with great specificity in his 2006 memoir THE UNLIKELY FORESTER.
I also didn't know all these family skeletons until first reading THE UNLIKELY FORESTER three years after it was published and most, if not all my immediate and extended family had read it, and nor have any of them passed comment, other than to applaud it, until of course I began to pick it apart.
Today you hear a great many White South African morons still talking about the "Mandela Miracle" which they mostly applaud because there was no blood bath which would have greatly interfered with the enjoyment of their lifestyles, both rich South Africans who have not officially emigrated from South Africa but who maintain large fortunes spread throughout the world, as well as those who have immigrated to places like the US, Australia, United Kingdom, Israel, Pakistan, Loas, Burma, China, Russia to name a few.
Multibillionaire Jonathan Beare who is the richest South African I know intimately, is one of those South Africans.
Like you who is not a billionaire, Jonathan experienced a total and complete mental breakdown after I explained The Diamond Invention book to him in Beverly Hills at a restaurant where at the table one away was Larry King of Larry King Live CNN who was not dead at the time because I believe he is still alive.
That was January 13, 2005, 63 days after I broke my 24 year silence with De Beers on 11.11.2004 with the simple words, "Remember me?" – CLICK HERE.
You knew about The Diamond Invention book before Jonathan Beare.
That is very significant for several reasons.
Remember we are keeping careful track of the chronology. At any time feel free to scroll up or down, and if you must turn away, from time to time, so that you exercise that much more your scalene muscles.
BTW, South Africa Kevin Port who is not a Facebook "friend" of his cousin Gary Port but has 3 "mutual" FB "friends" with me, Lynn Bentel, Louis Druion and Darren Krok, the superlative, most extraordinaire grandson of another close intimate of mine, billionaire Solly Krok who compared to Jonathan Beare is a total pauper, and he, Kevin, who has 549 other FB "friends" and you can easily see that I am not one of them, has the following quotes that I like on his FB "wall":
"Having sex is like playing bridge. If you don't have a good partner, you'd better have a good hand."
Woody Allen

"Bisexuality immediately doubles your chances for a date on Saturday night."
Rodney Dangerfield

"There are a number of mechanical devices which increase sexual arousal, particularly in women. Chief among these is the Mercedes-Benz 380SL." Lynn Lavner
Kevin is also one of those already bereaving the pending death of "Madiba" which is how Nelson Mandela is fondly referred to by his great many followers.
Kevin, Gary, Lynn, Louis, Darren and you are not Jonathan Beare.
At this meeting with Dr. Beare who is by university training a physicist, I informed him for the first time about The Diamond Invention book, now still available for free over The Internet, and he was so shocked to his core that all the blood in his head raced to his heart to keep it from stopping because the rest of his body starting with his head was as dead as a doornail and had he not instinctively placed his right elbow on the rather large round table to support his oversized head, he could have possibly died sooner of a concussion.
You really think I didn't learn something from that wild experience?
Let me spoon feed you.
I knew that if Jonathan Beare who has billions stashed all over the world and not so stupid to show ownership that would have him like the rest of the peacocks on the Forbes List of billionaires, would suffer an irreversible stroke, the same wouldn't happen to everyone in the world who profits from big corrupt government, which of course is not close to everyone in the world, only those who don't have the ability to create beauty in this world.
The poorest of the poor lettuce picker, so long as there are seeds remaining after removing the head of lettuce is creating something as meaningful as the creator of the entire universe, but they won't find support from cowards who are profiting from them not getting the information.
WHAT DO YOU THINK JONATHAN BEARE DID AFTER THAT MEETING?
How many people around the world do you think he has compromised?
How many people do you think he has compromised have compromised other people?
Would you agree that there are great many people who have nothing to fear because they have nothing other than the honest skills they have developed along with trusted friends who know they are honest?
We will always be in the majority because the majority of the children have yet to be born, and no one wants to be corrupted.
You have not explained in words why you would hit "reply all" to my enemy Michael "Tordu" Awerbuch who is doing everything within his power to tarnish my impeccable reputation, and in so doing support the murder of my name, because when hitting the "reply all" you are telling all those people in the carbon copy section who might be able to use the excuse that they have long blocked my email, that not only can they count on you for supporting the murder of my name, but they in turn can forward your communication containing all their names in the carbon copy section or simply cut out those names they think might or are already supporting me, or if they are smart they will just keep quiet on email and during their private conversations with their investment partners point out that you are no friend of mine.
What you have accomplished most of all is letting me know that you are no friend of mine and nor had you thought through everything when deciding not to let all those in the cc section know that privately you were being a hypocrite when feigning your support of me.
So now your delima is what you do next with this communication; do you not reply to me, reply only to me or hit "reply all".
From when I first began working with Jonathan Beare intimately which of course was the first moment we met in Los Angeles soon after he made his first landmark purchase with the Century City Shopping Center as he picked me up outside in his very subdued motor vehicle, he knew that I always made perfect common sense even when at first he didn't always agree with me.
BTW, you can't even give me the name of the law school where you learned all your law that every so often you give to me piecemeal and it is so discombobulated that it takes me more time to figure out your messy thinking that I could long have got myself an American law degree and hired America's best law professor to nail CIA Knuff and company, were I to find a single honest lawyer, which of course has not been the case.
Jonathan Beare didn't ask because he didn't need to know who I had previously worked for to know that if there was any truth to the natural selection process, which my mother articulates well in the feature story of the Wellington Weekly of April 25, 2001,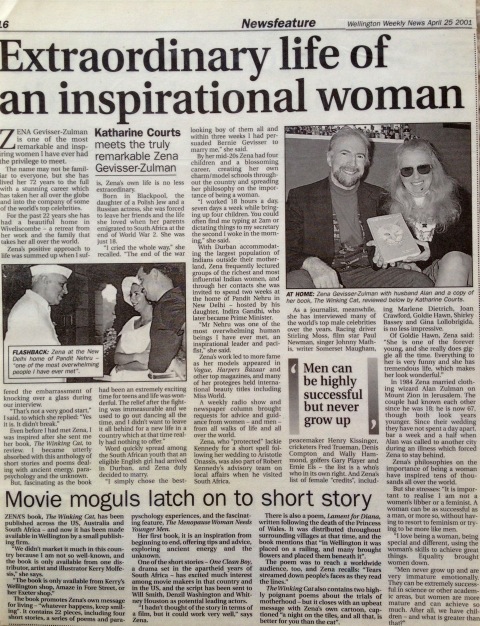 7 weeks after the Mossad's Jerusalem Post published my first of 4 letters to the editor addressing the treason of the US Government when granting CIA oil trader Marc Rich a Presidential Pardon and thus cementing the furthering of terrorism on American soil, and instead of blaming homegrown terrorist Timothy McVeigh, the world's attention would turn to CIA induced Arab-Muslim extremism being the source of all the world's evil, second of course to the "Jewish Problem".
She says it simply, "When I arrived in Durban, South Africa after spending the first two weeks at the 5 Star Mount Nelson Hotel nestled in the foothills of Cape Town's magnificent Table Mountain, I decided to get married and chose the best looking Jewish man" [sic].
The use of the Latin Adverb "sic" is because that is not exactly what my mother said. She said the following:
"I simply chose the best looking boy of them all and within 3 weeks I had persuaded Bernie Gevisser to marry me"
Jonathan Beare is not the only South African who knew that my father was not interested in my mother's father's very rich cash fortune because my father cared less about money as he only cared about having as his wife the fairest, best looking, very good figure English girl that had ever stepped foot on the African continent as his wife; and like all virile, healthy males, my dad did not want children because he wanted sex, which is why he turned out to be the best dad in the world.
He also knew by this time, 3 years after WW II had ended and he hadn't forgotten one of his 71 miraculous dive-bombing missions that in order to have a sense of, one would have needed to be WW II Fighter-Bomber-Pilot which is a far cry from a Japanese Kamakaze pilot who were not allowed to return to their land and ship bases alive when they would be killed and why none did, or like me to have flown in the co-pilot's seat with me dad as we traversed the extraordinary Drakensberg Mountain range where quite a few aircraft pilots have misjudged, and without putting his Cessna into a dive my dad would have little difficulty pointing out how very small the buildings and people looked from just several thousand feet up.
Imagine now you are a De Beers Nazi commandant with a motorcycle escort and Bernie Gevisser is coming up behind you with the 6 guns of his American made Kittyhawk Fighter-Bomber blazing.


He saw those heads in the snow with bullet holes far worse than what you saw of the side of President John F. Kennedy's head when it was blown off and only the skin held together by his hair keeping it all attached.


No one screwed around with my dad because he never allowed anyone to give him shit, which didn't stop people from talking a lot of shit to him which he never once allowed to enter the space between his ears. Consequently, he was mostly very quiet.
Everyone knew that he could never be bought because such accomplished people would rather die than lose their self-respect.
You are a prick, like The Coward Awerbuch and the rest because as I have explained ad-nauseum you are stupid.
Your latest writing is validation.
Let me continue.
When Jonathan Beare first spoke with me in his car for about half an hour as we sat parked at the curb, I knew first of all that I was not talking to Charles Ivie, Charles Knuff, Walter Cronkite, Michael "Tordu" Awerbuch, Larry King or for that matter anyone else, because there is only one Jonathan Beare who in order to afford the Century City shopping center which you would agree is a little larger than your Airstream he had to have in his "back pocket" a cool one billion United States Dollars that he had won when making a killing in Amsterdam, Holland real estate.
President Obama is still 51. I am 56. That makes me approximately 5 years older than him.
When I first met with Jonathan Beare very soon after I came out to California from New York in 1981, Barak Obama was 20 and I was 24. When Obama was 24 I already had met Jonathan Beare for the first time.
You have heard the expression, "It is not what you know, but who you know".
Does it mean more to you right now than ever before?
Obama still talks a lot about education.
When did you figure out that he was always talking bullshit?
If you know how the value of money is determined, don't you think that by now someone should have told Obama?
You told me that you voted for Obama, so that means you had to think some of the things he had to say were not bullshit; and if you now say that you didn't vote, you did say and have always maintained that you thought his nemesis President George W. Bush was much more full of shit.
Obama is the President of the United States of America and you would prefer to give me shit than do something about exposing all those most of all comfortable in the President lying to them, the same with all the vocal opposition such as Rush Limbaugh and the rest of the loud mouth cowardly Republicans.
You are no longer blaming any political parties like most who read what I have to say, until you forget and you revert back to your same old patterns.
Why in God's name would you bother bringing up the name Clinton, other than to distract and diffuse?
Jonathan Beare only found out that he was a puppet and totally clueless about all financial transactions including real estate on January 13, 2005.
You don't see Jonathan Beare writing to me, so does that make you feel that he has either forgotten about me or that what I have to say is no longer relevant?
Before Jonathan Beare left in a huff, I had the opportunity to allow him to save face and at the same time manage far more expertly his worldwide financial empire.
Before I explain more, if you were today or back on January 13, 2005 Jonathan Beare would you think meeting with President Obama could be more worthwhile financially than meeting with me?
Ok I will spoon feed you because there is no guarantee either of us will live one more day and then a great many people would be none the wiser.
The very moment after our meeting, were Jonathan Beare to have arranged a meeting with President Obama who was still a Senator and yet to be the primary sponsor of the genocide Congo Relief, Security & Democracy Promotion Act which had absolutely nothing to do with the Great White Fleet or the Bankers Manifesto of July 4, 1892 other than there are chronological connecting dots, at least one of his aids would have done a Google Search on Jonathan Beare just like Winnie Mandela's first cousin Andile Madikezla did and very quickly contacted me because he could find no one else who knew so much about Jonathan Beare and most of all was not afraid of him.
How could I manage Jonathan Beare's investment portfolio without first removing all the previous email communications that had his name attached to it in one form or another either in the cc or to section as well as in the body of the text without compromising my integrity?
Do you feel that when an honest person professes their honesty by keeping the company of someone they do not respect because they lack morals in how they do business they cannot be honest no matter how pitifully they put together meaningless words professing that they stand alone as the bastion of truth?
Do you think all the South Africans starting with Jewish South Africans spread throughout the world who have refused my FB "friend" invitation consider me either a stranger or prefer that I don't use them to expose the truth?
When they refuse my FB "friend" request, what message do you think registers in their brain?
Is it a 🙂 or :(?
Understand, today it is not just you, but a great many Jewish people throughout the world who know that it was very bad Jewish person Sir Ernest Oppenheimer who paved the way for the extermination of half of European Jewry with his ingeniously evil uneven distribution of De Beers industrial diamonds, starting with supplying Hitler with his critically needed diamonds out of the Belgian Congo which was and remains a United States of America "protectorate".
13 years after his death in 1957, my "lucky uncle" David Gevisser controlled the world's richest financially as well as politically speaking estate the very moment he was named Chief Executive Officer of Engelhard Enterprises South Africa in 1970 when his benefactor,knew he was dying because he was being poisoned to death and nor could he breath a word as his female heirs were all still alive, starting with his 5 daughters and wife Jane whose first husband was one of the disgusting German Jewish bankers who first financed Hitler who was supported by the overwhelming majority of the world's middle class as well as the very small minority ruling elite made up of all the world's mineral industrialists.
The problems of the world are not a Jewish problem; it is a problem of lack of morals brought about by a rise in stupidity that has the common herd labeling bad people by their ethnic background when all one need examine is who exactly is responsible for printing and allocating the mineral monopolists' government currencies.
When you find that it is someone with an Arab-Muslim sounding name you should not shoot or arrest them.
When you find that it is someone with a Christian sounding name you don't need to make love to them but nor do you need to persecute them; they are just wanting to keep their job.
When you find they have a Jewish name and say they are Jewish, you must simply forgive them for their stupid actions.
So long as it is a human being in charge of the printing they should simply be informed of how stupid they look doing the bidding of bad people who have real names and are really not all that bright.
Do you really think all the sick Popes were really thanking God for their afflictions as if they were at one with Jesus Christ suffering on the cross for all the sins of humanity?
Of course the rich Catholics look very serious when they takes their oaths including communion but that does not mean they don't enjoy their belly laughs right after.
In private you really get to see what each of us are made of, based on how we care for the poor, don't you agree?
How many people who work for the Washington Post's Kaplan University do you think have not heard of me?
What do you think Glenn Greenwald thinks of me?
Thank you not only for increasing the circle of those dependent upon my insight and analysis of the important events of the day, but providing the critical lead in to my follow up with my alma Mater University of Natal-Kwazulu, South Africa where I cam counting on good looking Kerry-Ann McCullough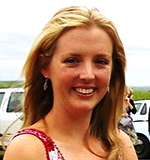 to share not only with all faculty members but the students she most trusts with common sense.
[Word count 14167]
On Jul 13, 2013, at 10:16 AM, charles ivie <charles.ivie8> wrote Gary S. Gevisser:
i have done all for nothing, including your dirty work. i stand alone free and antigovernment, corporations, toxic relationships have cost me everything, and I don subscribe to any of it ever!

On Fri, Jul 12, 2013 at 5:26 PM, GaryStevenGevisser <garystevengevisser> wrote Charles Ivie:

Wow, that is nasty Mr. Ivie, you hit "reply all" when responding and applauding Michael "Tordu" Awerbuch …—…
2,275 total views, 9 views today