1971 August 15 Nixon ends Gold Standard Currency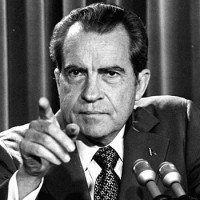 Who: Richard Nixon et. al.
What: President Nixon issues executive order to official end Bretton Woods International Monetary System.
Where: United States / World
Why: Once the creation of currency was no longer limited by gold reserves, the United States using it's fiat currency was able to borrow and spend money without any limitations. In order to ensure the acceptance of the US dollar which was now worth nothing more than the paper it was printed on, the United States used it's military to intimidate the rest of the world to move to a fiat currency and force the acceptance of the US dollar in exchange of their goods and services.
2,577 total views, 3 views today
Search
Most Talked About
Twitter Feed: Gary S. Gevisser
There is an important photo I wish to send you that shines the greatest light on the fate of the outcast

Why wouldn't you have discovered the concept of 2? It is like a chemical reaction; wouldn't you make the same con… twitter.com/i/web/status/9…

Conrad Strauss | Who's Who SA whoswho.co.za/conrad-strauss… via @WhosWhoSA

... everyone is looking for the "deeper truth" and it is sitting there right in front of our faces; the unimpossible dream.

Do you want to see the most wildly imaginative world is the most real; more surreal than you would ever imagine?