Charles W. Engelhard Jr.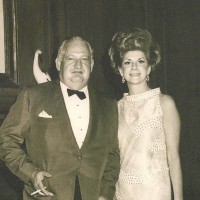 ORIGIN
Born: February 15, 1917
Died: March 2, 1971
Heir (executor): David Gevisser
Location: New Jersey, U.S.
Father: Charles Engelhard, Sr.
Mother: unknown
Wife: Jane Mannheimer
Children: 4 biological daughters, 1 adopted daughter of Jane's previous marriage
EDUCATION
Primary: Johannesburg, South Africa
Secondary: Charterhouse School, England
University: Christ Church, Oxford University, 1931
CAREER
1950: Inherited family business, Engelhard Industries and title of "Platinum King" from his father.
1958: Consolidated his various operating companies into Engelhard Corporation and issued a public share offering on the New York Stock Exchange.
Harry Oppenheimer: Engelhard Minerals and Chemicals Inc. invested heavily in joint ventures with Harry Oppenheimer.
Anglo-American: Member of Board of Directors.
1969: Helped orchestrate hostile takeover of Moshal-Gevisser Group alongside David J. Gevisser
POLITICS
South African Apartheid: Advocate, public supporter, profiteer
U.S. Democratic Party: Major financial contributor
1960 Presidential Election: Organized the National Committee of Business and Professional Men and Women for Kennedy and Johnson.
IMPORTANT RELATIONSHIPS
Harry Oppenheimer
President John F. Kennedy
Senator Robert Kennedy
Senator Ted Kennedy
Former President Lyndon B. Johnson
Former Vice President Humphrey
Ian Fleming
PHILANTHROPY
South Africa: Indirectly supported Apartheid regime.
South Africa: The Engelhard Dam on the Letaba River in Kruger National Park is named in his honor in gratitude for donations to the South African National Parks Board.
United States, South Africa, United Kingdom: supported numerous humanitarian and benevolent causes.
6,523 total views, 2 views today