Conversations with the Jerusalem Post's "top dog" – Fwd: To life!
From: GaryStevenGevisser <garystevengevisser>
Subject: Conversations with the Jerusalem Post's "top dog" – Fwd: To life!
Date: July 29, 2014 at 6:59:17 PM PDT
To: Marcia WCBS-TV <mgkramer>, Rush Limbaugh feigned opponent of Obama <rush>
Cc: "Dr. Rod Smith Ph. d – Alumni of RAND Corporation" <smith>, "Ira Mishkind Esq. – Gary Steven Gevisser's estate attorney." <ilmlaw>, "Jerry Phillips Esq." <jphillips>, JERRY MOCH <jnmoch>, Sidney Lazarus – son of Gunter The Pig Lazarus c/o Bernard Lazarus brother of The Pig <blazarus>, "Sidney Abelski – lawyer – only child of two Auschwitz survivors." <sidneyabelski>, Trevor Manuel – former South African Minister of Finance <patti.smith>, Rose Tchang – Granddaughter of Sun Yat-sen Sun Yat-sen <nancy>, "Lynne Twist – Founder of Soul of Money Institute – c/o Kay Sandberg, SOMI Program Director Director" <kay>, Editor-shanghai daily <EDITOR>, Beverly Stacey – Lloyds of London Insurance <beverly.stracey>, "James A Mackay – Senior Lyolds of London Insurance agent who was assigned to meet with World Heavyweight Boxing Federation Champion Michael Grant and Gary S. Gevisser on March 27, 2012. March 27" <james.mackay>
Begin forwarded message:
From: GaryStevenGevisser <garystevengevisser>
Subject: Conversations with the Jerusalem Post's "top dog" – Fwd: To life!
Date: July 29, 2014 at 6:19:04 PM PDT
To: seth, Hannah Brown <hannbrown>
Cc: rest; steve" <steve>, derrick.beare, "Andile Madikizela – First cousin of Winnie Mandela and close confidant of Nelson Mandela who acknowledged in private meetings with Andile of his knowledge that the CIA turned him in to the South African Apartheid Regime during the Kennedy Administration." <mad11a>, Vic Shayne – co-author of American George Lichter's autobiography <vicshayne>, "Syd Cohen – South African Commander of Israel Air Force, War of Independence." <fydad>, "NANCY SPIELBERG – sister of Hollywood Director-Producer Steven Spielberg – Producer of Above and Beyond-The Birth of the Israel Air Force." <nancyspielberg>, "Bruce Willis c/o Melanie Gurvits Esq. – Attorney for Producer-Director Steven Spielberg" <melanie>, Tom Shadyac – Director-Writer I AM – c/o Janet Matthews <firststreetcp>, 60 Minutes <60M>, "Matthew Margo – Senior attorney CBS – 60 Minutes." <matthewmargo>, "Michael \"Tordu-The Coward\" Awerbuch" <michael>, Charles Ivie <charles.ivie8>, "Rabbi Capers C. Funnye – close cousin of First Lady Michelle Obama who is married to President OBAMA" <ravfunnye>, robertdevine2010, "Robert \"Citizens against the J.Essakow-Marc Rich and company Flower Hill Malls Excessive Expansion\" Vicino Vicino" <rvicino>, "Jim Winters – son of Charles Winters who received a Presidential Pardon on December 23, 2008, the same day Adam Lee Tucker met with ex CIA member Charles Knuff." <jim>, Gill – Assistant to Jonny Gevisser <gill>, "Gil Hoffman – Jerusalem Post reporter now silent." <gilhoffman>, "Mark Gevisser – biographer of Thabo Mbeki, former President of South Africa. Mark is the eldest son of David Gevisser, the \"male heir\" of American-German, RACIST SOUTH AFRICAN INVADER Charles W. Engelhard Jr. assassinated by the Mossad on March 2 1971 and buried at St. Mary's Abbey Church Morristown New Jersey" <mark>, "Jonny Gevisser – only son of Leslie Gevisser; Director The Extra-Mural Education Project Cape Town South Africa" <jg>, "John Gevisser – son of David and Hedda Gevisser c/o Jonathan Norton, head of operations, Operation Lionheart Lionheart" <jonathan>, Lisa Fugard – Daughter of South African playwrite and actor Athol Fugard who played Jan Smuts in Ghandi <lfugard>, Chinese Embassy – USA <service>, Mossad <mohr>, "South African-British solicitor Ray Oshry – classmate of Gary Gevisser and GG's murdered cousin Sandy Moshal Jacobson [1957-1997]" <ray.oshry>, "T. Colin Campbell, PhD – Cornell University The China Study" <bjp1>, peace.pies, Ron Bellows – US Government owned American International Group – Chief Executive Officer President Barrak Obama – Nobel Peace Prize winner on 10/9/2009 <ron.bellows>, "Patrick K. Tillman Sr. Esq. – father of American Football athlete Pat Tillman who was killed by \"friendly fire\" in Afghanistan." <pat>, "Patrick. J. Fitzgerald – US Attorney – prosecuted successfully Presidential Pardoned Marc Rich's attorney Scooter Libby, VP Cheney's Chief of Staff." <patrick.j.fitzgerald>, "Roy Essakow – Marc Rich Lieutenant and classmate of Gary Gevisser and his murdered cousin Sandy Moshal Jacobson [1957-1997]" <ressakow>, "Adele Strous \"Im not interested in history of Israel\" Clingman – wife of CIA oil trader Alan Clingman and business partner of Roy Essakow-Marc Rich and company." <adelec>, "The coupon clipper is the Jeffrey Jack The Ripper Essakow – co-owner of the Marc Rich and Co. Flower Hill Mall, Solana Beach, California" <jessakow>, Emmanuel Ofosu Yeboah – Star of Emmanuel's Gift <emefpchal>, "Tony Leon – Fomer head of the South African Oppostion Party to the current ANC regime. Now the ANC South African Ambassador to Argentinia. Tony wrote praising obituaries for both Harry Oppenheimer [1908-2000] and David Gevisser [1926-2009] to Argentinia." <southafrica>, tony, "cbenn" <cbenn>, "Tracy Tomson – classmate of Gary Gevisser and his cousin, tortured to death ANC armed wing member, Sandra Moshal Jacobson [1957-1997]" <ttomson>, Shaun Tomson – 1977 World Surfing Champion <shaun>, "Professor Jeffrey D. Sachs – Columbia University – author, THE END OF POVERTY" <sachs>, Doctors Without Borders c/o Miriam Ross – Survival International Survival International <Mr>, US Marine – Corporal Kevin Gipe <kevingipe>, "bobbyj" <bobbyj>, "Dr. Paul \"Bozo the Clown\" Teirstein MD Teirstein" <pteirstein>, "Mawuna Koutonin – former FB friend of Gary Gevisser who refused to answer the question, \"Is there any price that the Engelhard-DeBeers-Anglo American Corporation [E-DAAC] would pay you to keep quiet and/or distract?" <mk>, "Shaul Preiskel – former Facebook friend of Gary Gevisser and current FB friend of Steven Moshal Jacobson, brother of GG's tortured to death classmate from Carmel College, Durban, South Africa, Sandy Moshal Jacobson [1957-1997]" <preiskel>, "Hedda Gevisser c/o Jonny NORRIS brother-in-law of Alan Zulman and former executive of the Frame Group South Africa." <jonor7>, "Natie Kirsh – Front person for De Beers who in 1969 purchased the public corporation Moshal Gevisser Group of Companies that was formed in 1910 for significantly less than liquidation value." <cs_dean>, kingdelmar <Kingdelmar>, "Mark Silverstein Esq. -c/o Alison May – ACLU – roommate of King Golden Jr. at the University of Virginia Law School" <amay>, "Roger W. Robinson – protege of David Rockefeller and former Chairman of U. S. -China Economic and Security Review Commission" <rwrincorp>, "Mary Valder – Personal assistant, David Rockefeller" <trilateral.valder>, "Valerie Schulte Esq. – National Association of Broadcasters senior lawyer – former 15 year lover of Ted Turner. Ted Turner." <vschulte>, Gary Barber – Co-Chairman of the Board and Chief Executive Officer of MGM of MGM <gbarber>, "Gary Firer – classmate of Gary Gevisser and GG's cousin, murdered armed wing of the ANC member, Sandy Moshal Jacobson [1957-1997]." <garyfirer>, "Joe Grundfest – former Commissioner of the SEC and Stanford Law School, who wrote Gary Gevisser on April 23, 2002, \"Could I stop you?\" Diana Henriques." <grundfest>, "Michael Strauss – International Monetary Fund – former student of Grundfest." <mstrauss0>, "Diana Henriques – journalist New York Times – Big Jury Award in Injury Case Over Keyboards – December 10, 1996, whose name is mentioned along with Gary Gevisser in the APPLICATION OF LAW TO FACTS in US Federal Judge Jack B. Weinstein's decision to overturn landmark repetitive stress injury award in April 1997." <dbhenriques>, "Newell Starks – Deadbeat officer of Citigroup's Citicorp Venture Capital Group who specialize in \"management friendly\"; i. e. \"shareholder hostile\" takeovers – based in Austin Texas." <newell>, Jonathan Beare – founder Investec <jbeare>, "Colin Cowie – Celebrity Caterer – former longtime lover of South African Jonathan Beare. Jonathan Beare." <PR>, "adamtucker619" <adamtucker619>, Alan Dershowitz – Harvard Law School <dersh>, Noam Chomsky – I AM movie <chomsky>, "Bool Smuts – great nephew of Jan Christiaan Smuts [1870-1950]" <bool>, "geoffreyrothwell Rothwell – Principal Economist at OECD Nuclear Energy Agency of the Organisation for Economic Cooperation and Development – Professor Stanford University – World authority on the pricing of uranium." <geoffreyrothwell>, Devin Standard – eldest son of former President of New York State Bar Kenneth Standard <devinstandard>, "Kenneth Standard Esq. – former 25 year in-house General Counsel of Bristol Meyers; most recently past President of the New York Bar Association – Harvard Law School." <kstandard>, membership <Membership>, "Nbci. Snl" <nbci.snl>, "Deborah Sturman Esq. – won $4 billion in back slave wages from Nazi Germany that cost Germany not a penny and nor did it expose De Beers. De Beers." <info>, "Christopher Mooney – American lawyer making money suing the wrong banks for price fixing gold." <cmooney>, Martin Rapaport – Rapaport Report <rap>, "Alan Lipworth – former Principal of Codiam Inc. and first cousin of murdered Sandy Moshal Jacobson [1957-1997]" <alan>, "Laurie Flynn – Producer of FRONTLINE-BBC SPECIAL DIAMOND EMPIRE [1994]" <laurievincentflynn>
Seth, you are probably not yet laughing so hard that you are teary eyed.
Imagine if the mothers of the dead IDF soldiers were to know what you already know, how do you think they would react?
What if they thought you were just dragging your feet to avoid getting the information into their hands as well as the mothers of the IDF soldiers yet to be killed?
Still I have not looked at the body count total for the day because I have not bothered to look at what the late and very skewed The News is reporting because I know it is not as important as what I have already shared with you, and more so your boss, Editor in Chief, Steve Linde who has chosen wisely to remain my Facebook "friend", the same with the remaining 68.
When you have truth-logic at your side, you have everything.
When you don't ALSO have God at your side, you have nothing but misery.
As you would expect, my conversation with the Jerusalem Post's "top dog", Editor In Chief, South African-Israeli Steve Linde, has continued on Facebook "conversation" with Steve letting me know at 10:45 AM PST that he had read my last piece which included a photo of the top section of a most important letter dated April 26, 1987 written by one of South Africa's best known criminal attorneys, Alan Magid, a neighbor of mine at our last Durban address, 50 Bowes-Lyon Avenue, Glenwood, detailing – CLICK HERE – his two and a half hour meeting with future black puppet South African President Nelson Mandela who had been moved from Robbin Island to Pollsmoor Prison on the mainland of the Cape of Good Hope, which was discovered by the Dutch East India Company and their sister corporation, British East India Company, the forerunners of DeBeers Consolidated Mines in 1652; and once the Dutch got done, then the British took their turn before the Americans took over at the turn of the last century following the defeat of the Afrikaner Boer Commanders such as Jan Christiaan Smuts and Louis Botha; and the American bankers-journalists-army generals-3 Branches of the US Government simply chose to remove this last section from all the world's history book, which didn't prevent the more intelligent elders deciding that the best way to share the information for the youth of the future was to place it in the hands only of those who didn't talk to talk like the rest of the common herd, and deciding who had the "fittest brains" by paying careful attention to the good questions those children asked.
The fact that I don't remember any of my peers coming close to asking of their elders the right questions does not lead me to believe that they were all that bright, but still many of them were a lot of fun to be around just so long as the conversations were kept light, which is the way it should be for all children growing up, which doesn't mean their hugely ignorant parents are geniuses.
The last sentence of the first paragraph ends;
"Incidentally, I am having the letter typed because, if I were to attempt to write it, it would never get done and I intend to send it to you with Derrick."
That Derrick is the same Derrick Beare you see alongside me in all 3 of the 4 photographs I recently placed up on my Facebook "wall" that were taken on the day of the 1986 World Cup Final, June 29th, Argentina against Germany, although it was called back then West Germany, and held in Mexico City which we flew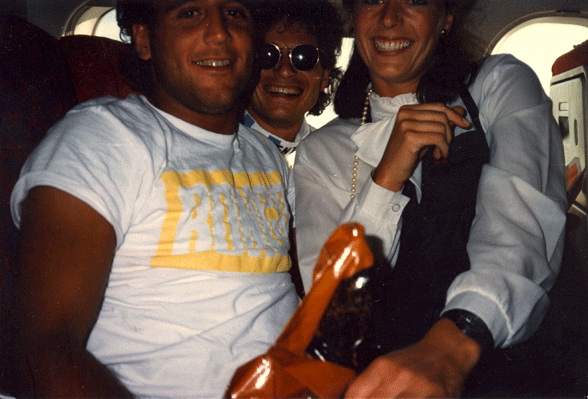 to on the day of the very exciting match, arriving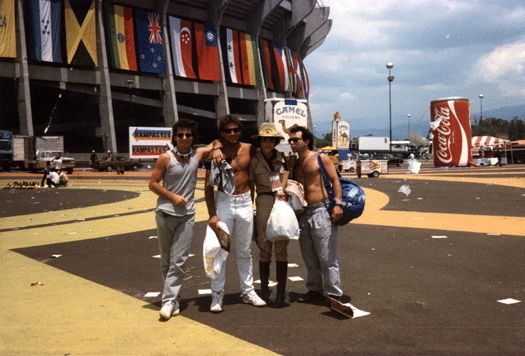 well ahead of kick-off time, and returned to the US the same day, which is when we found out the final score as well as who had won.
Derrick did not lose his shirt, because he is holding it in his right hand.
Below is a different story.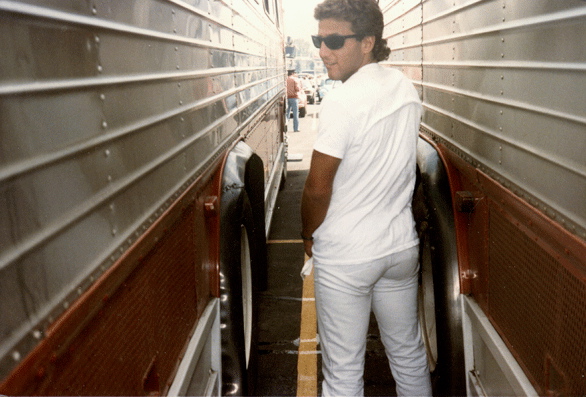 Can you imagine the uproar in the stadium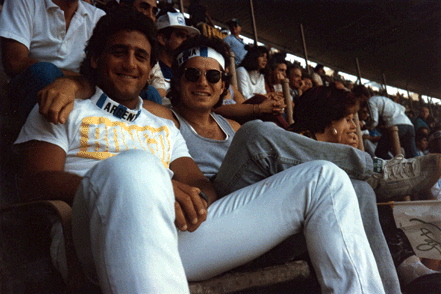 when in the 84th minute – 90 minutes in a soccer game and 80 minutes in rugby – Diego Maradona who was heavily marked the entire game, sent a superb pass to Jorge Burruchago which allowed Argentina to resume the lead; this was how it remained and Argentina were able to celebrate their second World Cup victory in three tournaments (after winning the 1978 World Cup).
BTW, do you think because we wore bandanas supporting Argentina we were neo-Nazis?
While I am a couple of inches shorter than Derrick do you think the reason why neither of us ever once encountered anti-Semitism is because we were afraid and cowered to ignorant bullies?
The biggest bullies you know are those with the weakest body-minds who produce movies such as Schindlers List and all the documentaries you find at Holocaust-Tolerance Memorial Museums spread throughout the world, which mostly show us Jewish people cowering and our "saviours" not the most honorable Gentiles, which also makes us Jewish people feel that there are no good Christians or Muslims.
Why do you think the blockbuster Producer-Director Spielbergs are only now coming out with a movie about, not the spectacular ground forces of the Israel Defense Force [IDF] during Israel's first war that began officially the morning of May 11, 1948 after the evening before when the world heard that Ben-Gurion had followed through on the British Government's Belfour Declaration of November 2, 1917, and declared Jewish Statehood, but rather the IAF [Israel Air Force] with the inextricably close ties to South African General Jan Smuts who was defeated in the May 26th rigged South African General Elections after having recognized the newly formed Jewish State two days before on his 78th birthday?
Who do you think they are trying neutralize?
Who do you know other than me who has spoken more about the weak-kneed American Jewish community and the amazingly brave Jewish South African fighter pilots who were the backbone of the IAF and who also knew better than to give the relatively very few American fighter pilots who volunteered a hard time such as, "What took you so long to fight in World War II?"
The fact that the best of the American and Canadian fighter pilots who fought in Israel's War of Independence were non-Jewish, is no less important. The fact that these very brave non-Jewish Americans and Canadians decided that they all wanted to be buried in Israel when they eventually passed, is also no less important including Canadian World War II fighter Ace George Beurling, Canada's most successful fighter pilot of the Second War War who died on May 20, 1948 en-route to Israel.
Cutting and pasting Wikipedia – George Beurling [1921-1948]
Beurling's coffin was kept for three months in a warehouse in the Verano Monumental Cemetery, as nobody had claimed the body. Then his widow, Diana Whittall Gardner, had him buried in the Protestant Cemetery behind the Cestia Pyramid, between the graves of Percy Bysshe Shelley and John Keats. In November 1950, two and half years after his death, Beurling's casket arrived at Haifa Airport. His coffin, draped with the blue and white Israeli flag, was laid in a nearby air force base, where an honour guard of young airmen mounted a silent watch. During the long funeral in the streets of Haifa, Israeli Air Force aircraft paid homage to Beurling. At last, he was re-interred in the military cemetery at the foot of Mount Carmel. The grave is marked, as are the others in Israel Defense Forces cemeteries, with only name, serial number and rank: for Beurling that of segen, lieutenant.
Do you think it is wrong that Haifa is not named after Jan Smuts or do you think it is enough that in 1937, I believe it was, Kibbutz Ramat Yohanan which was founded in 1932 was named after Smuts?
When you did your basic training in the IDF do you remember asking your officers teaching you how to march in a straight line just like in any regular army, this important question?
When did it occur to you that when Smuts fathered all the world's best 3 air forces, the RAF, the SAAF and the IAF, he also hadn't forgotten his unsurpassed personal knowledge of ground forces asymmetrical warfare?
You know how it is when the bands play and people including kids line the streets waiving flags, the cameras don't always catch what is going on behind the scenes before, during and after. The Palmach section of Ben-Gurion's Haganah-Mossad was already established when future Prime Minister of Israel Yitzhak Rabin arrived at Ramat Yohanan in 1941, by which time The Holocaust slaughtering of the 6 million was fully underway.
One of the things a good scout like Smuts would know is that after scouting into enemy lines, to immediately test to the limit the mind fitness of his subordinates without always feeling the need to "speak their mind".
You have heard no doubt in the movies about Generals willing to sacrifice the lives of some so others including the richer civilians, loyal only to the money, will survive and consume that much more consumer goods which adds to the country's Gross Domestic Product [GDP] index that guarantees them the right under the economic principles of supply and demand to keep consuming until a stronger military power beats them back, but still that wouldn't make you necessarily as smart as Smuts and his partner David Ben-Gurion.
You would though like to think that someone like Mr. Netanyahu understands all this perfectly.
Bear in mind if someone like Michael TORDU-THE COWARD Awerbuch who cannot forgive himself, can follow along despite his training in the South African Apartheid Regime's army, and I assume he did serve, because he has never once argued otherwise, then you would expect the dumbest reader of the Jerusalem Post to perfectly understand.
Do you know of any Jewish American founder of the IAF who shares at least one grandchild with Yitchak Rabin, other than South African-Israeli Boris Senior?
Did you catch that I made the point of having you, Nancy and Steven Spielberg and company never forget that Ben-Gurion's most battle tested spy, Boris "Brave little man" Senior [1924-2004] who I have known intimately since I was on a 4 month ulpan-Gadna training at Ben-Gurion's kibbutz Sde Boker, Negev Desert, back in the last third of 1972, was South African?
Of course Senior who had been told by both Ben-Gurion and my mother Zena that I would be calling, had some "ego issues" when Ben-Gurion chose Syd Cohen rather Boris to take command of the IAF fighter squadron following the death of its first commander Israeli Modi Alon on Oct. 16, 1948, but Mr. Senior had matured a lot in the intervening 24 years which is why he retired as Deputy Chief of Staff of the IAF; and perhaps it was because Senior felt closer to Alon since both were held prisoner in solitary confinement for two weeks by the Greek authorities on Rhodes where they were forced to land when running out of fuel on the flight from Czechoslovakia flying German Messerschmitts to Israel, whereas Syd Cohen figured out the fuel gauge problem and made it to Israel.
No less important, in the 32 remaining years of his life, Senior never forgot for a moment that during Israel's War of Independence [1947-1949], the American Government were "no friend" of the fledgling Israel.
"No friend" means in a nutshell, "Enemy".
Nor was it the majority of Americans who wished Israel harm; and those that did only knew from what the corrupt American journalists, army generals and government told them; no different to today.
Another big difference between then and now is that the American Government's duplicitous past is coming back to haunt them because, first and foremost, the effectiveness of the brutally strong IAF whose fighter-pilots today can do much more than "fly blind" over the desert terrain of the Sinai and Egypt. That effectiveness the Spielbergs-Hollywood want you to believe is all because of the "American component".
Their lies do make it true. That is just wishful thinking on their part. If the IAF were modeled after any other air force other than the SAAF which perfected the advances of the RAF, which fighter aircraft would the IAF, led by Syd Cohen's protege Mordechai Hod, have flown in the first hours of the June 1967 6 Day War which began with the IAF's preemptive strike against the surrounding Arab armies' air forces?
Yes, those Delta Wing Mirage were not British because they were French.
The French hate the Jews right, because Voltaire, "I may not agree with a word you say, but I will fight to the death your right to say it!" was not Jewish?
For Christ sake, the poor French have to contend with nuclear power plant fallout spread throughout France accounting for more than 75% of their energy production waste, plus continued fallout from Chernobyl, how do you expect them to think straight, just because they speak the beautiful language of love?
You have to get a handle on the chronology.
Israel was not expected to survive its War of Independence because the most optimistic view was that Israel would be wiped off the map within 2 weeks.
France and Great Britain were not housing death factories on their soil to exterminate Jewish people. The French people didn't invite Hitler to do a victory parade on the Champs-Élysées. The French were invaded and their people became divided when the Nazis split up the country.
Those French who only spoke French were not handicapped in witnessing that every Allied Captain of Industry that suppled the Nazis with their raw war material needs, starting with diamonds from DeBeers were never prosecuted at the 1946-7 Nuremberg War Crimes Tribunal that was overseen by DeBeers' United States Government.
When you steal a packet of candy, after looking around, you then try and create a distraction.
The Cold War only fooled the fools.
When British and French forces united with the IDF in the Suez Crisis of 1956 against the Cold War combatants Soviet Union and the United States of America, their officers hadn't retired senile to an old age home in La Jolla, California.
Do you know which army officers on which sides decided to start calling the Chinese "Bloody Godless Chinese"?
Which western economist do you know decided that western man and his extermination domestic and foreign policy had a greater claim to favor with God than the Chinese whose symbol for God is a little different to Christian man, but then again the Chinese speak and write a different language, right?
The one conglomerate with the closest ties to the Soviet Union and the US Government is DeBeers.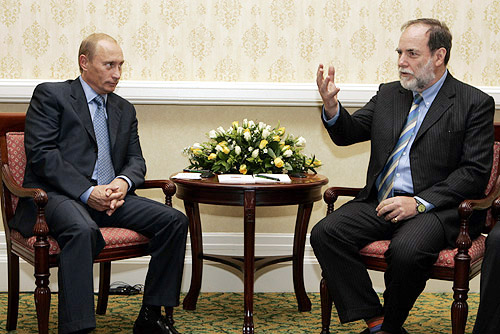 DeBeers have never been a friend of the Jewish people other than those they have bought.
A monopolist does not care for competition even when it says that it supports competition and free markets without interference from government.
A monopolist can only survive by fermenting civil unrest and the best way is to breed fanaticism on all warring sides.
The Suez Crisis all began with American and Soviet support for Arab nationalism-fanaticism.
The British-French-Israeli forces withdrew because they knew if they didn't, they would be nuked.
That did not mean the American-Soviet Bloc had taken the high moral ground. It simply meant the British-French-Israeli forces had made their point.
The point was further reinforced when 11 years later the IAF only flew French Mirage fighter-bombers in the Six Day War.
Not everyone was happy with that as you might expect.
The American spy ship USS Liberty before being placed in "harms way" on June 8, 1967, 3 days into the war, had first visited South Africa where the officers on board did not pick my mother's model Penny Coelen as South Africa's first Miss World.
3 years before, America's most advanced nuclear aircraft carrier fleet Enterprise visited South Africa and there were no demonstrations of hippies before the White House.
What do you learn at university other than forgetting to use your imagination?
Since everyone knows military decides everything why wouldn't the brightest academics teach their students to follow where America's nuclear aircraft carrier fleet position themselves without the media giving away their position?
Do you know how high the mast of an aircraft carrier would need to be if all 8000 sailors were to climb on each other's shoulders?
The enemy know where they are, so why not tell the students so that they can at least act halfway intelligent?
Huh!
Which university campus do you think I should next speak at?
If you can fool the people who think they are the smartest people in the world, wouldn't you have those less fooled but who want a better lifestyle travel to foreign lands and incite the poorest of the poor to denounce Israel and all Jewish people?
I never took one course in political science, do you think I am deficient?
So how much "big government money" do you think is behind Above and Beyond?
Since I haven't seen the documentary, can you tell me what IAF aircraft are flown in the 1956 Suez Crisis and 6 Day War?
How much mention is there of Boris Senior leaving behind in South Africa the 50 American made Kittyhawk Fighter-Bombers which were in perfect flying condition, that cost him 6 English pounds each?
Doubtful also that Above and Beyond quotes Senior, "leaving those aircraft behind was the biggest mistake of my life!"
Do you think if those who bullied Jewish American Steven Spielberg who I don't believe blames either of his parents for teaching him how not to stand up for himself, were able to convince the American Government to allow Senior to bring those 50 Kittyhawks into Israel, it would have been very nice of them?
How many of the 5 million Jewish Americans took to the street to get the US Government to lift their United Nation's arms embargo of Israel which also made it illegal for men of military age to enter Israel?
Not that many, but perhaps we can ask people like Mr. Krinsk Esq. what he remembers from his parents and grandparents.
How in the world can you have Above and Beyond coming out just as this Gaza war gets underway?
When Hamas fired their first rocket, they knew exactly the response of the IDF.
When Hamas fired their second rocket, they knew exactly the response of the IDF.
When Hamas and company fire their last rocket there won't be any response from the IDF.
The American Government now have to get as many "illegal aliens" into the United States to first and foremost keep their slave brothers and sisters in bordering countries like Mexico accepting the insanely evil and illogical GDP index continuing to play such an important role in the brainwashing of the common herd.
Where in logic does it say that the country that consumes the most gets the most rewarded in order that it can continue consuming and the rest of the world should keep breeding so that when pricing military weapons to defeat the poor the focus is not on the price fixing but the number of combatants the new and improved killing machine can eliminate?
Look man, I am not trying to change the world, I am just attempting to get people to think.
Do you want to know why Derrick and I were not together at this year's World Cup Final in Brazil were again Argentina met Germany, but the result was different?
When you look at a photo taken of me 6 years before,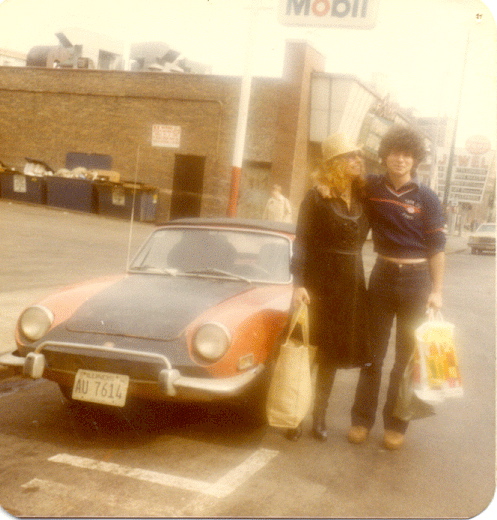 in early spring 1979, just weeks before I officially joined DeBeers-Dutch-British-American East India Company's most important site holder on United States soil, are your first thoughts, "Why isn't Gary wearing a suit and tie to match his hairdo?"
Have you noticed the latest photos of Derrick Beare now wearing a suit and tie?
That has to kill Derrick more than anything else.
What sort of evil human would put the greatest Jewish athlete of our generation in a monkey suit?
Why wouldn't Jonathan have simply forced him into a straightjacket? – CLICK HERE.
You may have already heard that Jewish South African-American Michael "TORDU-THE COWARD" Awerbuch is telling the world that I never worked for DeBeers, which a great many people I know would like to believe is true, but unfortunately for them their principal provocateur has zero credibility despite his 600 Facebook "friends" who he hopes will serve as his cushion, at least until they find out that he is only using them to insulate himself from his cowardly past, which very possibly began prior to The Coward writing me on August 8, 2011, "I am not a coward" – CLICK HERE – and nor had I called him a coward, which tells you his cowardly act that he was about to commit was all in his head.
Now lets go back to more pleasant times, June 29, 1986 when I was just 3 months into my 29th birthday and a good 9 months away from having to advance Derrick a pocket full of change so that we could have an "arms length" transaction living right next to each other in a small 6 unit apartment building I purchased in Santa Monica, which wasn't quite as plush as my first business address when starting my own consulting business in the early 1990s which I kicked off by placing this rather clever ad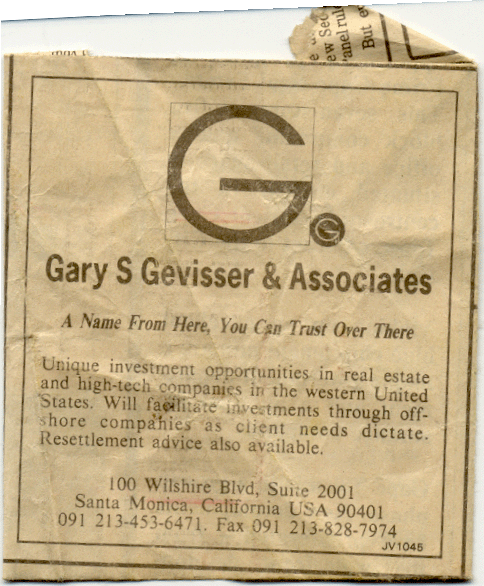 in the South African Sunday Times which in addition to the South African Secret Police-BOSS stationed at the South African Consulate in Los Angeles, visiting with me and threatening my father with death if I did not "cease and desist", was read by my handful of multibillionaire clients including Derrick's uncle Jonathan Beare who is probably in far worse physical and mental health than when we last met in Beverly Hills back on January 13, 2005 when he looked like he was at "death's door" as his whole world fell apart when reading just one short sentence in The Diamond Invention book, which I presented to him by simply turning approximately 90 degrees my laptop computer which had a thumbnail wireless antennae allowing instant access to The Internet.
How cool do you think it was spending 36 hours with the coolest white South African dude whose parents had the good sense to leave very sick South Africa two days after Derrick's barmitzvah which like most Jewish kids of our generation was presided over by our far overeducated rabbi, Professor Abner Weiss who the world had yet to hear didn't start schtooping all the bored-to-death horny Jewish housewives when he finally got caught "in the act" at the Beverly Hills Beth Jacob orthodox Jewish synagogue and his wife Shifra, who gave birth to all his 6 children, including a bunch of them rabbis and learned Torah scholars, only finding out when she returned from a trip to Israel where she was visiting with a bunch of them and their crying babies, and confronted by a lawyer's letter seeking her consent for divorce and the coward Abner was already out of the house?
Maybe you didn't quite like that ending.
Let's see how you do with the sentence that blew the richest Jewish multi-billionaire Jonathan Beare away:
Engelhard found a legal loophole through that regulation: while it was illegal to export gold bars, it was legal to export objets d'art made of gold.
What do you think J. Beare has been doing over the past 3,484 days?
You would be correct in assuming that he continues to go the bathroom without necessarily taking pride if using less toilet paper, unless he has developed a perfectly flat stomach, and the chances of that are slim to none because as you know troubled humans tend to overeat because their internal organs are constantly hungry after eating poison foods and drink, and you don't know of any poison, other than possibly Durban Poison, which makes an idiot think smart which is a prerequisite for eating smart.
According to Winnie Mandela's first cousin Andile Madikizela, J. Beare is a very busy man hanging out incognito at gay bars in Johannesburg.
Now why do you think that is?
Why wouldn't a billionaire who could buy and sell Warren Buffett and Bill Gates Jr. with what he rounds off to on a daily basis, following my educating J. Beare on January 13, 2005, 63 days after I broke my 24 year silence with DeBeers on 11.11.2004 – CLICK HERE – exactly how the real "dog eat dog" world works, not rent himself a tiny one bedroom house in North Park, San Diego and just hang out at Alexanders on 30th Street where I am quite sure not all the gay waiters would turn their noses up at his money; unless of course they were also reading my writings and J. Beare hadn't changed his name.
You haven't forgotten why it is that there is not a single American Jewish person alive, including the very great Jewish American Fighter-Pilot trainer George Lichter, who knew the most important founders of the Israel Air Force better than me; and that of course includes Senior's very close friend, my highly secretive British-English mother Zena as well as my most accomplished Allied Fighter-Bomber-Pilot father Bernie Gevisser [1923-2012] who knew them all well before the end of World War II which continued on with Israel's War of Independence whose success depended entirely on their Commander In Chief, Jan Christiaan Smuts.
TAKE A BREAK.
Smuts, following the defeat of Churchill in the July 5, 1945 British General Election that only came as a shock to the "common herd", was all that stood between the completion of the FINAL SOLUTION, the murdering of all 12 million European Jewry; and you know how very quickly the 5 million Jewish Americans would have succumb to joining those political parties that advocate large government programs; hence why more than 80% of American Jewish people, like my pal Jeffrey R. Krinsk Esq., the richest and most powerful Jewish lawyer in the world, vote for the US Democratic Party that is only different in name to the Republican Party, all of which is explained in the Bankers Manifesto of July 4, 1892.
Bear in mind, I never had to say a word more to J. Beare, and nor did I voice those 26 words, because I simply said, "Read" as I turned the screen of the laptop in his direction. Nor did I explain how the the arrows pointing to the left, right, up and down worked. This he was able to figure out on his own; and nor was there much movement of his index finger which he finally decided would be put to better use by using his full right hand to clutch his face from hitting the table and possibly knocking himself out.
When my dad wrote Mr. Adam L. Tucker on March 11, 2009, "Suggest that you ask my youngst son Gary" – CLICK HERE – in response to Mr. Tucker's enquiry from the 7th, why my immediate didn't immigrate to Israel from South Africa when the heinous South African Apartheid Regime came to power on March 26, 1948, that was very precise bombing on the part of my very deliberate and careful with his both his words and actions father, who didn't need to hear from his wingman, "The Pilot's Pilot" Captain Syd Cohen, Commander of the IAF's only fighter Squadron 101, that they didn't come any better than Bernie Gevisser, apart from those killed in training and those shot down when pushing the outer envelope; and nor was there anyone in Smuts' South African Air Force Fighter-Bomber Squadron 11 who knew of anyone who had come closer to death than my dad on his 60th dive bombing mission back on April 1, 1945 – CLICK HERE.
Above and Beyond wouldn't get off the ground were it not for Jewish American George Lichter – whose entire immediate family I know as well as my own – training the world's very best Allied Fighter and Fighter-Bomber-Pilots, the majority South Africans, how to fly those German Messerschmitts from a base in Czechoslovakia, a Soviet Bloc nation who were not all that loyal to the Monopolist-Capitalist puppet Stalin, before flying them to Israel while Israel's War of Independence has resumed following a brief ceasefire, engineered by the British Government which worked to the advantage of the fledgling State of Israel, which is not quite the case today.
Once you know the American elections are rigged then you must question all other countries who profess to be democratic, starting with Great Britain who denounced Churchill 58 days after the Brits celebrated V-Day, May 8, 1945; and then 1 month and 1 day later the first Atomic bomb was dropped on Japan and the second 3 days later, August 9, 1945.
The current Gaza war now has sirens going off in Jerusalem, and I am quite sure if a nuclear bomb is detonated at the Wailing-Western Wall, we might hear it here in the United States before you.
Steve Linde who has seen a draft of my "open letter" to Netanyahu and who commented, "Interesting letter" before suggesting that a coordinated effort, starting with me "pitching" you, also feels that I should be patient with you.
If not now, when?
Gary
[Word count 4969]
Begin forwarded message:
From: GaryStevenGevisser <garystevengevisser>
Subject: No relation to singer Boy George – Re: Did you read Deputy Chief of Staff Israel Air Force, Boris Senior's autobiography, NEW HEAVENS?
Date: July 28, 2014 at 2:14:53 PM PDT
To: Hannah Brown <hannbrown>
Why would I send a copy of NEW HEAVENS to the Jerusalem Post?
Why not ask Nancy Spielberg what she thinks of the book, and how it influenced her project?
You must have thought to yourself, "Could she have got it all wrong?"
What you may not yet have thought, "Could Above and Beyond be more than simply about making money selling movie tickets"?
Have you ever thought about what you would do if you were a Jewish Kapo-sellout in the death camps of Nazi Germany-Poland and wanted to cover your tracks?
I assume you are in Israel, which is a long way away from where I am currently, in the extraordinary peace and quiet of the Cleveland National Forest just east of San Diego where there are a lot of fellow Jewish South Africans.
Israel is right now being rocked left and right by rocket attacks.
Most movie producers-directors have no military training and even fewer have military intelligence training, which is why they are carefully handpicked for such cushy and lucrative jobs, just so long as they remain consistently obedient.
Have you examined carefully the history of Steven Spielberg before he became a big Hollywood name, when he was growing up and being bullied because he was Jewish and didn't have the mental capacity to fashion the right arguments?
Why would you put him in charge of ET to raise the next generation of TV addicted children?
Why wouldn't you put him in charge if you want retard parents?
Ask yourself would you ever date a bully knowing that most bullies were themselves bullied as kids?
What do you advise those in your inner circle to do when a bully-low self esteem person enters their company?
Would it be the same advice you would give them if someone said, "Fuck the truth!"?
How do you have a conversation with such a person anytime in the future?
The answer is that you don't but that doesn't prevent you from observing how these spineless people never stand erect and nor can they bend too far down to pick up rocks and stones that constantly appear in their path. They of course all get the punishment they deserve.
If you were someone very rich who escaped prosecution at the Nuremberg War Crimes Tribunal would you really be in favor of Israel as an independent sovereign state or a bully?
If you were most successful in designing the organizational structure of the Nazi death camps which were primarily designed to break the will of the prisoners whose only crime was that they were thought to be Jewish, and that would mean helping the Nazi SS pick the Jewish Kapos, you wouldn't have the SS choosing amongst the Jewish slaves destined for the gas chambers those with the highest self esteem; instead you would choose very weak, non-athletic people such as Hitler, Himmler, Goebbels and Eichman.
Do you feel that you might possibly have some very significant gaps in your Jewish history education?
Do you have any close Jewish South African friends?
24 minutes before midnight my time last night I sent a 469 word communique to Seth, the op-ed editor of the Jerusalem Post. pitching a piece designed to bring about an immediate end to all the rocket fire that is only designed to break the will of the Israeli people and instead of having you walk into gas chambers which would have to be erected, the reaction to Israel escalating its military action against Hamas which will mostly draw second guessing when not chastising Israel for not showing more restraint given the huge firepower advantage Israel currently has over Hamas whose puppeteers I can assure you are no dummies, will be a most powerful explosion that would vaporize Israel as we know it.
I understand from a most reliable source that Seth is currently out of the office covering the war.
Remember what you would do if you had got away with the mass murder of 6 million Jewish people in the space of well under 6 years. Wouldn't you place Jewish Kapos in strategic positions in the last concentrated holdout?
Would you hazard a guess where that might be?
If you were someone like Ben-Gurion or one of his most trusted South African-Israeli spies such as Israel Air Force Deputy Chief of Staff, Colonel Boris Senior, how would you go about flushing out the Jewish traitors who would be the most dangerous?
It would not be difficult for you to tell that I am mindful person who thinks before I talk or write.
9 days have gone by since I received your reply.
You surely couldn't have forgotten, and nor did you follow up to find out if I got your response, which I will be doing immediately after hitting the send button.
When you wrote, "It sounds like a wonderful book" I wondered more than a little about that.
I had cut to the chase when asking you in the second sentence, "Could I share with you some important facts …?"
Even if you were an Israeli Military Intelligence genius and someone was offering to save you time reading an entire book, you would take them up on the offer.
I assumed you had seen Above and Beyond and therefore if both Boris Senior and Syd Cohen were prominent you would have told me, otherwise one might expect you to try and distract me?
If that were the case then you would say something along the lines, "It sounds like a wonderful book. Have you sent a copy to the book section of the Jerusalem Post?", rather than, "I am going to purchase my own copy, and I will get back to you immediately after I have read it. In the meantime, please share with me those important facts."
Look very carefully at the photo below, starting in the bottom right hand corner.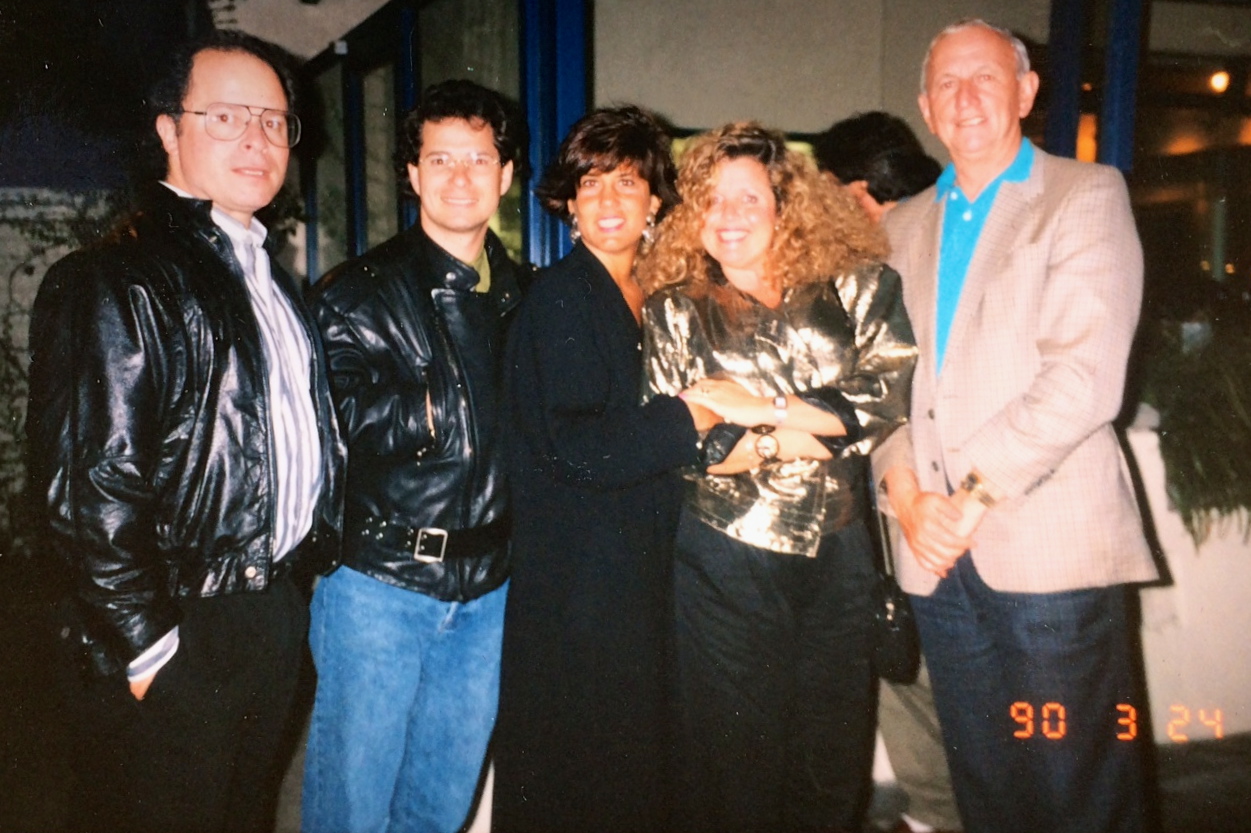 The year was 1990, month March, and day 24.
It was my 33rd birthday.
On my 34th birthday, my highly secretive British-English mother Zena who has owned an apartment in Natanya overlooking the Med. Sea since the mid-1980s, although starting from the earliest days of 1949 she began visiting Israel from South Africa two to three times a year, sent me this note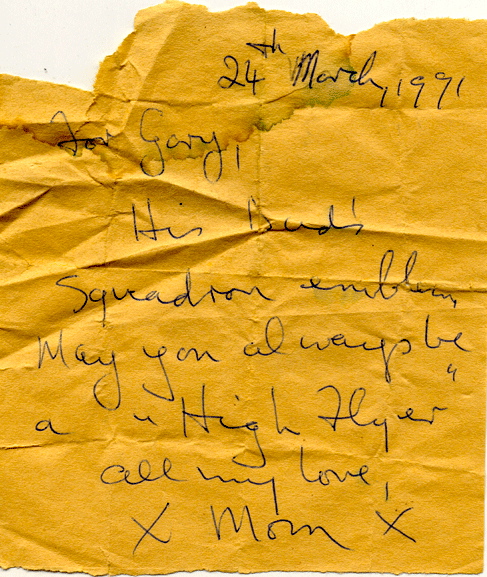 along with my Allied Fighter-Bomber-Pilot Bernie Gevisser's Fighter-Bomber-Pilot wings.
On March 24, 1991 my father was not only alive



his was firing on all 12 cylinders,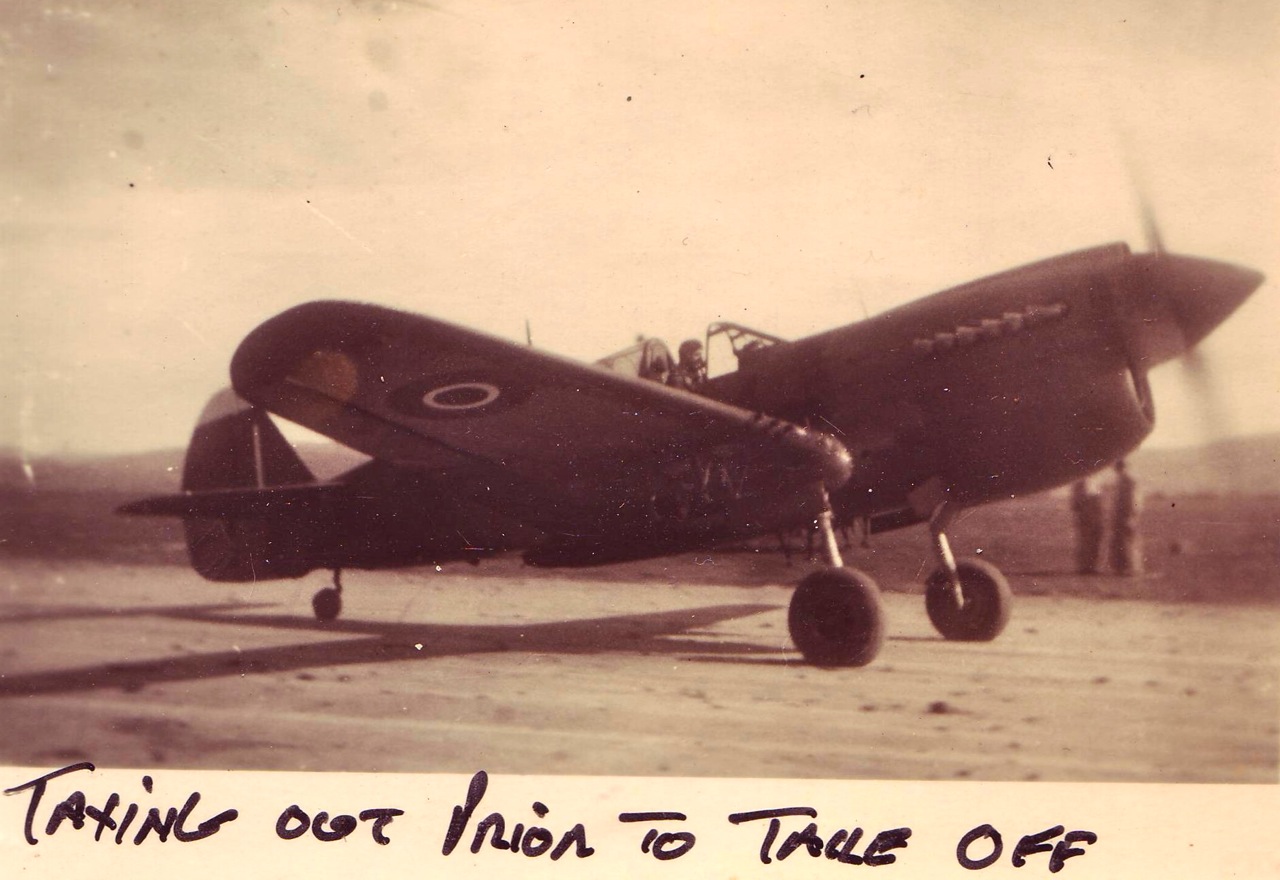 just as when standing next to his wingman Syd Cohen
back in December 1944, at which time Auschwitz was still gassing defenseless Jewish people upwards of 10,000 a day.
Below is a photo of their Commanding Officer, South African General Jan Christiaan Smuts [1870-1950]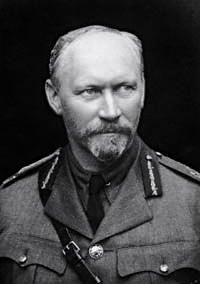 as he looked back in 1917 at age 57, which is my age.
Most common sense people would say that Smuts was a very good looking man who prided himself on both his good looks and dress, but something tells you that he also had a steel-trap mind.
Notice the self-confident determined look in his blue eyes blonde hair.
Hitler should have loved him right?
What did you first think when you realized that Hitler nor any of his Brown Shirt bullies had the Aryan blue-eyed blond hair look?
In all probability your mother didn't tell you when she heard you mouth your first words.
Most likely you are only just thinking about it now.
Would you know how I would become a paid journalist, and could I use you as reference in attracting an honest publisher?
When the photo was taken Smuts had just been asked by British Prime Minister, David Lloyd George, no relation that I know of to singer Boy George, to join the British War Cabinet when Smuts wasted no time in establishing the Royal Air Force which is the world's oldest air force. In other words, Smuts who only became Prime Minister of South Africa on September 3, 1919 following the death of his close friend Louis Botha on August 27th, was the "Father" of the RAF.
You will recall that it was the RAF who mostly fought in the Battle of Britain, 10 July – 31 October 1940.
You haven't forgotten the late arrival of America to WW II and who was American Ambassador to Great Britain at the time of the Battle of Britain, virulent anti-Semite Joe Kennedy Sr. who did his best both prior and during the Battle of Britain to get the Brits to capitulate as he hung out in the safety of the British countryside and issued defeatist propaganda.
You don't remember mass demonstrations in the United States against Mr. Kennedy, because there weren't.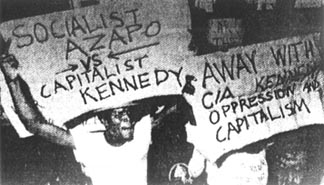 American Fighter-Pilots were almost non-existent in the Battle of Britain that all the experts at the time were convinced the Brits would lose, and the handful of Americans who flew were trusted by Churchill and his second in command, Smuts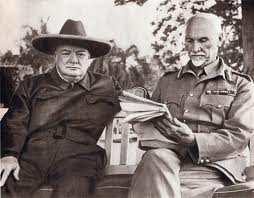 as far as they could throw them, regardless of their religion.
Nor should you be surprised that it was a South African, Sailor Malan [March 24, 1910 – September 17, 1963] who was the most outstanding hero of the Battle of Britain, which had Britain lost, there would be no Israel and all 12 million European Jewish people would have been exterminated.
You have no doubt heard of the Balfour Declaration that was nothing more than a letter dated November 2, 1917 from the United Kingdom's Foreign Secretary Arthur James Balfour to Baron Rothschild, a leader of the British Jewish community, for transmission to the Zionist Federation of Great Britain and Ireland.
The thinking behind such an important strategic document did not pop out of thin air.
Let us now read together what more Wikipedia has to say on this most important subject as the mortar shell that fell in Eshkol, southern Israel killing 4 and wounding a bunch more has now spent its shrapnel projectiles:
At a War Cabinet meeting, held on 31 October 1917, Balfour suggested that a declaration favourable to Zionist aspirations would allow Great Britain "'to carry on extremely useful propaganda both in Russia and America".
The cabinet believed that expressing support would appeal to Jews in Germany and America, and help the war effort. It was also hoped to encourage support from the large Jewish population in Russia. Britain promoted the idea of a national home for the Jewish People, in the hope that Britain would implement it and exercise political control over Palestine, effectively "freeze out France (and anyone else) from any post–war presence in Palestine."
Prime Minister David Lloyd George of the United Kingdom supported the creation of a Jewish homeland in Palestine because "it would help secure post-war British control of Palestine, which was strategically important as a buffer to Egypt and the Suez Canal." In addition, Palestine was to later serve as a terminus for the flow of petroleum from Iraq via Jordan, three former Ottoman Turkish provinces that became British League of Nations mandates in the aftermath of the First World War. The oil officially flowed along the Mosul-Haifa oil pipeline from 1935–1948, and unofficially up until 1954.
You remember who was in the British War Cabinet on October 31, 1917.
Smuts was also the driving force behind the League of Nations which the United States refused to join.
Smuts is also the only signatory to the peace treaties of World War I and World War II.
America, you would also know, only declared war on Germany on April 2, 1917.
When Smuts wrote a letter to Prime Minister David Lloyd George offering to lead American troops into battle, this most careful writing obviously took place prior to American troops actually fighting which only took place 14 months after America declared war.
Do you recall which history teacher told you that in order to understand better that the journalists, the army generals and the government write the history books, to first look at the number count of casualties before examining when a country's troops entered the battlefield and finally to look when the war was officially declared over?
You know that WW I began on July 28, 1914, just 7 months after the US Congress took control of printing the US Green Back-Dollar which was the same as giving a bank robber a license to print money, and so why would THE BIGGEST bank robbers continue to rob banks?
The war ended 4 years, 3 months and 1 week later, November 11, 1918.
So essentially American troops fought for approximately 6 months.
America lost less than 117,000 soldiers, approximately 0.13% of the American population, excluding of course those indigenous American Indians lost through extermination.
The British lost between 703,000 and 888,000 troops, approximately between 1.79% and 2.2% of their populations, approximately 14.5 times that of the United States who like in WW II, a continuation of WW I, made most of the gold, which again came all the way from my birth country of South Africa.
In World War II, the British lost 384,000 troops out of a population of 48 million. America lost 407,000 troops out of a population of 131 million. When you add the British civilian deaths from Nazi Germany bombings, the British losses exceed the United States. But there was improvement in the numbers. As a percentage of the population, the gap had been reduced from 14.5 times to a little over 3 times, but that still didn't stop the gold flowing to the United States and its bought political leadership who demanded that their gold bribes be paid outside of the United States in places like Hong Kong – CLICK HERE.
When Smuts read law at Cambridge University and scored double firsts and this was prior to him becoming a Boer Commander in the Anglo-American Boer War of 1899-1902, he hadn't forgotten how to shoot a rifle on horseback or that in his final year at Cambridge he also wrote the book about an American icon; Walt Whitman: A Study in the Evolution of Personality that was only published in 1973, 23 years after his death.
When he killed game to eat, he knew that if the animal or fish had hands and discovered the gun before man, then man would be game.
When you have the knowledge, you know everyone's game – Marie Dion
You would know that Smuts could have pulled Prime Minister George aside at any of their very regular Cabinet War meetings where there were never more than a handful present, and they were always the same individuals because you know the reason behind the expression, "Loose lips sinks ships", and said,
"What's with these Yanks. They continue to take all of South Africa's harvested gold, and nor did us South Africans ask America to ship 20,000 Chinese slaves to work our gold mines following the most brutal American led 8 Allied invasion of China which was a clear violation of not only international law but America's protestations of non-interference in the domestic affairs of sovereign nations which is responsible for all the isolation chit-chat that never seems to cease."
Instead Smuts simply stuck to business and knowing that in private conversations Prime Minister George would let American President Wilson know that neither he nor Smuts were fools.
I have now suggested to a number of people including Israelis that they watch the 2005 documentary, Two Days in October: American Experience.
You don't hear much about American army scouts performing all that great in the American Vietnam-Cambodian-Loas War which the propaganda said was all about "In defense of our south east Asia policy", rather than America preferring an isolationist foreign policy that was the predominant cry from the bought media at the start of World War I and WW II.
You do, however, hear quite a bit about the Viet Cong heavily relying on their highly effective scouts in this most revealing documentary about American propaganda that makes all "Red Communist" propaganda seem awfully tame.
If you are human your breath will be taken away by the sensitivity of the north Vietnamese General to spare the life of the lonely, scared to death monkey, despite his troops half starved to death.
Where is the truth?
It is very easy to find if you know where, which is why I am helping you.
Do you know of any army general in modern day times, other than Smuts who did his own scouting?
I don't know of any Chinese, Vietnamese, Cambodian or for that matter Israeli general who does their own scouting.
Smuts did his own scouting in every war where he fought on the front lines; and of course you understand that nothing is closer to the front line than when a scout is in enemy territory.
Even during World War II Smuts did his own scouting and nor did he bring along bodyguards.
There wasn't a general during WW I and WW II who didn't bow to Smuts; he was that good.
But you hadn't heard of him because he was the best friend the Jewish people have had in modern day times, if not going back to before the 11 Tribes of Israel wiped out the 12th.
You shouldn't be lost if you still have a fundamental desire to seek the truth, which of course very few have, because they only care about "making the money" which they see as a survival skill because they have few other.
It is no less disturbing when finding out after you have no survival skills that there is nothing very smart about being in charge of the printing and allocating of the money and leaving it to your bought media to have the easy to please people believe the money has value.
Go ahead and read that paragraph again.
The mineral monopolists have everyone in quite the fix with their price fixing of the money which counts for nothing when you have a sufficiently large and strong army to stand up to the bullies unless the bullies have constantly hanging over your head that if you do not play ball and continue to support their price fixed money system they have nothing to lose by vaporizing your citizens.
On Smuts' deathbed, and he coincidentally took his last breath on September 11, 1950, the last person he was communicating with was Neils Bohr, the nuclear scientist who provided key elements of America's Atomic bomb, and you remember 2 were dropped on civilian targets, Hiroshima and Nagasaki whose dead would not have remembered after they were vaporized how it all started with US Admiral Perry firing off a few rounds of his cannons at the unarmed and defenseless Japanese merchant fleet who summarily surrendered; and for his bravery on the high seas – although this unprovoked aggression, terrorism of the highest order, took place in Japan's territorial waters back in the early 1850s, prior to America's not exactly civil Civil War which wiped out 700,000, 2% of the population – the US Congress awarded Admiral Perry a $20,000 bonus and nor was he thrown in a military prison because he was heralded as a hero of America's leading survival capitalists.
During WW II, and prior to nuking slave nation Japan who simply revolted on December 7, 1941, Neils Bohr advocated that the Capitalist puppet Stalin be given America's Atomic Bomb secrets which Stalin was getting anyway. Once again British Prime Minister George had Smuts write him a letter explaining Britain's best course of action. Smuts wrote simply that whatever decision was taken, it should be done quickly. There was no further comment from the British War Cabinet.
It is only fitting that the two smartest people in the world should be communicating with one another immediately prior to one departing.
When you scroll back up to my 33rd birthday photo you will notice the taller man on the far right, my immediate family's very close friend Les Shagam who more than also being a founder of the IAF, Les helped save the life of Boris Senior when he was shot down in March 1945 on his 46th mission right after scoring a direct hit on the German vessel Leonhardt and landing in the freezing cold waters 800 meters off Venice beaches with German E-Boats closing in and firing to kill. Shagam was flying a British made Spitfire and provided cover to an American air-sea rescue aircraft whose brave pilot and even braver medic jumped in the water to save Senior whose body was in shock and close to death; and both the pilot, a white American and the medic, a Colored man received medals of bravery.
Shagam then joined the Mossad's EL-EL airline but because he was homosexual he was considered a security risk and assigned to create a "safe house" in London's Earl's Court, London Travelers Club which was my immediate family's "home away from home".
As one grows older what you leave behind is your legacy.
If you have made mistakes and don't correct them, they become no different than having a monkey constantly on your back as you fear the past coming back to haunt you.
I don't have any such fears because I know better than to lie and nor have I made it my business to speak without first thinking.
All those who have written books are that much more hamstrung by their mistakes which quickly turn into lies once you know better and you dont rectify the mistakes.
So you keep adding to the lies which become that much more "Machiavellian" and before you realize it you are mixing fiction with non-fiction, but in the end the truth always comes out.
At the start of Israel's War of Independence which few in the world wanted to see Israel survive, the Jewish population of South Africa was around a 100,000 and the United States Jewish population approximately 5 million, much the same it was at the start of The Holocaust less than a decade before.
You can see there were quite a few Jewish South Africans amongst the 50 or so fighter pilots of Israel's only fighter squadron 101 which only had two commanders and neither of them were American because the first was an Israeli Modi Alon and when he was killed on October 16, 1948, South African Syd Cohen became the commander.
On October 16, 1948 Smuts was still very much alive but mourning the death of his beloved eldest son, Japie who had died on October 10, the same day my parents were married in Durban, South Africa, from a 24 hour illness.
If you cut Smuts out of the history books then you wouldn't be expected to know that he was also the "Father" of the second oldest air force, the South African Air Force whose Jewish fighter pilots and fighter-bomber-pilots were the backbone of the IAF which would naturally make Smuts also the "father" of the IAF.
Imagine right now Steven and Nancy Spielberg reading this at the same time as you and their thinking is simply,
"How much can we pay Hannah to keep her quiet, and at the same time convince her that no one else will know our secret?"
No one needs to tell me the military-peace plan I have drafted which Israel could have begun executing before this latest mortar round hit Eshkol if only common sense was prevalent, is the right choice, and yes there is no other choice other than for israelis to wait to be vaporized.
The most wonderful thunder can be heard in the distance, and the wind is picking up.
Choosing change when you have been backing the wrong horse is smart.
Shalom,
Gg
[Word count 3972]98oikl./m m /
On Jul 19, 2014, at 4:58 AM, Hannah Brown <hannbrown> wrote:
It sounds like a wonderful book.

Have you sent a copy to the book section of the Jerusalem Post?

On Fri, Jul 18, 2014 at 10:12 PM, GaryStevenGevisser <garystevengevisser> wrote:

Dear Hanna,

I read your article about Nancy Spielberg's Above & Beyond. Could I share with you some important facts which Senior addresses very clearly in New Heavens which was only published after Senior's death in April 2004?

Senior was a very close intimate of my immediate family, and someone I got to know personally on a higher level than either of my parents when on Ulpan-Gadna training at Ben-Gurion's kibbutz Sde Boker back in 1972, starting on September 1, 3 days before the Munich massacres. BTW, my father Bernie Gevisser [1923-2012], a year older than Senior, was also a South African Air Force-RAF Fighter-Bomber-Pilot and his wingman, the only other Jewish Fighter Bomber Pilot in SAAF Squadron 11, Syd Cohen [1921-2011] commanded the IAF's only fighter squadron 101 to victory in the War of Independence, following the death of Israel's first commander, Modi Alon on October 16, 1948.

To give you a sense of the thinking and research which went into NEW HEAVENS, subtle, My Life as a Fighter Pilot and a Founder of the Israel Air Force, one just has to look at the date that close intimate of Senior, President of Israel, Ezer Weitzman, wrote the Foreword to the first edition, March 1998.

Looking forward to hearing from you.

Gary
7,392 total views, 3 views today