Definition of Good American – Re: Marie:could you ask Gary…
Prior broadcast – http://2facetruth.com/smf02/index.php?topic=60480.0

Subject: Definition of "Good American" – Re: Marie:could you ask Gary
to remove me from his distribution list….thanks…kim (getting daily
emails now)
From: marie dion Gevisser
Date: Wed, October 19, 2011 2:27 pm
To: kim wilkins
Cc: raye anne marks , rancho@giese.com, Mary
Rodriguez , Coca Hummel , Renata
Shafor , "Elisa & Brian" , Ann
Neumeister , Diana Duval
, dianewelch ,
Warfield Fine Art ,
Matthew_Margo_Esq._-_Senior_attorney_for_CBS_-_Matthew's_fat
her_Judge_Cecil_Margo_was_tasked_by_Ben_Gurion_during_Israel
's_War_of_Independence_[Nov._1947_-_Jan._1949]_where_South_A
frican_Commander_Margo_played_a_pivotal_role_and_overseen_ev
ery_step_of_the_way_by_devout_Christian_Jan_Smuts_to_develop
_the_"blueprint"_for_what_is_today_the_brutally_strong_Israe l_Air_Force
, "President Shimon Peres c/o Office for the
Israeli Deparment of Defense Attache, Israeli Embassy Washington DC
Israeli Embassy" , "Patrick K. Tillman Sr. Esq.
– father of American Football athlete Pat Tillman who was killed by
"friendly fire" in Afghanistan." ,
Bernie_Gevisser_-_[Oct._18,_1923_-_]._2nd_Lieutenant_B._Gevi
sser_along_with_Captain_Syd_Cohen_were_the_only_Jewish_Fight
er-Bomber-Pilots_of_Jan_Smuts'_South_African_Air_Force_Squad
ron_11_during_WW_II_and_whose_Commanding_Officer,_Field_Mars
hall_Jan_Smuts_who_was_second-in-command_to_Churchill_during
_WOW_II,_is_not_even_mentioned_in_the_book_FRIENDS_IN_DEED_t
hat_chronicles_the_relationship_between_the_modern_State_of_
Israel_and_the_US_Government,_who_those_"in_the_know"_kn
ew_was_"no_friend"_of_the_fledgling_State_of_Israel,_despite
_the_US_being_possibly_the_first_to_recognize_the_State_of_I
srael,_and_most_begrudgingly,_on_the_very_day_the_US_Governm
ent_had_planned_to_the_Nth_Degree_the_total_destruction_of_I
srael,_the_day_following_David_Ben_Gurion_who_was_"joined_at
_the_hip"_with_his_good_friend_Jan_Smuts,_declared_Jewish_St
atehood,_May_14th,_1948_Gevisser , "Devin Standard
– eldest son of former President of New York State Bar Kenneth
Standard." , "Ron Bellows – US Government
owned American International Group – Chief Executive Officer President
Barrak Obama – Nobel Peace Prize winner on 10/9/2009″
, Alan Dershowitz – Harvard Law School
, Andre Dion , Department
of Justice – Anti-Trust Division , "Jeffrey
Krinsk Esq. – shareholder class action litigator [SCAL] – Finkelstein &
Krinsk" , "Chairman's Office – De Beers Julie
Burgon – Assistant to Jonathan Oppenheimer"
, Diana Henriques – journalist New York
Times – Big Jury Award in Injury Case Over Keyboards – December 10 1996
, John Perkins – former CIA Economic Hit Man
author and founder Dream Change , "John K.
Pollard, Jr. – alumnus of MIT and Cornell University."
, Rush Limbaugh feigned opponent of Obama
, "Rabbi Capers C. Funnye – close cousin of First Lady
Michelle Obama" , "Sidney Abelski – lawyer –
only child of two Auschwitz survivors." ,
Chinese Embassy – USA , "T. Colin Campbell, PhD –
Cornell University The China Study" , Joan Krok
Institute for Peace and Justice – UCSD Campus , "Mark
Silverstein Esq. -c/o Alison May – ACLU – roommate of King Golden Jr. at
the University of Virginia Law School" , Mary Valder
– Personal assistant David Rockefeller ,
"Roger W. Robinson – protege of David Rockefeller and former Chairman of
U. S. -China Economic and Security Review Commission"
, "King Golden Jr. Esq. – my long time American
attorney and "bosom buddy" of Roger W. Robinson aka "Our Man Roger" who
I have known intimately since he joined the National Security Council in
March 1982."
Prior broadcast – CLICK HERE
Kim – Im expecting Marie anytime now, and I will give her the message.
I am elated. I just had two conversations with Rose Tchang-Sun Yatsen. Do you know what? She is much busier than you and I know that because you find the time to pick my brain whenever we meet at the art events; and I know that your business is all about spying and counterspying, so don't give me any more of your bullshit.
SO, tell me how would I know that you are not part of the Mossad's art student spy network – CLICK HERE – that uncovered the most precise plans of 9/11 which they shared with the CIA and FBI? How would I know if you are not part of a group trying to mimick the Mossad's strategies and tactics? I don't know anything about you other than what I see and hear out of your mouth; versus me who is very clear on my website 2facetruth.com that I singularly pursue truth by ferreting out corruption wherever it crosses my path, by religiously going at it from the top down and bottom up.
If you were an adversary of mine, wouldn't you choose the weakest link in the chain in my circle of friends and acquaintances to try and trip me up?
Did you not think that a great many people in both the FBI and CIA once thought that Robert Hanssen and Aldrich Ames were "good guys".
What is your definition of a "good American"?
I am expecting a 3rd phone call from Rose's home this afternoon from a Chinese gentleman who has all the qualifications to convert my website 2facetruth.com into Chinese. You would also know that he wouldn't be calling me to convert it from simple Chinese into English because it is in simple English.
You tell the story that the work you do protects American citizens from the bad guys.
Tell me now, clearly and precisely what makes me a bad guy that has one of the judges that you protect, because he hides behind the US Constitution when not also flagrantly abusing it, to hand me a $4 million DEATH PENALTY sentence, even though he speaks openly in court that there is not a shred of evidence against me for the charge of defamation by a former spy-officer of the CIA [Central Intelligence Agency] before going on to arrogantly declare out loud that he knows he is trampling on my Constitutional Rights because it is so vulgarly transparent.
That is right. You perfectly understand simple English which is all I speak with you. $4 million and they cannot find a single thing I have done wrong, other than offend very corrupt people who are abusing their government privileges.
So how do you, Mr. Deep Thinker, think they came up with the that number of $4 million? Could it be linked to the $4 billion Jewish slave wage settlement that my friend Deborah Sturman Esq. withdrew from the war chest of Nazi Germany? – CLICK HERE.
You of course understand that Deborah who is as close to my mother as she is to any person in the world including her parents and would do anything I ask of her, is not the only Jewish lawyer in the world who feels they cannot lift a finger to help me because it inevitably leads not simply to the demise of their profession in short order, especially someone as prominent as Deborah, but how us Jewish people failed to nail De Beers once Israel got its first nuclear weapon, which
of course De Beers knew it would be a question of time and so they took countermeasures.
They pay you the big bucks for your brain, not your ability to lead a crack Israeli Special Forces unit into combat in enemy lines. SO what do you think those countermeasures were and what the Mossad then countered with?
Consider this a calculus test and you have 30 minutes to come up with the right answer, and it is fine if you use both this email address as well as my gary@2facetruth.com, and you if you want to run by your results with Raye Anne Marks, please be my guest.
Since you are in the weapon systems infrastructure business at the very front lines of Defense/Offense I expect much more out of you than you playing possum, when it suits you, of course.
Could it be that Texas Judge Martin Lowy has been bought by the bad guys?
Would you think my or Marie's life is in danger?
How do you think you can help?
Please dont tell me that you know of a French to English translation to help me translate what her brother Andre, a most senior RCMP whose last assignment was in charge of security at the Canadian Embassy in Washington DC, and before that he spent many years in Paris, France protecting the Canadian Ambassador to France, emailed Marie earlier:
Allo Marie,
Maman s'inquiète de ton silence. Call home, et j'espère qu'on se verra bientot…
André
Of course Marie and I were at Andre's very big retirement party in the lobby of the Canadian Embassy which you would know has the best position overlooking Capital Hill, and it was not only the Canadian Ambassador who had very nice things to say to Andre whose command of the English language is at least as good as any English born and bred speaking person I know, but so did the representatives of the FBI and Secret Service who later gave us a private tour of the White House and nor did they question the authenticity of my American passport which I received when I began a citizen of the US in August 1985.
What do you think "Our Man Roger" aka Roger W. Robinson [Feb. 6, 1951 – ] was doing back then? His "bosom buddy", my umpteen year American attorney King Golden Jr. Esq. was in daily contact with me, which is not to say King, who lived kittycorner across from Marie when she was married to The IT, called me up at my offices at Insurance Marketing Services Inc.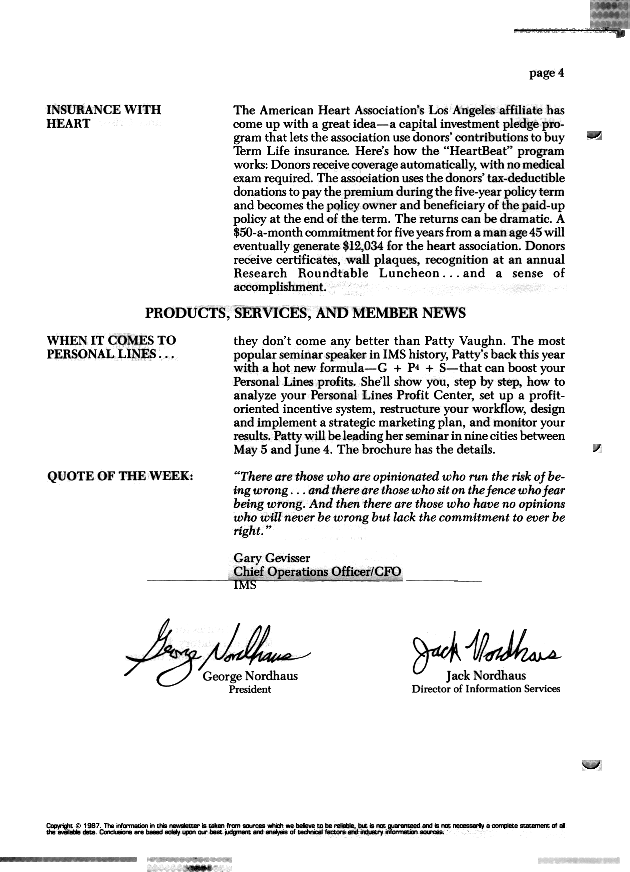 each time "Our Man Roger" who was David Rockefeller's protege at Chase Manhattan Bank before he joined the NSC in March 1982 by which time all 3 of us as well as Valerie Schulte Esq., senior lawyer at the National Association of Broadcasters [NAB] were as close as it got, without any of us having sex, went to the bathroom.
It has been more than 24 hours since I heard from Marie and the contractor to look at the bathroom she wants remodeled has just shown up.
Could you run over to either Chinos in Rancho Sante Fe or Jimbos in Del Mar, and check for me?
You know from my "validate" response to Raye Anne last evening that 885 words of the total of 1701 were devoted to the Soviet Union's close alliance with De Beers going back to when I first joined the terrorist of terrorist financing organization in 1979, and you would know that "Our Man Roger's" expertise besides for pontificating on every subject under the sun was, the oxymoron, "Soviet Economics".
You would of course know people in General Atomic who flush out spies as well as double agents.
Again this is your business that you openly talk about to strangers such as me who I keep telling you that I am not a spy but you insist on sharing with me top secret military intelligence information.
Now perhaps everything you have told me is total bullshit, but I wouldn't know because again I not only don't get paid to be a spy, I am not a spy, because I know better than to ever put myself in a position where my integrity; i.e. reputation could be compromised.
I am the American hero that you all should be getting behind; instead I get your stinky f…king bullshit.
Get me the name and email address of the General Counsel for General Atomic now, and do not disturb me again unless it is that precise information, because I am busy now with me telling you exactly how close Mango came to catching this pesky fly that I just shmooshed.
Standby for my reply to Raye Anne, it is going to knock your socks.
Do you best, shy of knocking yourself out of course.
Gary
[Word count 1412]
On Wed, Oct 19, 2011 at 9:52 AM, kim wilkins wrote:
Marie:could you ask Gary to remove me from his distribution list….thanks…kim (getting daily emails now)
1,684 total views, 3 views today