Dialogue with Ron Bellows on October 12, 2011
Prior broadcast – http://2facetruth.com/smf02/index.php?topic=59284.0
From: Gary S. Gevisser c/o Marie Dion Gevisser
Date: October 12, 2011 4:29:49 PM PDT
To: "Bellows, Ron"
Cc: rest; Devin Standard – eldest son of former President of New York State Bar Kenneth Standard." , Ed Bertolas , Tefo , "Patrick. J. Fitzgerald – US Attorney – prosecuted successfully Presidential Pardoned Marc Rich's attorney Scooter Libby." , "Patrick K. Tillman Sr. Esq. – father of American Football athlete Pat Tillman who was killed by "friendly fire" in Afghanistan." , "Jeffrey Krinsk Esq. – shareholder class action litigator [SCAL] – Finkelstein & Krinsk" , "David Bellavia – US Soldier nominated for the US Congressional Medal of Honor. Now "blowing the whistle" on Operation Sparkling." , 60 Minutes <60m@cbsnews.com>, Matthew Margo Esq. – Senior attorney for CBS – Matthew's father Judge Cecil Margo was tasked by Ben Gurion during Israel's War of Independence [Nov. 1947 – Jan. 1949] where South African Commander Margo played a pivotal role and overseen every step of the way by devout Christian Jan Smuts to develop the "blueprint" for what is today the brutally strong Israel Air Force , "John K. Pollard, Jr. – alumnus of MIT and Cornell University." , John Perkins – former CIA Economic Hit Man author and founder Dream Change , "Mark Silverstein Esq. -c/o Alison May – ACLU – roommate of King Golden Jr. at the University of Virginia Law School" , Alan Dershowitz – Harvard Law School , "T. Colin Campbell, PhD – Cornell University The China Study" , Editor-shanghai daily , Chinese Embassy – USA , Jay McMichael – CNN MCMICHAEL , Edward Jay Epstein – Author of The Diamond Invention , "Chairman's Office – De Beers Julie Burgon – Assistant to Jonathan Oppenheimer" , Marisa Holmes – Occupy Wall Street organizer , "Kenneth Standard Esq. – former 25 year in-house General Counsel of Bristol Meyers, most recently past President of the New York Bar Association – Harvard Law School." , "Marcia Kramer – Political / Investigative Correspondent WCBS-TV" , Joyce Mohapi – Recieved a De Beers-Rhodes Scholarship after being imprisoned during the 1976 Soweto Riots , katejaros@gmail.com, Lynne Nimizt , "Rabbi Capers C. Funnye – close cousin of First Lady Michelle Obama" , "Sidney Abelski – lawyer – only child of two Auschwitz survivors." , Jerusalem Post , "President Shimon Peres c/o Office for the Israeli Deparment of Defense Attache, Israeli Embassy Washington DC Israeli Embassy" , Department of Justice – Anti-Trust Division
Subject: "I need a drink…" Ron Bellows – Re: Myth of capitalism – Fwd: The human is perfectly stupid – Fwd: Holism & Evolution
I am the person you wrote to on May 3, 2004; the same person who took this photo of you and Pypeetoe outside our rock cabin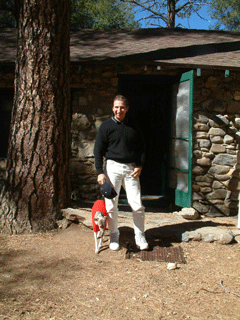 Now that I have answered your question, answer mine as if you were under oath, under penalty of perjury, in a treason trial that you would agree should immediately begin against your employer, the US Government, starting with the US Congress.
Risk assessment specialist,
Gary S. Gevisser
Ps – Let me throw in two more questions:
First; why did you feel the need to end your May 3, 2004 email, "I need a drink . . . ." – CLICK HERE.
Second; explain in your own words why you sent me two memos CLICK HERE & CLICK HERE which were internal documents of AIG explaining the reason why Chairman of the Board and CEO of AIG Maurice "Hank" Greenberg decided not [to] insure SG Searle, the manufacturer of Aspartame given its dire straits detrimental effects on the mental capacity of those involved in AIG's studies, which did not prevent the US Government from going ahead and introducing Aspartame into the food supply of the US including toothpaste and chewing gum.
For the record, Ron Bellows and I first met in the first week of January 1997, following a phone conversation I had with Hank Greenberg on or around December 11, 1996 which stemmed from an article penned by Diane Henriques of the New York Times – CLICK HERE – although to be perfectly clear, Hank Greenberg, after bringing AIG's President, Thomas Tizzio onto the line, then instructed Bellows' immediate report, Bill Frye who was head of AIG's Mergers and Acquisitions Division, to send his "boy wonder" to visit with me; and Mr Bellows and I were intimates until he attempted to loop me in to the shenanigans of AIG-US Government back on May 3, 2004, just 11 days after American professional football star, Patrick Tillman Jr. who was very disappointed with the drug harvesting overseen by the US Government in Afghanistan and who could see no other purpose in US involvement, was killed by "friendly fire".
On Wed, Oct 12, 2011 at 2:58 PM, Bellows, Ron wrote:
And who are you?
Ron
—-Original message ———
From: Gary S. Gevisser c/o Marie Dion Gevisser [mailto:mariedion1@gmail.com]
Sent: Wednesday, October 12, 2011 5:54 PM
To: Bellows, Ron
Cc: rest; Devin Standard – eldest son of former President of New York State Bar Kenneth Standard.; Ed Bertolas; Tefo; Patrick. J. Fitzgerald – US Attorney – prosecuted successfully Presidential Pardoned Marc Rich's attorney Scooter Libby.; Patrick K. Tillman Sr. Esq. – father of American Football athlete Pat Tillman who was killed by "friendly fire" in Afghanistan.; Jeffrey Krinsk Esq. – shareholder class action litigator [SCAL] – Finkelstein & Krinsk; David Bellavia – US Soldier nominated for the US Congressional Medal of Honor. Now "blowing the whistle" on Operation Sparkling.; 60 Minutes; matthewmargo@aol.com; John K. Pollard, Jr. – alumnus of MIT and Cornell University.; John Perkins – former CIA Economic Hit Man author and founder Dream Change; Mark Silverstein Esq. -c/o Alison May – ACLU – roommate of King Golden Jr. at the University of Virginia Law School; Alan Dershowitz – Harvard Law School; T. Colin Campbell, PhD – Cornell University The China Study; Editor-shanghai daily; Chinese Embassy – USA; Jay McMichael – CNN MCMICHAEL; Edward Jay Epstein – Author of The Diamond Invention; Chairman's Office – De Beers Julie Burgon – Assistant to Jonathan Oppenheimer; Marisa Holmes – Occupy Wall Street organizer; Kenneth Standard Esq. – former 25 year in-house General Counsel of Bristol Meyers, most recently past President of the New York Bar Association – Harvard Law School.; Marcia Kramer – Political / Investigative Correspondent WCBS-TV; Joyce Mohapi – Recieved a De Beers-Rhodes Scholarship after being imprisoned during the 1976 Soweto Riots; katejaros@gmail.com; Lynne Nimizt; Rabbi Capers C. Funnye – close cousin of First Lady Michelle Obama; Sidney Abelski – lawyer – only child of two Auschwitz survivors.; Jerusalem Post; President Shimon Peres c/o Office for the Israeli Deparment of Defense Attache, Israeli Embassy Washington DC Israeli Embassy; Department of Justice – Anti-Trust Division
Subject: Re: Myth of capitalism – Fwd: The human is perfectly stupid – Fwd: Holism & Evolution
Marie, my wife, as well as Tefo, who you can read about by typing his name next [to] mine when doing an Internet search, as well as many others, remember you.
Are you ready for a roundtable conversation where we will start with
your memo of May 3, 2004, subject, "We AIG insure Haliburton" which you can still find on your sister website www.Military.com?
You are the same Ron Bellows of AIG? If so can tell us when you expect your government to spin off to private parties AIG and will you continue to be well compensated?
BTW, Devin Standard says you are still very much into guns; is that true? Do you remember finding the time to email him when he visited us the other week? How come the least busiest people are always on the internet as much as they protest otherwise?
You never did explain what you did when you were given orders to insure the bad risk Haliburton and company and thereby bankrupt AIG, that had you keep your cushy job that is all about promoting the diamond backed US Dollar? Was Patrick Tillman Sr.'s son, one of the casualties you were referring to in that most articulate email you have written, apart from telling me how impressed you were with my knowledge of the insurance industry?
Now explain why you never explained to your insureds why De Beers Lloyds of London no longer accept American citizens as investors and this practice which also ha[s] Lloyds accept De Beers diamonds that De Beers price fix, a[s] a money instrument, is now endorsed by their Securities Exchange Commission?
How much time do you need?
Ps – I would like for you to be as familiar as me with Nixon's "bugaboo" speech of August 15, 1971, and count how many times he uses the word "gold" and in which sentence is it most conspicuously absent.
On Wed, Oct 12, 2011 at 11:47 AM, Bellows, Ron wrote:
Hi Marie –
I hope you are well –
I am sorry to say that I am not familiar with Tefo Mohapi but thank you for considering me in your missive
Regards
Ron
—-Original message——-
From: Gary S. Gevisser c/o Marie Dion Gevisser [mailto:mariedion1@gmail.com]
Sent: Wednesday, October 12, 2011 2:14 PM
To: Jeffrey Krinsk Esq. – shareholder class action litigator [SCAL] – Finkelstein & Krinsk
Cc: rest' Jay McMichael – CNN MCMICHAEL; Edward Jay Epstein – Author of The Diamond Invention; Alan Dershowitz – Harvard Law School; matthewmargo@aol.com; Adam Hochschild – author of Blood & Treasures – founder of Mother Jones; Rabbi Capers C. Funnye – close cousin of First Lady Michelle Obama; Marcia Kramer – Political / Investigative Correspondent WCBS-TV; Patrick. J. Fitzgerald – US Attorney – prosecuted successfully Presidential Pardoned Marc Rich's attorney Scooter Libby.; Bellows, Ron; Noam Chomsky; Chairman's Office – De Beers Julie Burgon – Assistant to Jonathan Oppenheimer; Mark Silverstein Esq. -c/o Alison May – ACLU – roommate of King Golden Jr. at the University of Virginia Law School; Zena Badash-Ash Gevisser Zulman [May 30 1929 – ] c/o Arnold Pollak; Sidney Abelski – lawyer – only child of two Auschwitz survivors.; T. Colin Campbell, PhD – Cornell University The China Study; John K. Pollard, Jr. – alumnus of MIT and Cornell University.
Subject: Myth of capitalism – Fwd: The human is perfectly stupid – Fwd: Holism & Evolution
———- Forwarded message ———-
From: Gary S. Gevisser c/o marie dion Gevisser
Date: Wed, Oct 12, 2011 at 10:25 AM
Subject: Myth of capitalism – Fwd: The human is perfectly stupid – Fwd: Holism & Evolution
To: tefo-Lesego Mogoatlhe , tefo- Tsetse Hlalele , Tefo-Anele Mdoda , Tefo- Lelo Boyana , Tefo-Benedict Maseko , Tefo- Lebogang Ditshwene , Tefo-Jama Dlamini , Tefo-Kivan Maharaj , Tefo-Neo Molefe , Tefo-Motshewa Matetoa , Tefo-Ron Derby , Tefo-Duncan Mashika , Tefo-Tmonyepao , Tefo-Singita Loyiso Maluleke , tefo-Unathi Mdoda , Joyce Mohapi – Recieved a De Beers-Rhodes Scholarship after being imprisoned during the 1976 Soweto Riots ,lidija.brucker@gmail.com, Nicole Moisey – Occupy Wall Street organizer , Marisa Holmes – Occupy Wall Street organizer , Justin Wedes – Occupy Wall Street organizer , John Perkins – former CIA Economic Hit Man author and founder Dream Change , "Tony Leon – Fomer head of the South African Oppostion Party to the current ANC regime. Now the ANC South African Ambassador to Argentinia." , Nitza Lite ,jackiedena@me.com, Lynne Nimizt , cheeves.ivini@yahoo.com, "Oprah. com" , Gary Barber – Co-Chairman of the Board and Chief Executive Officer of MGM , "David Bellavia – US Soldier nominated for the US Congressional Medal of Honor. Now "blowing the whistle" on Operation Sparkling." , "President Shimon Peres c/o Office for the Israeli Deparment of Defense Attache, Israeli Embassy Washington DC Israeli Embassy"
Cc: rest; Chinese Embassy – USA , Editor-shanghai daily , South China Morning Post , Rush Limbaugh feigned opponent of Obama
Prior broadcast – CLICK HERE

1,659 total views, 3 views today