Have been there, done that- Re: Best suit-Re: Copy of: Reservation
From: GaryStevenGevisser <garystevengevisser@gmail.com>
Subject: Have been there, done that- Re: Best suit-Re: Copy of: Reservation
Date: August 24, 2013 12:44:42 AM PDT
To: "Andile Madikizela – First cousin of Winnie Mandela and close confidant of Nelson Mandela who acknowledged in private meetings with Andile of his knowledge that the CIA turned him in to the South African Apartheid Regime during the Kennedy Administration. Andile first contacted me because he was curious about multi-billioinaire Jonathan Beare who hung out in gay bars in Johannesburg; and no one seemed to know much about him. It was my email postings on The Internet which first caught his eye, and Andile was impressed that I did not fear J. Beare." <mad11a@yahoo.com>
Cc: rest; Bool Smuts <bool.smuts@facebook.com>, Alexanders On 30th <admin@wigihosting.com>, "binderow@lawyer.com" <binderow@lawyer.com>, "banana.sst@gmx.de" <banana.sst@gmx.de>, "deluca_f@subway.com" <deluca_f@subway.com>, Geoff Harris <harrisg1@ukzn.ac.za>, marie dion Gevisser <mariedion1@gmail.com>, "info@fredricafriedman.com" <info@fredricafriedman.com>, "james.carroll43@verizon.net" <james.carroll43@verizon.net>, "jphillips@loeb.com" <jphillips@loeb.com>, "jabulani.sikhakhane@treasury.gov.za" <jabulani.sikhakhane@treasury.gov.za>, "South African Professor of Economics Mark Darrock – \"De Beers bring order to the diamond marketplace that would otherwise be chaotic\" [July 1, 2006 – China]. [July 1″ <Darrockm@ukzn.ac.za>, "EDITOR@SHANGHAIDAILY.COM" <EDITOR@SHANGHAIDAILY.COM>, "riaan.reyneke@facebook.com" <riaan.reyneke@facebook.com>, Lisa Fugard – Daughter of South African playwrite and actor Athol Fugard who played Jan Smuts in Ghandi <lfugard@att.net>
Broadcast 3
From: GaryStevenGevisser <garystevengevisser>
Subject: Have been there, done that- Re: Best suit-Re: Copy of: Reservation
Date: August 22, 2013 9:03:19 PM PDT
To: "Geoffrey Rothwell – Principal Economist at OECD Nuclear Energy Agency of the Organisation for Economic Cooperation and Development – Professor Stanford University – World authority on the pricing of uranium." <geoffreyrothwell>
Cc:rest;"lynnebentel" <lynnebentel>, "platinium.blade" <platinium.blade>, "Michael \"TORDU\" Awerbuch" <michael>, charles ivie <charles.ivie8>, Mary Valder – Personal assistant David Rockefeller <trilateral.valder>, "Rock legend Cyndi Lauper – referenced in VP Dan Quayle's response to Major Sam Samples on December 9, 2011" <cl.dreams>, Vice President Dan Quayle <danqal8y>, "terrysamples1" <terrysamples1>, "Cliff and Ronlynne Benn – Durban South Africa." <cbenn>, "adamtucker619 Adam Lee Tucker" <adamtucker619>, Adam Hochschild – author of Blood & Treasures – founder of Mother Jones <adamhochschild>, Jeffrey Fall <jeffreyefall>, "Jeffrey D. Sachs – Columbia University – author END OF POVERTY." <sachs>, jeff hubbard <jhubbster>, Ed Bertolas <bertolas>, "EDITOR" <EDITOR>, Jorbinski – Head Honcho Doctors Without Borders <jorbinski>, Embassy of Sweden – Washington DC <ambassaden.washington>, Emmanuel Ofosu Yeboah <emmanuel.o.yeboah.5>, "The coupon clipper is the Jeffrey Jack The Ripper Essakow – co-owner of the Marc Rich and Co. Flower Hill Mall Solana Beach, California" <jessakow>, Roy Essakow – Marc Rich Lieutenant <ressakow>, "Patrick K. Tillman Sr. Esq. – father of American Football athlete Pat Tillman who was killed by friendly fire in Afghanistan." <pat>, "ron.bellows" <ron.bellows>, "Patrick. J. Fitzgerald – US Attorney – prosecuted Presidential Pardoned Marc Rich's attorney, Scooter Libby." <patrick.j.fitzgerald>, NANCY SPIELBERG <nancyspielberg>, "nitzadrew" <nitzadrew>, "Gilbert Takam – brother of magnificent heavyweight World Boxing Federation Champion Carlos Takam who defeated The Thief Michael Grant in Paris back on May 24, 2013" <gimacellin>, "Devin Standard – eldest son of former President of New York State Bar Kenneth Standard." <devinstandard>, "Michael \"The Big Lie Thief\" Grant" <mageph520>, "Alex Davis – female marketing friend of Michael The Thief Grant." <delotchdavis>, Thulani Xulu <x_thulani>, "tonyleonsa" <tonyleonsa>, Tefo Mohapi <g00g0lpl3x>, "stevendavidsobol" <stevendavidsobol>, Sandie Lampe – Celebrity TV Dog Show Host – San Diego <slampe1>, Alexey Shumeyko <alexey.shumeyko>, "alexis.dizon.9" <alexis.dizon.9>, "riaan.reyneke" <riaan.reyneke>, Marcia Kramer – CBS TV New York City <mgkramer>, "info" <info>, "Deborah Sturman Esq. – well compensated lead counsel in $4 billion Holocaust slave labor settlement that was cheered by virulent anti-Semite De Beers. De Beers." <info>, "hartj" <hartj>, author and founder Dream Change Change John Perkins – former CIA Economic Hit Man <info>, "robin.usher" <robin.usher>, "lwinokur" <lwinokur>, Levi Lee <llee>, Alan Dershowitz – Harvard Law School <dersh>, "lbagley" <lbagley>, "lmw" <lmw>, Darren Krok <krokdg>, "david.altman" <david.altman>, "davidd" <davidd>, "Colin Cowie – Celebrity Caterer – former longtime lover of South African Jonathan Beare. Jonathan Beare." <PR>, Jonathan Beare – founder Investec <jbeare>, "derrick.beare" <derrick.beare>, "beverly.stracey" <beverly.stracey>, "binderow" <binderow>, Amy Noel – ex wife of baseball fielder <amy>, "amanpour" <amanpour>, "United Sec. of State John Kerry ℅ Jeffrey R. Krinsk Esq." <jrk>, "economic" <economic>, Noam Chomsky – I AM movie <chomsky>, "DrLauraFamily" <DrLauraFamily>
We are getting closer.
An amazing light show began as I headed back with Mango. See my Facebook "wall".
Begin forwarded message:
From: GaryStevenGevisser <garystevengevisser>
Subject: Have been there, done that- Re: Best suit-Re: Copy of: Reservation
Date: August 22, 2013 7:41:21 PM PDT
To: dave <monkeyboy264>
Cc: rest; Laura Malter – ex CIA <lauramalter>, Pal Marsden <roverelectric>, "Matthew Margo – Senior attorney CBS – 60 Minutes." <matthewmargo>, lstraughter, gshapiro, "Valerie Schulte Esq. – National Association of Broadcasters senior lawyer – former 15 year lover of Ted Turner." <vschulte>, "thaipoliticalprisoners" <thaipoliticalprisoners>, charles ivie <charles.ivie8>, "Michael \"TORDU\" Awerbuch" <michael>, "alexis.dizon.9" <alexis.dizon.9>, "Rabbi Caspers C. Funnye – close cousin of First Lady Michelle Obama." <ravfunnye>, Tumi Makgabo <yourevent>, "Jann Turner – daughter of Richard Turner murdered in Durban, South African on January 8, 1978, 119 days after his co-founder of The Durban Movement, Steve Biko was tortured to death, beginning on September 11, 1977. 8" <jann>, "Hlumelo Biko – son of Steve Biko, now running a Wall Street charity-investment portfolio. 11" <ali.ayala>, "Roger W. Robinson – protege of David Rockefeller and former Chairman of U. S. -China Economic and Security Review Commission" <rwrincorp>, "King Golden Jr. Esq. – former in-house General Counsel of Sc" <Kingdelmar>, "Glenn Greenwald – Guardian reporter who released the Snowden documents." <glenn.greenwald>, Alan Conrad <bacteriafarmer>, "jpostcolumns" <jpostcolumns>, "Office for the Israeli Department of Defense Attache Israeli Embassy, Washington DC." <att-sec2>
It is spelled out in my last text message sent to you that was written for a 12 year old whose parents, teachers and other guardians suffer from massive attention deficit disorder.
Forward it to Kathleen and if she doesn't understand it all fully then have her either call or email me.
Are you as excited about money as you were before you began getting your head around this forthcoming Social Anxiety gathering?
Notice Stedman in the cc section. Do you think he would have mentioned me in his conversations with Orah?
What makes you think Oprah wouldn't listen to him?
Would you pitch him any differently to how I previously pitched you along with a statistically valid sampling of the world's literate population; to repeat the ending:
That is all copyright material that has been sent to the likes of Penguin Radom House and their affiliates including De Beers

Do you think and talk about if the NSA have been reading my text messages and emails; and when do you think that began?
Glen Shapiro – gshapiro – was the former President of a division of Simon & Schuster's Prentice Hall operation. Bureau of Business Practices [BBP] were seriously interested in acquiring the insurance publishing company that I ran from the mid-to-late 1980s before starting my own "risk assessment" consulting services; placing the following ad just once in the South African Sunday Times: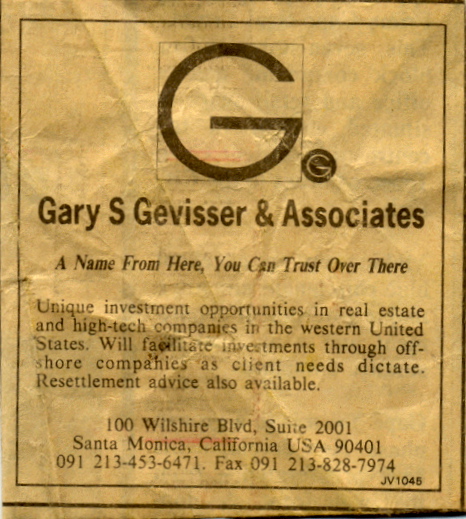 and in exchange for me proving my worth during my one week consulting where Glen put me up in his home and I also got to watch him mow his lawn, he who also had access to all the film footage of their parent company, Paramount Pictures-Gulf Western military contractor extraordinaire, that included this great film about people who have this nasty habit of putting monkeys on to the backs of the most worthy in an effort to slow them down, he provided me with rather funny but equally true verbiage about all the monkey games that poor managers play to protect their turf, which drew a very good laugh out of Chairman of Hearst Corporation Randolf Apperson Hearst who of course liked the rest of the document which I could bring along if the majority at the table find it interesting enough.
Note mention of my involvement in financing a successful patent infringement lawsuit against Westinghouse in my March 15, 2008 heavily broadcasted email-book.
http://www.nextraterrestrial.com/pdf/Microsoft%20Word%20-%20mohr-pot.pdf
What do you think Gulf & Western and Westinghouse who used to own CBS-60 Minutes have in common?
When military contractors sell divisions to other military contractors do you think the people that provide both the financing and the most important intelligence give a fuck what change of name their monkeys decide on or do you think their monkeys decide only what they are to decide?
Do you remember what day of the week it was when Putin instructed the Kremlin to release the photo of himself bowing to Number One Captain of Industry, Nicholas Oppenheimer shot in Johannesburg, SA on September 5, 2006
Note my Washington Bunch Addendum VI of my Last Peace Party invitation that was sent out on December 1, 2000, 9 months and 11 days exactly prior to 9/11,
and when you get to the bottom of the invitation right before the listing of the 14 Addendum there is in the PS line the following:
Judge Cecil Margo whose son is a friend of mine passed away last week. Judge Margo was the commander Ben Gurion chose after the 1948 War of Independence to develop the blueprints that would become the foundation of the Israeli Air Force. The funeral started the clock on his full comeuppance.
Matthew Margo Esq. who you also see in the cc section remains the senior attorney for CBS. Do you think he knows about the connecting dots between my informing all the plebes about how the money is valued and why there is not hyperinflation already in the United States and me being handed a fraudulent $4 million Texas DEATH SENTENCE judgement back on January 21, 2011 that no one wants to talk about at least not to my face or publicly?
Are you really that interested in what the vendor you are meeting in Los Angeles has to say, assuming they were already tuned into my missives but decided that they were going to wait for you to bring it up?
You are aware of the first rules in sales; the first person to speak losers.
Do you agree that all private and public art galleries not held by the ruling mineral monopolists which they never advertise and nor are any plebes invited, these gallery events which are overwhelmingly bullshit abstract funny money modern art, is where the food is crap and you meet crappy people; have been there, done that?
Ps – Must now take so very patient but raring to go Mango for a bicycle ride. Wasn't last night's moon so bright? Everyone here was talking about it today.
[Word count 854]
On Aug 22, 2013, at 6:45 PM, dave <monkeyboy264> wrote:
wow…….I'm sober and I can't follow what you mean……is it tomorrow night? or is it tonight? and what am I supposed to clear with kaltheen? I like the "we will be in contact" its super espionage-like…………
2,337 total views, 3 views today