History between Gevisser and De Beers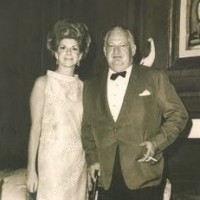 CHARLES ENGELHARD Jr. & DAVID GEVISSER
As an employee of Moshal Gevisser David Gevisser assisted Charles Engelhard Jr with a hostile takeover of Moshal Gevisser and as a result was awarded the position of CEO Engelhard Minerals Chemicals South Africa as well as a $6 million bonus for becoming executor of the estate of Charles Engelhard Jr.
Based on the mutually beneficial business dealings between De Beers and Engelhard Minerals and Chemicals; in 1979, Gary S Gevisser was given a position within De Beers' Codiam Inc. on 47th St in New York's diamond district where he was learning the business and being groomed to replace David Gevisser as the American based "leg" of De Beers. A role that was necessary following World War II, when De Beers executives were considered 'enemy of the state' for restricting the supply of industrial diamonds needed by the United States for the mass production of weapons of war.
EMAIL EXCHANGE WITH DE BEERS – "REMEMBER ME"
The following is an email correspondence between Gary S Gevisser and his former employer and principle De Beers site holder, Codiam Inc. which is still headquartered on 47th Street, New York City – led by Stephen-Leon Cohen, but controlled 100% by De Beers Anglo American. These emails, click Remember me? hyperlink above, along with the bone chilling recorded phone conversation (listen to both audios that follow) between Gary S Gevisser and Chicago based Diamond wholesaler, Ernest Slotar, who was first supplied with his diamond goods by Codiam Inc. when launching his business in 1978-79, not long before Gary S. Gevisser joined Codiam Inc., provide an important nexus between Gary S Gevisser and De Beers, and the 3 Branches of the United States Government.
VOICE MAIL FROM DIAMOND DEALER ERNEST SLOTAR - 
MARCH 24, 2008 PHONE CONVERSATION BETWEEN GARY S GEVISSER and ERNEST SLOTAR
"I want to have a nice, friendly conversation; but on my terms" [sic]

Ernest Slotar – Phone Conversation Transcript
BACKGROUND
Gary S. Gevisser began his official employment with De Beers diamond "site holder", Stephen Cohen of Codiam Inc. in 1979, after hand delivering a "letter of introduction" signed by Gary's father's first cousin, David Gevisser, and addressed to De Beers' US based attorneys who appointed David Gevisser, on March 2nd, 1971, following the assassination by the Mossad of 54-year old American-German Charles W. Engelhard, the executor of the estate of Engelhard who inherited from his father of the same name, who died in 1950 the title, "The Platinum King".
Just the year before, 1970, David Gevisser [1926-2009] was named Chief Executive Officer of Engelhard's Engelhard Enterprises South Africa which controlled the world supply of platinum, some 80% mined in South Africa.
C. W. Engelhard Jr, who was a close family friend of the Kennedy and Johnson family as well as open supporter of the South African Apartheid Regime, was forced just before he was killed because of his and his father's crimes of genocide against the Jewish People during The Holocaust as well as the forced sale of The Moshal Gevisser Group of Companies which David Gevisser worked for before joining Engelhard, to leave a gun-money-trail by disposing of his South African assets to a sister corporation, the De Beers-Anglo American Corporation [DAAC] resulting in the estate of Engelhard having a "control person" position of the DAAC who understood that David Gevisser as well as Engelhard's Anglo-German South African partner, Harry Oppenheimer, were now being "put to work", which meant first and foremost that they couldn't "change their tune"; both David Gevisser and Harry Oppenheimer who had feigned their opposition to the CIA's South African Apartheid Regime which provided slave wage earners to the DAAC huge mining empire were now required to maintain their hypocrisy along with all their supporters who failed to leave their markings, who were very few in number.
Drawn to C. W. Engelhard's funeral at St. Mary's Abby Church, Morris Town, New Jersey, was the last remaining son of virulent anti-Semite Joe Kennedy, Senator Ted Kennedy, as well as former President Lyndon Johnson and Vice President Humphrey, who along with the entire U.S. Congress understood that in a matter of 5 odd months the United States would go officially off the Gold Standard, August 15th, 1971, and the mineral rich estate of C. W. Engelhard skyrocketed and then a second time when the US Congress mandated that a piece of platinum be placed in the catalytic converter of the exhaust system in each new motor vehicle sold in the US.
The purpose of this nothing to speak of job within De Beers was to provide Gary with a working knowledge of the business so that he could one day replace his father's first cousin David as executor of the world's mineral richest estate which remains the vision of De Beers founder, Cecil Rhodes who in his first will of 1877 envisioned a "Secret Society" that would in essence be the allocator of the world's resources.
While in the employment of Codiam Inc., Gary S. Gevisser attended private meetings conducted between Stephen Cohen and Martin Rapaport of the international diamond pricing publication THE RAPAPORT REPORT during which Stephen, acting on behalf of De Beers, provided Martin Rapaport with the latest prices for cut and polished diamonds; and such a "staged" price fixing in direct violation of US anti-Trust laws was simply to let the US Justice Department never forget that mostly foreign based De Beers owned the 3 Branches of the US Government following De Beers victory in the Anglo Boer War [1899-1902]; and it no coincidence that in the year this most brutal war ended, Engelhard Sr. established Engelhard Minerals and Chemicals, Newark, New Jersey which was the birthplace of Hollywood whose equally bought and paid for Madison Avenue coined the expression, "A Diamond is Forever-A Girl's Best Friend".
Gary's "short career" with De Beers ended with his liver being poisoned – a clear message that he would need to keep his mouth shut; which he did for approximately 24 years, until he had all of his ducks lined up; and on 11.11.2004 once again re-established communication with De Beers, letting them know that he was going after them.
4,949 total views, 6 views today