J.P Morgan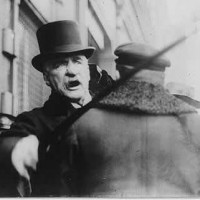 ORIGIN
Full Name: John "Jack" Pierpont Morgan, Jr.
Born: September 7, 1867
Died: September 7, 1943
Location: Irvington, New York, U.S.
Father: J.P. Morgan Sr.
Mother: unknown
EDUCATION
Allston, MA: Harvard, 1889
CORPORATE OWNERSHIP
1913: Federal Reserve Banks
1917: Anglo American – Co-founder
JP Morgan Chase & Co.
FEDERAL RESERVE
One of the key signatories to the establishment of the Federal Reserve in 1913.
WAR FINANCIER
1899-1901: Anglo-Boer War
1914 WWI Russia: $12,000,000
1915 WWI France: $50,000,000
1914-1918 WWI Great Britain: All munitions purchased from the United States
WWI Allies: Organized syndicate of 2200 US banks to lend $500,000,000
5,194 total views, 4 views today
Search
Most Talked About
Twitter Feed: Gary S. Gevisser
There is an important photo I wish to send you that shines the greatest light on the fate of the outcast

Why wouldn't you have discovered the concept of 2? It is like a chemical reaction; wouldn't you make the same con… twitter.com/i/web/status/9…

Conrad Strauss | Who's Who SA whoswho.co.za/conrad-strauss… via @WhosWhoSA

... everyone is looking for the "deeper truth" and it is sitting there right in front of our faces; the unimpossible dream.

Do you want to see the most wildly imaginative world is the most real; more surreal than you would ever imagine?