Major Terry Smilin Sam Samples – US Air Force fighter pilot
From: Gary S Gevisser
Date: January 22, 2012 12:57:44 PM PST
To: Lawrence Moses – victim of former US Air Force Major Terry Smilin Sam Samples
Cc: rest; Cyndi Lauper , Vice President Dan Quayle , Josh Weaver , wheelproz@aol.com, jimmstabile@gmail.com, icon200@hotmail.com, steve@listgiant.com, michellemillerco@yahoo.com, Raye Moelemi – victim of Terry Smilin Sam Samples , "Raye Anne "You defame fat people" Marks" , "Lynne "I like looking at myself in the mirror Dinosaur" Zimet" , Laura Malter – former CIA officer , michaelaberlin@yahoo.com, Michael Awerbuch , Earlyshow , glennbeck@foxnews.com, "David Bellavia – US Soldier nominated for the US Congressional Medal of Honor. Now blowing the whistle on Operation Sparkling." , Rush Limbaugh feigned opponent of Obama , Editor-shanghai daily , editor@guardianunlimited.co.uk, Editors , "Tony Leon – Fomer head of the South African Oppostion Party to the current ANC regime. Now the ANC South African Ambassador to Argentinia." , "Dr. Daniel Ellsberg – In March 1971 leaked Pentagon Papers that his boss Offense/Defense Minister McNamara authorized in June 1967, the same time McNamara and company placed the USS Liberty spy ship in harms way Sinai Peninsula – c/o Karen Jenkins – RAND Corporation" , "Devin Standard – eldest son of former President of New York State Bar Kenneth Standard." , Rose Tchang-Sun Yat-sen , liang.sean@gmail.com, "Andrea Renee St. Julian – Attorney At Law – Certified Appellate Specialist – State Bar of California Board of Legal Specialization" , "Andile Madikizela – First cousin of Winnie Mandela and close confidant of Nelson Mandela who acknowledged in private meetings with Andile of his knowledge that the CIA turned him to the South African Apartheid Regime during the Kennedy Administration." , "Ira Mishkind Esq. – Gary Steven Gevisser's estate attorney." , "Jerry Phillips, Esq." , "Sidney Abelski – lawyer – only child of two Auschwitz survivors." , Shaul Preiskel , Shaun Tomson – 1977 World Surfing Champion , Nitza Lite , Tricia – Travel China Guide , mirrorpublishing@yahoo.com, Jeffrey Krinsk , editorial@nytimes.com, Edward Jay Epstein – Author of The Diamond Invention , "Rabbi Capers C. Funnye – close cousin of First Lady Michelle Obama who is married to President OBAMA " , Rabbi Luke Ford – First to out South African-American Rabbi Abner Weiss , 60 Minutes <60m@cbsnews.com>, "Matthew Margo Esq. – Senior attorney for CBS – Matthew's father Judge Cecil Margo was tasked by Ben Gurion during Israel's War of Independence [Nov. 1947 – Jan. 1949] where South African Commander Margo played a pivotal role and overseen every step of the way by devout Christian Jan Smuts to develop the "blueprint" for what is today the brutally strong Israel Air Force"
Subject: Who besides for Obama? Re: Man pleads guilty in First Latino case
Larry, no kidding. I also know you don't think for one moment that I had previously known these facts about US Air Force Major Sam.
Why didn't you reference the two other articles I sent you right after?:
Four sentenced for defrauding Latino clients
Dozens put faith in low-cost home plan
By Dana Littlefield
STAFF WRITER
April 21, 2007
DOWNTOWN SAN DIEGO – Four people were sentenced yesterday for their roles in a North County real estate venture that defrauded Latino investors of more than $1 million.
Rolando Montez, 51, whom prosecutors described as the leader of the now-defunct First Latino Group, was ordered to spend seven years in prison and was taken into custody immediately after the hearing.
The Vista resident was convicted Jan. 30 of four criminal charges, including conspiracy to commit grand theft, conspiracy to obtain property by false pretenses and conspiracy to commit forgery.
Two other North County residents – Franklin Ontiveros, 44, and Johnnie Mae Johnson, 58 – were convicted of two charges, including conspiracy to commit grand theft. Jacob Miller, 76, was convicted of one conspiracy charge for notarizing a document on which a signature had been forged.
San Diego Superior Court Judge Howard Shore sentenced Ontiveros yesterday to five years in prison, Johnson to a year in jail and Miller to 90 days in jail. Johnson and Miller also must serve five years' probation after their jail time.
The defendants, except for Miller, were also ordered to pay more than $1.08 million in restitution to the victims.
Prosecutor Fiona Khalil argued during the trial that First Latino Group promised low-cost homes and services to more than 100 investors, many of whom are members of Hispanic churches in North County. The homes were never built.
Between 2001 and 2004, dozens of investors paid $7,500 each to reserve homes to be built in Vista, prosecutors said. Some families provided more money to First Latino Group and were told they would get a 20 percent return on their investment.
First Latino Group used the money to buy three properties in Vista – enough land for only 13 to 15 homes.
Witnesses testified that they believed in the program partly because of references to Bible passages and prayer that the group's leaders wove into their presentations.
A grand jury indicted the defendants in December 2004.
A fifth defendant, Terry Samples, 47, of Fullerton, pleaded guilty to five felony charges and was sentenced in May to more than three years in prison.
….

I always knew that there was something not quite right with Samples' story right from the start, but then I also have never found a single honest person who could say that they had been truly tested apart from my French-Canadian wife, Marie Dion Gevisser. Besides, Samples did show me off the bat that he was able to fix a programming problem with my website that my former webmaster Adam Lee Tucker had most likely created inadvertently, since Tucker was learning on the job, but as you can see Tucker did a pretty good job eventually with the layout of the site that is of course not close to looking as good as it should.
Amazing isn't it, how God has surrounded me from birth with the best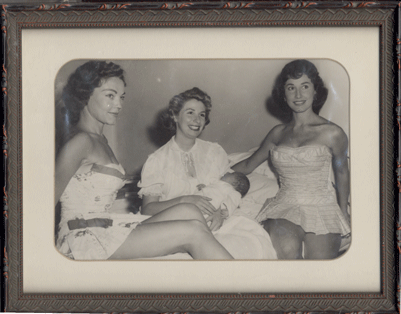 and the very worst?
Samples is no fool. He saw that by latching on to me, not only could he cover his past that was not all that easy to find on the Internet as I began to spotlight on my website all the good that I knew about him, but he saw himself getting in no time financially richer than he ever dreamed, and his big goal was to be much richer than Cyndi Lauper as you see him below parading before me back on January 4 when we last met an explosive email Cyndi had sent him on December 28 which referenced these rather valuable original 45's
which she sent him FEDEX; and of course Cyndi who owes her life to Major Sam remains his most "loyal supporter", or so it seems, but of course she never came out like I did initially in publicly supporting Samples by giving him the benefit of the doubt in his dispute with you who I knew nothing about; that didn't mean I would allow him any wiggle room, all the while everyone else just looked on enjoying their so sick vicarious first nature as I turned up the heat in the most
public way I knew how, and knowing that I would get no support from either the authorities or all those profiting from the corrupting of the best of the best of US Armed Forces, which of course begins with the German-South African Oppenheimers continuing to remind all 3 Branches of the US Government starting with our Commander In Chief who like all his weak opponents are picked from the bottom of the barrel, who butters their bread.
(Let me know when you are interested to find out what caused Major Sam to become so dirty, apart from an unauthorized ground military operation which resulted in Major Sam killing 3 "insurgents" and taking 3 prisoner without any backup as he drove the 3 in a jeep, with him of course sitting in the back with his pistol pointing at the driver's head, 45 miles to the US Air Force base on the front battle lines of Afghanistan, all part of the reconnaissance to learn firsthand what is going on at ground level when enforcing the no-fly zone in the air, which has yet to be fully spelled out because in the next instant the whole world would understand what other American military officers also know why it is our most trustworthy freedom fighters like Osama Bin Laden who after they are no longer indispensable get tossed to the wolves and end up turning and becoming the next enemy needed to support our out of control Military-Industrial-Complex all planned and executed out of Johannesburg, South Africa.)
Someone like my friend Rose Tchang-Sun Yatsen (front row 6th from the right, standing in the Great Hall of China, Beijing – December 2011t)
with access to the President Hu of China (center) could end the Oppenheimers' century rule of tyranny instantly, simply by banning the sale of worthless diamonds in China as the Oppenheimers, increasingly desperate thanks to the not exactly stupid way I have been exposing them from the top down and bottom up, have done a poor job in concealing the sale of their holdings in De Beers and Anglo American Corporation to the Japanese, who were not very generous to the Chinese when murdering upwards of 20 million, and most of that genocide took place long before the US decided it was time to enter World War II, and with our late arrival, execute much easier the pincer movement around China as well as stir up civil unrest internally, which still left the US-Oppenheimers with plenty of stolen resources to mop up those questioning Jewish people who hadn't been exterminated in the death factories of Germany-Poland as there was increasingly less resistance in all important, mineral rich South Africa.
Given how we know every child, unless conditioned by an over-controlling parent-grandparent, only gets joy out of sharing that has a moral code written all over it, the punishment that we now see with all the adults so transparently displayed with their ugly old age that is accompanied by increasing aches and pains, must of course come from having played things fast and loose in their previous lifetimes given how only One God could have created such a systemically evil and so ugly human spirit that contrasts magnificently with the rest of most beautiful and perfect nature.
Rose can, however, be forgiven for not acting as promptly as I would have liked given how just this past week she had her hips replaced; but this week I expect her, her son and their Chinese interpreter friend Sean to be less sedentary.
Samples' big payday was this Gold Money-Diamond Inventory Petition which I kept delaying; but now I am getting real close
without losing any sleep as I go "one by one" showing the darkness of the human spirit, and resting at this time only on you or the next Moses to choose smart.
Most important is that "signature on the contract" photo showing Nicholas Oppenheimer not only in command and control of most defensive and unhappy Putin, but as the Oppenheimers continue to promote this September 2006 "speaks for itself photo" taken in the Oppenheimers' backyard of Johannesburg, South Africa on both De Beers as well as Oppenheimer's very short personal Wikipedia profile, they speak a lot about how irrelevant they consider puppet Obama and his equally handpicked contenders from the Republican Party led by disgustingly fat diseased TALKATIVE cell Gingrich.
BTW, it looks like Samples also fooled very US military intelligence connected Vice President Dan Quayle.
Ps – You and the rest of the group victimized by Samples should have little difficulty seeing if Samples did in fact serve any part of his prison sentence as I proceed forward on several other important fronts.
[Word count 1537]
On Jan 22, 2012, at 11:03 AM, Larry Moses wrote:
You've got to be fucking kidding me. Gary, did u previously know about this or did u just dig this up?
Sent from Larry's cell phone
On Jan 21, 2012, at 2:22 PM, Gary S Gevisser wrote:
Man pleads guilty in First Latino case
By: DAVID STERRETT – Staff Writer | Posted: Thursday, March 23, 2006 12:00 am |
SAN DIEGO — The former chief operating officer of the now-defunct First Latino Group pleaded guilty Wednesday to five felony charges, including conspiracy to steal from investors in a home buying and investment program.
With the plea, Terry Samples faces up to three years and four months in prison and will be sentenced May 10.
Four other defendants accused of the same crimes — Rolando Montez, Franklin Ontiveros, Johnnie Mae Johnson and Jacob Miller — could not reach plea agreements Wednesday and will stand trial May 22.
A sixth defendant, Elias Gutierrez, is awaiting a trial set for April 10.
All of the defendants, except Gutierrez, appeared in court with their attorneys, but didn't speak and refused to answer any questions outside of the courtroom.
Deputy District Attorney Fiona Khalil said the leaders of First Latino, a Vista-based investment company, took more than $1.2 million from more than 100 investors in 2004, most of whom were Latino church members.
First Latino offered participants a 20 percent return on any investment and a program wherein investors could buy a home for an initial investment of $7,500. No homes were ever built, according to court records.
The district attorney's office and two state agencies launched investigations into First Latino in August 2004 after the North County Times reported complaints made by former company officials and investors.
On Wednesday, San Marcos resident Matilde de la Torres said she gave First Latino $2,000 a couple of years ago and still hasn't received any money back.
"Finally, there is a little justice," said Torres when told of Samples' guilty plea. "They definitely deserve to go to prison."
With the plea, Samples could be sentenced to as much as three years and four months in prison or as little as probation, said San Diego Superior Court Judge Howard Shore.
"I don't want you to go into this plea thinking you will get probation, and I want you to assume the plea will result in three years and four months in state prison," Shore told Samples during the hearing.
Samples, who was in a wheelchair and hooked up to an oxygen tank, replied to all the judge's questions with "Yes, your honor."
Deputy District Attorney Khalil said she had hoped Samples would face a stiffer punishment.
"I have great respect for the court," Khalil said. "But once the judge has the opportunity to hear all the evidence and from the numerous victims, he may have a different view."
She said Samples served as the chief operating officer for First Latino.
"Samples had intimate knowledge of what was going on," Khalil said. "He stood by silently as people handed over the money they had worked hard for when he knew the organization wouldn't deliver on its promises."
Samples knew about everything, but Montez and Ontiveros "organized the deception," Khalil said.
Montez's attorney told the judge that no plea had been reached and Bri
an Funk, the attorney for Ontiveros, said his client wouldn't plead guilty unless there was assurance he would get probation.
Khalil said that wasn't an option.
"They definitely deserve a substantial prison sentence," Khalil said, adding that the maximum the defendants other than Samples could get is 12 years, eight months.
She said Johnson and Miller were "less culpable."
The attorneys for Johnson and Miller said they couldn't reach agreements with the district attorney until Montez and Ontiveros agreed to pleas.
Khalil said she is going to prepare for a trial and that case would probably last about three weeks.
"This is going to be a long trial with many witnesses," Khalil said. "Hopefully in the end, the investors will get some money back."
Earlier this month, a developer who bought a property from First Latino reached an agreement with the court that could generate $1 million to repay investors.
Allen & Associates R.E.I., LLC, which is not connected to the charges against First Latino, plans to build eight single-family homes on the 3.1-acre lot in Vista that they bought from the group.
The district attorney's office will receive about $1 million from the proceeds to pay back investors under the agreement if all of the defendants plead guilty or are convicted.
Contact staff writer David Sterrett at (760) 761-4411 or dsterrett@nctimes.com.
Read more: http://www.nctimes.com/news/local/article_af2718d3-2fd7-553b-a87a-1f3fba7108e1.html#ixzz1k7dwvKyI
16,753 total views, 9 views today