RICH AND POOR – See how very good Charles Ivie looks -: Jump off cliff…perhaps -: SIC-Re : Supply lines bullshit – Re: letter Publish yours – Like no one in my family knows-Smok escreen-I started reading and kept reading and reading and reading…
From: GaryStevenGevisser <garystevengevisser>
Subject: RICH AND POOR
Date: May 30, 2013 6:28:54 PM PDT
To: "monkeyboy264" <monkeyboy264>
Cc: rest; studio, Laura Malter – ex CIA <lauramalter>, "jrk" <jrk>, "Matthew Margo – Senior attorney CBS – 60 Minutes." <matthewmargo>, "friling Negev Desert" <friling>, "adamtucker619 Adam Lee Tucker" <adamtucker619>, "amiram Hebrew University" <amiram>, "Hlumelo Biko – son of Steve Biko, now running a Wall Street charity-investment portfolio." <ali.ayala>, "Jann Turner – daughter of Richard Turner murdered in Durban, South African on January 8, 1978, 119 days after his co-founder of The Durban Movement, Steve Biko was tortured to death, beginning on September 11, 1977. 8" <jann>, "Mark Gevisser – celebrated investigative journalist and author son of the David Gevisser [1926-2009] the male heir of American-German mineral monopolist Charles W. Engelhard Jr. [1917-1971] whose 2006 autobiography THE UNLIKELY FORESTER mentions the torture-murder of D. Gevisser's first cousin's daughter ANC military wing member Sandy Jacobson whose brother Steve Jacobson is a Facebook friend of Mark Gevisser who while publishing the biography of US-De Beers-Engelhard Minerals & Chemicals Corporation black puppet Thabo Mbeki The Dream Deferred in 2007 has yet to comment publicly on either whether or not he and/or his father David snitched on members of the ANC's military wing that contributed to the torture-death of Sandy or the clear message murder of his close relation Sandy Jacobson whose murderers would have known that David Gevisser supported the Armed Struggle of the African National Congress in its fight not against the United States of America's sponsored South African Apartheid Regime but against the true Freedom Fighters of South Africa who were easily hunted down on their way to the Apartheid Regime's ANC-CIA terrorist training camps. Nor has Mark Gevisser explained to the world why Mark his 3 younger brothers and mother Hedda and all those who curry favor with them are so quiet about David Gevisser being the male heir of Engelhard Jr. – Chapter 18 THE AMERICAN CONSPIRACY of Edward Jay Epstein's The Diamond Invention book – who along with his German-South African partners the Sir Ernest Oppenheimer Harry and Nick O. clan were the greatest beneficiaries of The WW II Holocaust and the 3rd Reich's Southern Division-The National Party which quickly took root in South Africa none of which was lost on the long memory Mossad who assassinated Engelhard Jr on March 2 1971 and having him leave an extraordinary paper trail starting right before when he named David Gevisser Chief Executive Officer of Engelhard Enterprises South Africa in 1970 which is the date David Gevisser gets twice wrong in THE UNLIKELY FORESTER. Engelhard Jr. was buried not in a Jewish cemetery because racist and anti-Semite Engelhard Jr. was never Jewish and was buried at Roman Catholic St. Mary's Abbey Church Morristown New Jersey" <mark>, "info De Beers." <info>, Zuma Dogg <ZumaDogg>, "mageph520 mageph520>, Embassy of Sweden – Washington DC <ambassaden.washington>, "adamhochschild" <adamhochschild>, Noam Chomsky – I AM movie <chomsky>, Alan Dershowitz – Harvard Law School <dersh>, "Devin Standard – eldest son of former President of New York State Bar Kenneth Standard." <devinstandard>, Ed Bertolas <bertolas>, Jonathan Beare – founder Investec <jbeare>, "Andile Madikizela – First cousin of Winnie Mandela and close confidant of Nelson Mandela who acknowledged in private meetings with Andile of his knowledge that the CIA turned him in to the South African Apartheid Regime during the Kennedy Administration." <mad11a>, "riaan.reyneke" <riaan.reyneke>, "bool.smuts" <bool.smuts>, Sam Hackner – Chief Executive Officer – Investec South Africa <iamrecruit>, "Jeffrey D. Sachs – Columbia University – author END OF POVERTY." <sachs>, "tonyleonsa" <tonyleonsa>, Tefo Mohapi <g00g0lpl3x>, "Valerie Schulte Esq. – National Association of Broadcasters senior lawyer – former 15 year lover of Ted Turner." <vschulte>, Amanda Lopez – US ARMY recruiter <talena119>, "thetonightshow" <thetonightshow>, US Marine – Corporal Kevin Gipe <kevingipe>, Washington DC Israeli Embassy President Shimon Peres c/o Office for the Israeli Department of Defense Attache Israeli Embassy <att-sec2>, "wolfgang" <wolfgang>, NANCY SPIELBERG <nancyspielberg>, Diana Henriques – journalist New York Times – Big Jury Award in Injury Case Over Keyboards – December 10 1996 <dbhenriques>, "Larry J. Merlo – Chief Executive Officer CVS" <customercare>, "gilhoffman" <gilhoffman>, "alexey.shumeyko" <alexey.shumeyko>, "info" <info>, "jphillips" <jphillips>, "jpostcolumns" <jpostcolumns>, "Julie.Burgon" <Julie.Burgon>, "katejaros" <katejaros>, "kstandard" <kstandard>, "khunt" <khunt>, "livingontheveg" <livingontheveg>, "patrick.j.fitzgerald" <patrick.j.fitzgerald>, "ravfunnye" <ravfunnye>, Martin Rapaport – Rapaport Report <rap>, "Cliff and Ronlynne Benn – Durban South Africa." <cbenn>, "newell" <newell>, "arpege.passard" <arpege.passard>, "EDITOR" <EDITOR>, jessakow
Dave, you understand verbiage "Going Viral"?
Being the only thing talked about on The Internet is different than inhaling a case of Viagra, but I wouldn't know for sure since I have never taken Viagra, and given my healthy non-meat diet, it is highly unlikely I ever will.
What if it is only the most highly accomplished artists, including the top clothing designers, could learn something about what causes the most talkative, starting with the most schooled in law and political science to instantly shut down, because their brains hurt too much from reading what I have to say?
Let's leave out the work of the smartest who also have to be the most athletic in order to get the most out of being a classically trained oil painter artist, because we all know that no one is interested in art, at least those with money care only about matching their mostly ugly decor, and they never get it right which is the decor along with their homes keep changing so long as the money doesn't run out, and those without money are mostly homeless, and thinking about only surviving through to the next day; instead to focus on the world's top fashion designers who decide they don't want to miss the boat on the next best selling book, that will obsolete every book written since Adam Smith's nonsense "Wealth of Nations" including your very interesting photojournalist Jim Goldberg's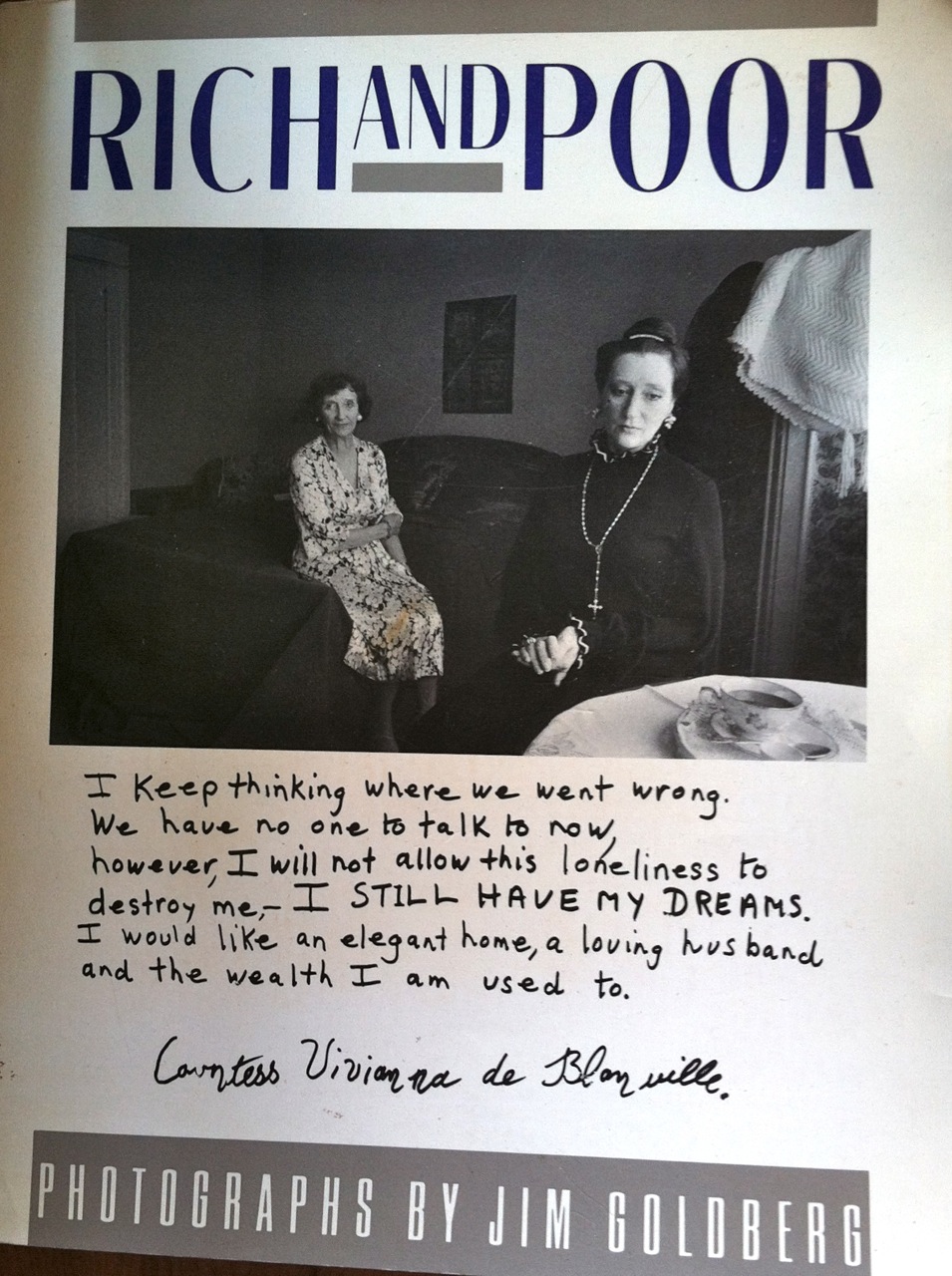 You may not have seen Mr. Charles Ivie's response, "putine is puttin' the axe down!" to my last email-book broadcast titled, "See how very good Charles Ivie looks" because although he hit the "reply all" I only included you in the blind copy section, along with a statistically valid sampling of the world's literate population.
No one in history has come close to pulling off what I have already achieved.
Even if Charles Ivie doesn't fully understand what he wrote, "Putine is putting' the axe down!", those reading his very brief words will compare the number of times he mentions Putin's name with me not mentioning Putin's name once, but including 3 identical photos of Russian President Putin bowing to the number One Captain of Industry, Nicholas Oppenheimer who the "common herd" have never heard of or known what he looked like were it not for me spoon-feeding everyone.
You would also know that white South Africans whether rich or poor, educated or uneducated, religious or irreligious, when they see the photo of Putin and Oppenheimer, their brains automatically shut down because the truth is far too disturbing.
That is not the case with enlightened Black South Africans who would understand that if you could make Black South Africans like Nelson Mandela your "Uncle Tom", it would not be any more difficult to do the same with half white Barak Obama whose very conservative opponents, starting with white American radio-TV talk show host Rush Limbaugh, have yet to bring up the consequences of United States Senator Barak Obama being the primary sponsor of President George W. Bush's Congo Relief, Security & Democracy Promotion Act which kickstarted the genocide of 6 million Congolese who were mostly children and couldn't be accused by organizations like Save the Children of Africa and Amnesty International of overbreeding.
Each time white South Africans check De Beers' Wikipedia profile and see that it is still there after Putin instructed the Kremlin to release it on October 3, 2008, 759 days after it was taken in Johannesburg, South Africa [September 5, 2006], they experience that much more of an irreversible stupefying brain short-circuit.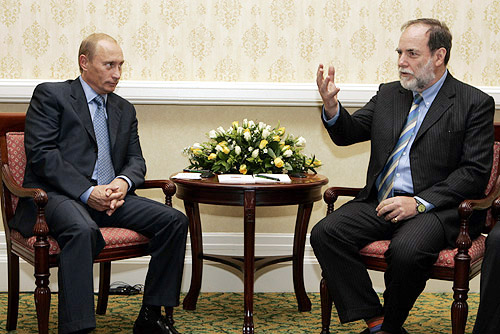 When they click on the hyperlink after the words, De Beers chairman, Nicky Oppenheimer right below the photo of photos that speaks for itself, and are taken to Nick O's Wikipedia profile and see that this photo is only the only photo in his short profile which does not explain what happened to his father's net worth of $250 billion back in March of 1989 when the New York Times published the feature story, Harry Oppenheimer Empire: Going For The Gold, that has Nick a "poor" $6 billion man, they feel like a brain surgeon has performed a frontal lobotomy without using an anesthetic, but because they are already so numb they cannot tell the difference.
We are still only talking about white South Africans who like me were born and grew up in Apartheid South Africa.
Are you aware of any restrictions placed by the United States Government on white South Africans investing in the United States since the United States Government's and De Beers' South African Apartheid Regime came to power on May 26, 1948?
I don't know of any because none exist.
Do you know of any restrictions placed on American citizens investing in South Africa following the Apartheid Regime coming to power and before those Americans bought everything they wanted?
I don't, because none existed.
Do you know why it is that author Alan Paton is so loved and known throughout the world?
Do you recall in any of his books including Cry The Beloved Country his condemnation of De Beers-Anglo American Corporation who escaped prosecution at the Nuremberg Trials because they had the US Government, starting with lawyer President Franklin D. Roosevelt "by the short hairs".
How do you decide what is the fair market price paid by J.Essakow for the Marc Rich-Essakow and company Flower Hill Mall whose tenants pay more rent currently than in say the Gaza strip?
Imagine now that you were Barak Obama and still President of the United States of America, and when you went to your Wikipedia profile you notice that there is no photo of you and Nick Oppenheimer, and then you go and check Putin's Wikipedia profile and see the same thing; namely, Putin has chosen very carefully not to place the most important photograph ever taken since the camera was invented on his Wikipedia profile.
Keep in the back of your mind that Black African American Rabbi Caspers Funnye – ravfunnye – hasn't forgotten either that he is one of my 57 Facebook "friends" – I seem to have lost another one – or that he is a close cousin of First Lady Michelle Obama.
You also know that Putin is very image conscious but that does not mean that Obama likes looking at the fact that he is totally irrelevant even if all 300 million Americans think that he and the United States Congress can make a difference.
Can you tell me how you think President Obama can make a difference.
When you watch him on TV does it bring a 🙂 or 🙁 smile to your face?
What when he looks very convincing?
Everyone knows that I didn't take that photograph because I was not in South Africa in 2006.
Everyone also knows that I had nothing to do with that photograph being paraded in such a watched website like Wikipedia who would have no problem taking down that photo if either Putin or Nicholas Oppenheimer objected.
Does Putin come across to you as a serious business person?
What does the word "serious" mean to you?
Put yourself in the shoes of Jim Goldberg had he taken that photo and then asked Putin and Oppenheimer to comment.
Now it has got very interesting.
Jim Goldberg will not have heard of me, other than when he received just earlier a Facebook message from me.
He has yet to dig in his heels, and nor would he say that I am "spamming" him.
He has quite a following on Facebook.
I will now try posting up on his Facebook "wall" the photo of Putin looking so out of character with Oppenheimer who perfectly understood what he was doing when instructing Putin to have the Kremlin release it without first consulting with either Mr. Jeffrey Krinsk Esq. or his close buddy, US Secretary of State John Kerry.
It would of course be better if Mr. Goldberg asked his audience to comment.
In many ways it is similar to the 1937 photo of American Wallis Simpson and her abdicated King of England companion genuinely smiling with Hitler who believed that nothing could go wrong.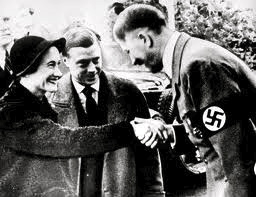 Note how the camera first caught her bowing and not one of the 6 million Jewish people had yet to be murdered.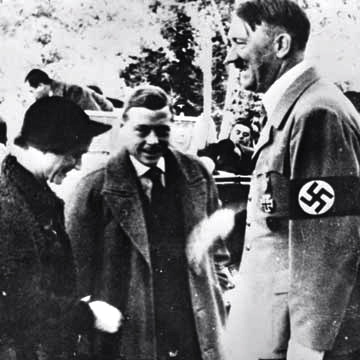 Can you think of a more exciting time to be alive?
If you were joining Mr. Ivie on his trip to Mexico would you take your computing device along?
Marie is just getting back to the cabin and Mango is going nuts.
What are you doing for dinner; and if not able to join us, could you let me know how you would end my Opening Brief to the California Court of Appeal?
Keep 🙂
Gary
[Word count 1461]

Earlier broadcast:
From: GaryStevenGevisser <garystevengevisser>
Subject: See how very good Charles Ivie looks – Fwd: Jump off cliff…perhaps – Fwd: SIC-Re: Supply lines bullshit – Re: letter
Date: May 30, 2013 4:35:44 PM PDT
To: charles ivie <charles.ivie8>
Cc: rest; Laura Malter – ex CIA <lauramalter>, "jrk" <jrk>, "Matthew Margo – Senior attorney CBS – 60 Minutes." <matthewmargo>, "friling Negev Desert" <friling>, "adamtucker619 Adam Lee Tucker" <adamtucker619>, "amiram Hebrew University" <amiram>, "Hlumelo Biko – son of Steve Biko, now running a Wall Street charity-investment portfolio." <ali.ayala>, "Jann Turner – daughter of Richard Turner murdered in Durban, South African on January 8, 1978, 119 days after his co-founder of The Durban Movement, Steve Biko was tortured to death, beginning on September 11, 1977. 8" <jann>, "Mark Gevisser – celebrated investigative journalist and author son of the David Gevisser [1926-2009] the male heir of American-German mineral monopolist Charles W. Engelhard Jr. [1917-1971] whose 2006 autobiography THE UNLIKELY FORESTER mentions the torture-murder of D. Gevisser's first cousin's daughter ANC military wing member Sandy Jacobson whose brother Steve Jacobson is a Facebook friend of Mark Gevisser who while publishing the biography of US-De Beers-Engelhard Minerals & Chemicals Corporation black puppet Thabo Mbeki The Dream Deferred in 2007 has yet to comment publicly on either whether or not he and/or his father David snitched on members of the ANC's military wing that contributed to the torture-death of Sandy or the clear message murder of his close relation Sandy Jacobson whose murderers would have known that David Gevisser supported the Armed Struggle of the African National Congress in its fight not against the United States of America's sponsored South African Apartheid Regime but against the true Freedom Fighters of South Africa who were easily hunted down on their way to the Apartheid Regime's ANC-CIA terrorist training camps. Nor has Mark Gevisser explained to the world why Mark his 3 younger brothers and mother Hedda and all those who curry favor with them are so quiet about David Gevisser being the male heir of Engelhard Jr. – Chapter 18 THE AMERICAN CONSPIRACY of Edward Jay Epstein's The Diamond Invention book – who along with his German-South African partners the Sir Ernest Oppenheimer Harry and Nick O. clan were the greatest beneficiaries of The WW II Holocaust and the 3rd Reich's Southern Division-The National Party which quickly took root in South Africa none of which was lost on the long memory Mossad who assassinated Engelhard Jr on March 2 1971 and having him leave an extraordinary paper trail starting right before when he named David Gevisser Chief Executive Officer of Engelhard Enterprises South Africa in 1970 which is the date David Gevisser gets twice wrong in THE UNLIKELY FORESTER. Engelhard Jr. was buried not in a Jewish cemetery because racist and anti-Semite Engelhard Jr. was never Jewish and was buried at Roman Catholic St. Mary's Abbey Church Morristown New Jersey" <mark>, "info De Beers." <info>, Zuma Dogg <ZumaDogg>, "mageph520 mageph520>, Embassy of Sweden – Washington DC <ambassaden.washington>, "adamhochschild" <adamhochschild>, Noam Chomsky – I AM movie <chomsky>, Alan Dershowitz – Harvard Law School <dersh>, "Devin Standard – eldest son of former President of New York State Bar Kenneth Standard." <devinstandard>, Ed Bertolas <bertolas>, Jonathan Beare – founder Investec <jbeare>, "Andile Madikizela – First cousin of Winnie Mandela and close confidant of Nelson Mandela who acknowledged in private meetings with Andile of his knowledge that the CIA turned him in to the South African Apartheid Regime during the Kennedy Administration." <mad11a>, "riaan.reyneke" <riaan.reyneke>, "bool.smuts" <bool.smuts>, Sam Hackner – Chief Executive Officer – Investec South Africa <iamrecruit>, "Jeffrey D. Sachs – Columbia University – author END OF POVERTY." <sachs>, "tonyleonsa" <tonyleonsa>, Tefo Mohapi <g00g0lpl3x>, "Valerie Schulte Esq. – National Association of Broadcasters senior lawyer – former 15 year lover of Ted Turner." <vschulte>, Amanda Lopez – US ARMY recruiter <talena119>, "thetonightshow" <thetonightshow>, US Marine – Corporal Kevin Gipe <kevingipe>, Washington DC Israeli Embassy President Shimon Peres c/o Office for the Israeli Department of Defense Attache Israeli Embassy <att-sec2>, "wolfgang" <wolfgang>, NANCY SPIELBERG <nancyspielberg>, Diana Henriques – journalist New York Times – Big Jury Award in Injury Case Over Keyboards – December 10 1996 <dbhenriques>, "Larry J. Merlo – Chief Executive Officer CVS" <customercare>, "gilhoffman" <gilhoffman>, alexey.shumeyko, "info" <info>, "jphillips" <jphillips>, "jpostcolumns" <jpostcolumns>, "Julie.Burgon" <Julie.Burgon>, "katejaros" <katejaros>, "kstandard" <kstandard>, "khunt" <khunt>, "livingontheveg" <livingontheveg>, "patrick.j.fitzgerald" <patrick.j.fitzgerald>, "ravfunnye" <ravfunnye>, Martin Rapaport – Rapaport Report <rap>, "Cliff and Ronlynne Benn – Durban South Africa." <cbenn>, newell, arpege.passard, EDITOR
Charles, follow up to anonymous:
Let me put things in clearer perspective.

On October 17, 2002 when shareholder class action litigator [SCAL], very cash and land rich Mr. Jeffrey R. Krinsk

conducted a 9+ hour deposition of a corrupted Revlon executive, Mr. Krinsk could read.

Mr. Krinsk is now 63 and he can still read.

When a lawyer reads the Bankers Manifesto of July 4, 1892 – CLICK HERE – they know that non-lawyer Americans ALSO experience a mental breakdown.

Charles Ivie is a non-licensed lawyer who went to law school.

Mr. Ivie lives out in the boon dogs of Pinevalley [California].

Mr. Krinsk Esq. would not know Mr. Ivie from a bar of soap, were it not for me.

You would agree also that Mr. Krinsk Esq. knows more lawyers than Mr. Ivie and that is not because Mr. Ivie is 8 years younger.

When Mr. Krinsk Esq. hired me to assist him throw knuckleballs in the direction of Ronald O. Perelman of Revlon corporation, it was not because Mr. Krinsk Esq. thought I had a problem reading.

When I wrote very worldly Parisian Serge Sordoillet the 2649 word email-book titled, "How much is the train ride?" back on May 26 you will have noticed that the first name in the carbon copy section ended with "Loeb.com".

Not every lawyer in the world knows who Loeb & Loeb is, but you can be assured that every lawyer who works for Loeb & Loeb knows that Loeb & Loeb is not the smallest law firm in the world.

Jerry Phillips – jphillips – last met [with me] about a decade ago when I handed him a $10,000 check retainer to collect on the $45,000 note which I had got from Citicorp Venture Capital Group officer, Newell Starks after I loaned him and his second wife – CLICK HERE – $45,000 to sort out their psychologist bills and income-generation skipping life insurance policy that was costing the Starks somewhere in the order of $20,000 [per month]. A few days later Jerry returned the check in the mail because Loeb & Loeb had a "conflict of interest" because one of their clients was Citicorp-Citigroup.

Do you remember who owns Citigroup-Citicorp?

Do you remember that it is the same organization that owns AIG?

What happens when you have the government owning its first financial services organization?

Let me explain.

You then buy a second and then a third and then a fourth until such time as you have no resistors.

When Jerry Phillips met with me it was not because he was running out of clients and decided to go to the telephone book, because I called him up. At the time Jerry was not senile because he remembered that he and I had worked very closely during the 5 years that I ran Insurance Marketing Services Inc. which specialized in the insurance insurance, and we had virtually no competition other than each time when someone paid an insurance policy premium, they were left with that much less disposable income to buy things like adult diapers etc etc.

One of the great positives of Mr. Charles Ivie, who like most spouses-significant others do not like their significant other-spouse, but Charles at least admits it in writing when [he] writes that Stanford University schooled Professor of Nursing Gwen Anderson is "neither my friend nor spouse", is that from time to time he hits the "reply all", and that in turn spotlights that much the FOOLS NAMES, FOOLS FACES IN PUBLIC PLACES because, just to spell it out, they cannot say they blocked Mr. Ivie's email address since they wouldn't have previously received an email from him.

Another lawyer who has many more lawyer contacts than Mr. Ivie is Ms. Deborah Sturman Esq. – CLICK HERE – who I know as well as each one of my 3 elder siblings given how I have known Deborah from when she was a teenager playing the French Horn for the Cologne Philharmonic Orchestra, and just by chance she ran into my world traveler mother, Zena at a "sinagogue" [sic] where Jewish people go to pray, but mostly make business connections, just like the rest; and my mother, upon hearing of Deborah's personal experience with anti-Semiticism in Cologne, [Germany] suggested that Deborah pack in her music career, go to law school and then team up with the biggest SCAL M*ther F*ckers, starting with Mr. Krinsk's close colleague Melvyn Weiss Esq. of the 2,000 pound gorilla law firm, Milberg Weiss, Bershad, Hynes and Lerach, and along the way collect $13 million for herself when extracting $4 billion out of the German government-industry which all the banks, starting with the world's number one bank, De Beers

couldn't get enough of because most of all it promoted worthless money as a "means of exchange" and it cost them not a penny.

Deborah hasn't even volunteered her name to assist me, because she too can read.

Have you ever read the original complaint filed by the crook, ex CIA Charles Knuff back in February of 2010 that has scared the living daylights out of every lawyer as well as anyone who can read?

I bet you will be able to find it on 2facetruth.com.

When you scrolled down the email to Serge you would have come across Appeal Court Judge Judith McDonnell's order of May 17 which read:
Appellant's opening brief filed May 14, 2013, is ordered stricken and returned for failure to conform to California Rules of Court, rules 8.204(a), (c) and (d). Appellant has 15 days from the date of this order to file a brief that complies with the foregoing rules.

and which the deputy Clerk, Scott Busskohl, then amplified with the following:
Your Brief:

204(a) refers to table of content, table of authorities and citations to the record. I don't see citations to the record. We have 1 volume of a clerk's transcript and 1 volume of a reporter's transcript. Those need to be referenced in the brief.

204(c) refers to length of brief and certificate of word count. You have that so maybe they didn't see it.

204(d) refers to the exhibits. Your exhibits need to be removed and any reference to them needs to be remove.
Note that 204 (c) Mr. Busshkohl explains, "You have that so maybe they didn't see it." My certificate of word which was a good 25% less words than the maximum 14,000 words, was the cover sheet.

204 (d) specifically states that Exhibits up to 10 pages are allowed and that the court has the discretion to increase the number of pages. My exhibits totaled 12 pages and the Appeal Court could easily see that 10 of the exhibits could have been easily removed without taking away one iota from the most articulate Opening Brief that they could find no fault with, hence the bullshit including no "citations to the record" which was also incorrect, other than the court could argue I should have made more references to the record of the lower court's errors in the Table of Content and Table of Authorities.
What do you think California Appeal Court Judge Judith McDonnell could see but didn't like?

What would you say is there to like about me which would also get her what she wants, which is more vacation time and a bigger pension?

My mother Zena also likes her current lifestyle and so she hasn't picked up the phone to Deborah Sturman Esq.

So do you see how very good Charles Ivie looks even if he now decides to use his monthly disability check of less than $150 a month to vacation in Mexico knowing that it is possible that Mexico could close its borders to all Americans were the truth to get out?
Right now I am trying to locate on 2facetruth.com the transcripts from the 2 California hearings – CLICK HERE & CLICK HERE – presided over by Calif. Superior Court Judge Jay Bloom, but I am having difficulty; and have asked Adam Lee Tucker to help me.
It is those illegal rulings that I am appealing and which Appeals Court Judge Judith McDonnell has no difficulty getting her around because, like everyone else interested in the truth not getting out, but rather to profit from the information as much as possible, she sees why war is such a profitable business for the United States of America, but the same cannot be said about those living in raped countries who would be far better off without borders,

and without De Beers-Anglo American Corporation and its affiliate, the US Government misallocating the resources of the world.
[Word count 1450]
Begin forwarded message:
From: GaryStevenGevisser <garystevengevisser>

Subject: Jump off cliff…perhaps – Fwd: SIC-Re: Supply lines bullshit – Re: letter

Date: May 30, 2013 1:41:34 PM PDT

To: charles ivie <charles.ivie8>

Cc: rest; Laura Malter – ex CIA <lauramalter>, "jrk" <jrk>, "Matthew Margo – Senior attorney CBS – 60 Minutes." <matthewmargo>, "friling Negev Desert" <friling>, "adamtucker619 Adam Lee Tucker" <adamtucker619>, "amiram Hebrew University" <amiram>, "Hlumelo Biko – son of Steve Biko, now running a Wall Street charity-investment portfolio." <ali.ayala>, "Jann Turner – daughter of Richard Turner murdered in Durban, South African on January 8, 1978, 119 days after his co-founder of The Durban Movement, Steve Biko was tortured to death, beginning on September 11, 1977. 8" <jann>, "Mark Gevisser – celebrated investigative journalist and author son of the David Gevisser [1926-2009] the male heir of American-German mineral monopolist Charles W. Engelhard Jr. [1917-1971] whose 2006 autobiography THE UNLIKELY FORESTER mentions the torture-murder of D. Gevisser's first cousin's daughter ANC military wing member Sandy Jacobson whose brother Steve Jacobson is a Facebook friend of Mark Gevisser who while publishing the biography of US-De Beers-Engelhard Minerals & Chemicals Corporation black puppet Thabo Mbeki The Dream Deferred in 2007 has yet to comment publicly on either whether or not he and/or his father David snitched on members of the ANC's military wing that contributed to the torture-death of Sandy or the clear message murder of his close relation Sandy Jacobson whose murderers would have known that David Gevisser supported the Armed Struggle of the African National Congress in its fight not against the United States of America's sponsored South African Apartheid Regime but against the true Freedom Fighters of South Africa who were easily hunted down on their way to the Apartheid Regime's ANC-CIA terrorist training camps. Nor has Mark Gevisser explained to the world why Mark his 3 younger brothers and mother Hedda and all those who curry favor with them are so quiet about David Gevisser being the male heir of Engelhard Jr. – Chapter 18 THE AMERICAN CONSPIRACY of Edward Jay Epstein's The Diamond Invention book – who along with his German-South African partners the Sir Ernest Oppenheimer Harry and Nick O. clan were the greatest beneficiaries of The WW II Holocaust and the 3rd Reich's Southern Division-The National Party which quickly took root in South Africa none of which was lost on the long memory Mossad who assassinated Engelhard Jr on March 2 1971 and having him leave an extraordinary paper trail starting right before when he named David Gevisser Chief Executive Officer of Engelhard Enterprises South Africa in 1970 which is the date David Gevisser gets twice wrong in THE UNLIKELY FORESTER. Engelhard Jr. was buried not in a Jewish cemetery because racist and anti-Semite Engelhard Jr. was never Jewish and was buried at Roman Catholic St. Mary's Abbey Church Morristown New Jersey" <mark>, "info De Beers." <info>, Zuma Dogg <ZumaDogg>, "mageph520 mageph520>, Embassy of Sweden – Washington DC <ambassaden.washington>, "adamhochschild" <adamhochschild>, Noam Chomsky – I AM movie <chomsky>, Alan Dershowitz – Harvard Law School <dersh>, "Devin Standard – eldest son of former President of New York State Bar Kenneth Standard." <devinstandard>, Ed Bertolas <bertolas>, Jonathan Beare – founder Investec <jbeare>, "Andile Madikizela – First cousin of Winnie Mandela and close confidant of Nelson Mandela who acknowledged in private meetings with Andile of his knowledge that the CIA turned him in to the South African Apartheid Regime during the Kennedy Administration." <mad11a>, "riaan.reyneke" <riaan.reyneke>, "bool.smuts" <bool.smuts>, Sam Hackner – Chief Executive Officer – Investec South Africa <iamrecruit>, "Jeffrey D. Sachs – Columbia University – author END OF POVERTY." <sachs>, "tonyleonsa" <tonyleonsa>, Tefo Mohapi <g00g0lpl3x>, "Valerie Schulte Esq. – National Association of Broadcasters senior lawyer – former 15 year lover of Ted Turner." <vschulte>, Amanda Lopez – US ARMY recruiter <talena119>, "thetonightshow" <thetonightshow>, US Marine – Corporal Kevin Gipe <kevingipe>, Washington DC Israeli Embassy President Shimon Peres c/o Office for the Israeli Department of Defense Attache Israeli Embassy <att-sec2>, "wolfgang" <wolfgang>, NANCY SPIELBERG <nancyspielberg>, Diana Henriques – journalist New York Times – Big Jury Award in Injury Case Over Keyboards – December 10 1996 <dbhenriques>, "Larry J. Merlo – Chief Executive Officer CVS" <customercare>, "gilhoffman" <gilhoffman>, "info" <info>, "jphillips" <jphillips>, "jpostcolumns" <jpostcolumns>, "Julie.Burgon" <Julie.Burgon>, "katejaros" <katejaros>, "kstandard" <kstandard>, "khunt" <khunt>, "livingontheveg" <livingontheveg>, "patrick.j.fitzgerald" <patrick.j.fitzgerald>, "ravfunnye" <ravfunnye>, Martin Rapaport – Rapaport Report <rap>, "Cliff and Ronlynne Benn – Durban South Africa." <cbenn>

Just in case you haven't already left for Mexico, that anonymous person wrote me back:

Isn't Charles an attorney?

I responded after my nap:

yes he is, but he has other priorities.
how does this sound as an ending [to the revised Opening Brief]?

One wouldnt have needed to work for the world's number one mineral monopolist to have the common sense to know that backing both sides to Word War II would not only cover their tracks in the years leading up to the arming of Nazi Germany but were the truth to ever get out, the human's ego would be so great that it would be saturated with the fear of losing everything that in fact it, nor the previous generations going back to WW II had actually worked for, despite countless humans willing to jump off cliffs in an effort to overcome their fear. That's right, not a single human willing to do the logical spectacular deed, instead willing to [g]o down in history as a member of the most unspectacular common herd so well articulated in the Bankers Manifesto of July 4, 1892; leaving future generations of children to be taught by all those slaves to the worthless money; how unimpossible dream it is that could only have been created by one Supernatural Force who would show its face only when the time was right and all the FOOLS NAMES, FOOLS FACES IN PUBLIC PLACES would find themselves in the same room and so sick to death with the sight of one another that they would remain deafeningly silent ad-infinitum.

Anonymous:

Sounds good … however you still need to have an attorney format it correctly so that the court will move forward (and Charles *SHOULD* at least ~know~ an attorney who would help you out? perhaps??

me:

you are dreaming; but that is good because it means you are still alive; and remember the dogs also dream

[Word count 234]

Begin forwarded message:

From: GaryStevenGevisser <garystevengevisser>

Subject: SIC-Re: Supply lines bullshit – Re: letter

Date: May 30, 2013 12:03:30 PM PDT

To: charles ivie <charles.ivie8>

Cc: rest; Laura Malter – ex CIA <lauramalter>, "jrk" <jrk>, "Matthew Margo – Senior attorney CBS – 60 Minutes." <matthewmargo>, "friling Negev Desert" <friling>, "adamtucker619 Adam Lee Tucker" <adamtucker619>, "amiram Hebrew University" <amiram>, "Hlumelo Biko – son of Steve Biko, now running a Wall Street charity-investment portfolio." <ali.ayala>, "Jann Turner – daughter of Richard Turner murdered in Durban, South African on January 8, 1978, 119 days after his co-founder of The Durban Movement, Steve Biko was tortured to death, beginning on September 11, 1977. 8" <jann>, Mark Gevisser – celebrated investigative journalist and author son of the David Gevisser [1926-2009] the male heir of American-German mineral monopolist Charles W. Engelhard Jr. [1917-1971] whose 2006 autobiography THE UNLIKELY FORESTER mentions the torture-murder of D. Gevisser's first cousin's daughter ANC military wing member Sandy Jacobson whose brother Steve Jacobson is a Facebook friend of Mark Gevisser who while publishing the biography of US-De Beers-Engelhard Minerals & Chemicals Corporation black puppet Thabo Mbeki The Dream Deferred in 2007 has yet to comment publicly on either whether or not he and/or his father David snitched on members of the ANC's military wing that contributed to the torture-death of Sandy or the clear message murder of his close relation Sandy Jacobson whose murderers would have known that David Gevisser supported the Armed Struggle of the African National Congress in its fight not against the United States of America's sponsored South African Apartheid Regime but against the true Freedom Fighters of South Africa who were easily hunted down on their way to the Apartheid Regime's ANC-CIA terrorist training camps. Nor has Mark Gevisser explained to the world why Mark his 3 younger brothers and mother Hedda and all those who curry favor with them are so quiet about David Gevisser being the male heir of Engelhard Jr. – Chapter 18 THE AMERICAN CONSPIRACY of Edward Jay Epstein's The Diamond Invention book – who along with his German-South African partners the Sir Ernest Oppenheimer Harry and Nick O. clan were the greatest beneficiaries of The WW II Holocaust and the 3rd Reich's Southern Division-The National Party which quickly took root in South Africa none of which was lost on the long memory Mossad who assassinated Engelhard Jr on March 2 1971 and having him leave an extraordinary paper trail starting right before when he named David Gevisser Chief Executive Officer of Engelhard Enterprises South Africa in 1970 which is the date David Gevisser gets twice wrong in THE UNLIKELY FORESTER. Engelhard Jr. was buried not in a Jewish cemetery because racist and anti-Semite Engelhard Jr. was never Jewish and was buried at Roman Catholic St. Mary's Abbey Church Morristown New Jersey <mark>, "info De Beers." <info>, Zuma Dogg <ZumaDogg>, Embassy of Sweden – Washington DC <ambassaden.washington>, "adamhochschild" <adamhochschild>, Noam Chomsky – I AM movie <chomsky>, Alan Dershowitz – Harvard Law School <dersh>, "Devin Standard – eldest son of former President of New York State Bar Kenneth Standard." <devinstandard>, Ed Bertolas <bertolas>, Jonathan Beare – founder Investec <jbeare>, "Andile Madikizela – First cousin of Winnie Mandela and close confidant of Nelson Mandela who acknowledged in private meetings with Andile of his knowledge that the CIA turned him in to the South African Apartheid Regime during the Kennedy Administration." <mad11a>, "riaan.reyneke" <riaan.reyneke>, "bool.smuts" <bool.smuts>, Sam Hackner – Chief Executive Officer – Investec South Africa <iamrecruit>, "Jeffrey D. Sachs – Columbia University – author END OF POVERTY." <sachs>, "tonyleonsa" <tonyleonsa>, Tefo Mohapi <g00g0lpl3x>, "Valerie Schulte Esq. – National Association of Broadcasters senior lawyer – former 15 year lover of Ted Turner." <vschulte>, Amanda Lopez – US ARMY recruiter <talena119>, "thetonightshow" <thetonightshow>, US Marine – Corporal Kevin Gipe <kevingipe>, "Washington DC Israeli Embassy President Shimon Peres c/o Office for the Israeli Department of Defense Attache Israeli Embassy" <att-sec2>, "wolfgang" <wolfgang>, NANCY SPIELBERG <nancyspielberg>, Diana Henriques – journalist New York Times – Big Jury Award in Injury Case Over Keyboards – December 10 1996 <dbhenriques>, "Larry J. Merlo – Chief Executive Officer CVS" <customercare>, "gilhoffman" <gilhoffman>, "info" <info>, "jphillips" <jphillips>, "jpostcolumns" <jpostcolumns>, "Julie.Burgon" <Julie.Burgon>, "katejaros" <katejaros>, "kstandard" <kstandard>, "khunt" <khunt>, "livingontheveg" <livingontheveg>, "patrick.j.fitzgerald" <patrick.j.fitzgerald>, "ravfunnye" <ravfunnye>, Martin Rapaport – Rapaport Report <rap>, "Cliff and Ronlynne Benn – Durban South Africa." <cbenn>

Does it make a difference to you who I just wrote the following to?

think what each member of the us congress as well as obama wouldd sic be doing right now after reading the "472" [sic] words i sent earlier
im now taking a nap before deciding how to rewrite my previous perfect opening brief

to think that i know the best lawyers in the world as well as non lawyers and they are represented in vharles sic ivie's response, makes a joke of everything other than the logic of it all

the punishment must mean not having the courage to commit suicide and yet each of us knows that we don't have that many meals to go before we will be dead and no one having done anything spectacular

On May 30, 2013, at 11:17 AM, charles ivie <charles.ivie8> wrote:

fuck them up!! will be out a few weeks to barrancas del cobre cheers for now!

On Thu, May 30, 2013 at 10:46 AM, GaryStevenGevisser <garystevengevisser> wrote:

Laura – I've now read your email to me more carefully; actually i didn't previously read it because i thought it was identical to what you sent me on the 19th. I apologize.

My only question is to find a lawyer who can make certain that my Appeal Brief is in compliance with the rules which the Deputy Clerk, Scott Busskohl as you know spelled out clearly that he could find no real fault with, especially considering how flagrant is the fraud by all the previous presiding judges; and of course Mr. Busskohl who just wants to keep his cushy job has made it patently clear that Appeal Court Judge Judith McDonnell is answerable to no one given the apathy of the "common herd" who have yet to even help Mr. Charles Ivie write a draft letter of protest and at the same time publish their list of the world's top terrorists and to reference each one of my email-book broadcasts over the past 72 hours; and consequently, she feels quite confident that she has nothing to worry about because she too can read that all literate people are not really interested in hearing the truth about how they have been fooled for 4 generations about how the money is valued and believing that there has to be at least one economist and/or investigative reporter who knew what they were talking about, and now finding out that there exists not one.

Of course everyone above the dirt poor is afraid that they will end up having to panhandle long before they have lost their minds altogether.

Moreover, if you haven't been smart enough to figure out how the money is valued then it would not be possible to know where all the money has been accumulated apart from being handed to the least accomplished who invest in Wall Street; namely the idiot educated middle class who of course have been laughed at by the ruling mineral monopolist elite made up of one family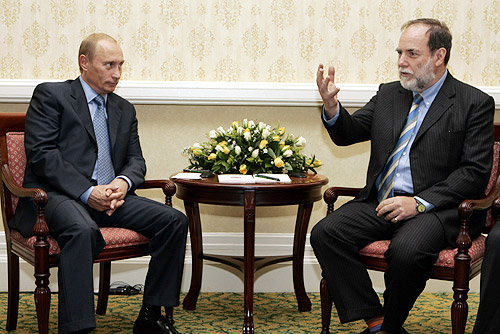 who you can see don't look any smarter than the common middle class herd they have bred because they are not.

I will start today revising the blah blah blah that I sent the Appeal Court which has to be in by Monday close of day, and 8 copies all bound with a green colored cover sheet, but of course I won't be putting too much effort into it, instead I will be thinking about the 13 word t-shirt Marie came up with when we walked back to our great 4 star Paris hotel with a 5 star room on the top floor, bypassing a cemetery late last Thursday evening following a laughter filled dinner with our 40 year old Parisian friend and his late 20, early 30s new girlfriend who has an MBA, and showed with two quick flicks of her eyelids that she realized everything she learned at graduate school, starting with supply lines, was total bullshit.

That one of a kind peaceful night sleep, which is rare in very busy night life City of Light Paris cost us next to nothing thanks to a staff member, of India Indian heritage, appreciative of learning about how De Beers hang a guillotine over the head of the 3 Branches of the US Government who know that unless they succeed in enticing China to war, the US Dollar could meet the same fate as the German Deutche Mark when a barreful couldn't afford a loaf of bread; except that the collapse of the US Dollar would be that much quicker given how there was not the light speed Internet when De Beers and their fellow bankers began dumping Deutche Marks into less than a handful garbage dumpsters, and then spreading rumors that there was a run on German banks whose deposits were always worthless since the moment the money was backed by land and mineral rights stolen in bloody conflicts, the foundation of capitalism.

Thank God for Logic-Truth.

Gary

Ps – What do you think of the coincidence that Jan Smuts died on September 11, which non-Americans write 11-9; the same day that Steve Biko was murdered but 27 years after Smuts' death; and then 119 days later, Biko's partner in the Durban Movement, Richard Turner was assassinated by a member of the De Beers-CIA South African Secret Police, and bleeding to death in the arms of his 13 year old daughter Jann Turner?

[Word count 742]

On May 29, 2013, at 10:37 PM, Laura Malter <lauramalter> wrote:

Gary;

I received the email attached below … but I don't see any questions ~ other than whether or not I know of an attorney … and a link to a website that I have yet to read … is there something else that I'm missing (e.g. were you expecting a response from me regarding something else that I'm possibly missing … I am a bit fatigued from traveling – so I'm possibly not on top of things as usual??)

regards,
lcm

Laura Malter
EduCore Foundation, Inc.
1113 Calle Christopher
Encinitas, CA 92024
760-753-1580 760-579-3550
lauramalter
8,850 total views, 6 views today