Socrates – The unexamined life is not worth living. Part VI
It is still who you know, not what good they do; but that can change in the next instant.
Maybe President George Herbert Bush did a lot of good about stemming the power of De Beers because that is all a good and honest person who has the information is interested in hearing?
Maybe it was Mr. Bush who ordered the hit on German-American Charles W. Engelhard Jr. Would you think that would have been a smart thing for the CIA to do given how much of an embarrassment Engelhard was beginning with his open support of the South African Apartheid Regime; and you know all those who curried favor with him were all seen at his funeral beginning with Senator Ted Kennedy, President Lyndon Johnson and Vice President Humphrey, all distinguished US Democrats?
War is a very dirty business which does not prevent those who profit the most from being all about etiquette and decorum.
It does happen to be the truth, at least the part of the magnitude of this Knuff lawsuit which began with Knuff-Loewinsohn knowing that whatever they did in Lowy's court including never presenting evidence while making such an outlandish claim of defamation and all intended to curtail my FREE SPEECH, they would get away with.
It is so obvious of the fix being in from the very start which has resulted in every lawyer running for the hills.
I happen to have been very well schooled that when you drop your big bombs you advance very quickly before the enemy drop theirs starting with family members.
Below is another draft of what I sent Major Sam for him to consider sending to Quayle, bearing in mind at all times that it is me and not Quale who officially worked for De Beers because not only did I have the right family connections I demonstrated from a very early age an ability to connect up the dots of the money trail that most politicians only find out about when they are in high elected positions and receive a parcel of diamonds in their palms or that of a family member or close business associate and they know better than to go either to the FBI or CIA and "cry foul" knowing that it will fall on deaf ears.
Dear Mr. Quale,
There is a reason why my webmaster Terry "Smilin Sam" Samples decided to share with me his communications with you without first consulting you or anyone else including his wingman Randy who you nor "The Singer" will ever forget at least while you are both in control of your minds, and the strength of your writings suggest to me that you are in exceedingly good control of all your faculties; and the Christmas Card photo that Sam also shared with me shows you and your immediate family in very good health.
I knew from a very early age that my great maternal grandmother who helped raise my mother from the time she was born in 1929 until Nechie Becker Badash was killed in 1943, age 69, when falling down a flight of stairs in a boarding house in England after being run over by a car, understood not so much how precious but rather how very fragile is life and not all the possessions in the world could have brought back to life even for a single moment each one of her immediate family who were all murdered in a matter of few minutes as she, age 8, sat quietly hidden in a tiny closet.
To the best of my knowledge there has never been a Jewish person who escaped a pogrom of Eastern Europe which were in many ways far more effective than the death factories of the Holocaust where there were many ways to escape including not getting caught and fighting to the death along with the best who were first singled out for execution long before Hitler invaded Poland Nechie's birth country.
Her death was most probably a hit, at least that is what her kinsman Prime Minister of Israel David Ben-Gurion thought because Nechie who was an early resident of Tel-Aviv where the Mossad remain headquartered, was one of Ben-Gurion's most trusted runners beginning with the fact that with her entire immediate family dead none of them could turn on her and besides she and Ben-Gurion came from the same tiny village of Plonsk, White Russia-Poland, a fact I only found out in December 2001 when visiting my mother in England which was the last time I saw her, and our last conversation took place in late 2004 when her parting words were, "Are you not concerned for your life!!" after I explained a handful of critically important gaps in Hollywood blockbuster author Edward jay Epstein's The Diamond Invention book which you can access via The Internet including under the RESOURCE section of my website 2facetruth.com.
I assume nothing about you other than you are extraordinarily bright which does not mean that you were as well informed as me about how the real dog eat dog world worked when you were 15 and meeting with Ben Gurion and his most trusted advisors in late 1972 when I was also privy to private conversations between Ben-Gurion and hit squads that the Mossad were activating around the world to do much more than avenge the murder of the 11 defenseless Israeli athletes at the Munich Olympic Games and two assassination attempts on Ben-Gurion as they were principally geared to send a very clear message to those who see peace as war on their profits.
Ben-Gurion was not looking to scare me in sharing his doubts that Nechie's death was an accident as are most run ins with moving cars but to begin to let me know that there was no way he was going to compromise my personal safety or risk not leveraging my intimate family connections to De Beers by having me join the Mossad after first following in the footsteps of my amazingly accomplished Fighter-Bomber-Pilot father and become an Israeli Fighter Pilot where my acceptance to join the world's best Air Force was all but guaranteed given my inextricably close family connections to the founders of the Israel Air Force including the most important American George Lichter and the all important Commander of the Israel Air Force Syd Cohen whose wingman during his second tour of duty during WW II was my amazing South African Fighter-Bomber-Pilot father who did not join Syd Cohen in Israel's War of Independence as did beyond belief accomplished and unflappable Syd Cohen who passed away last week at age 90 only because Ben-Gurion had a backup plan were all the military pundits at the time, including British Field Marshall Montgomery to be proven correct and Israel wiped off the map making the fledging Jewish homeland the shortest lived nation in the history of the world.
Nor did Ben-Gurion say that it would be just a matter of a few years before I would become the top dog of the mineral monopoly De Beers, but he minced no words in letting me know that I shouldn't be misled into believing that my father's first cousin David Gevisser was just a lucky person who happened to be in the right place at the right time just when the Mossad assassinated his primary benefactor, virulent anti-Semite German-American Charles W. Engelhard Jr. who named David Gevisser CEO of the world's richest and most powerful corporation, Engelhard Enterprises South Africa the year before when my "lucky uncle" Dave began creating the most extraordinary money-paper trail when selling off Engelhard's South African assets including luxury vacation homes to the equally anti-Semitic German-South African Oppenheimer family who controlled both De Beers and their sister corporation Anglo American Corporation which was formed in 1917 during the height of the very bloody WW I where 9 million soldiers lost their lives.
Just the other day when last visiting with Sam and his wife where we have been doing videos to be placed on my website and other sites like You Tube, I came across on The Internet the most important document apart from David Gevisser's 2006 autobiography THE UNLIKELY FORESTER and Epstein's The Diamond Invention which he first began writing in 1978 the year I immigrated from South Africa to the US. The letter by President Franklin D. Roosevelt of April 5, 1933, 12 years to the day when he wrote his "LETTER OF FRIENDSHIP" to the tyrant King Ibn Saud of Saudi Arabia who you remember spawned 15 of the 19 9/11 hijackers, is one that I have long been aware of, but its most important introduction obviously Roosevelt thought about very carefully given how the US did in fact back the White Army of the tyrant Czar Nicholas of Russia during the October 1917 Russian Revolution and thus end democracy in Russia in its infancy.
I cannot say for certain the Act of October 6, 1917 which was to "provide relief in the existing national emergency in banking, and for other purposes" which is so purposefully vague, was connected with the Russian Revolution but I do know that nothing involving the finances of the United States escaped J.P. Morgan and company who along with South African-German Sir Ernest Oppenheimer formed the very distracting name Anglo American Corporation in 1917 and that partnership had nothing whatsoever do to with fostering competition which is the hallmark of democracy.
Below is the start of that most important letter which had Roosevelt finding the basis to illegally steal American's gold holdings in that Act of October 6, 1917.
From: President of the United States Franklin Delano Roosevelt
To: The United States Congress
Dated: 5 April, 1933
Presidential Executive Order 6102
Forbidding the Hoarding of Gold Coin, Gold Bullion and Gold Certificates By virtue of the authority vested in me by Section 5(b) of the Act of October 6, 1917, as amended by Section 2 of the Act of March 9, 1933, entitled
An Act to provide relief in the existing national emergency in banking, and for other purposes~',
in which amendatory Act Congress declared that a serious emergency exists,
I, Franklin D. Roosevelt, President of the United States of America, do declare that said national emergency still continues to exist
For me to deny to myself or others that Major Sam and you were unaware of the consequences of your actions would be pure folly on my part.
Not only was I very well known to the very top officials of De Beers long before I met Major Sam who did as you would expect exhaustive due diligence on me before deciding to make my cause of exposing the corruption of De Beers from the top down as well as bottom up, but there is a reason why the most accomplished executives in the world in all the disciplines have always sought my counsel including Ron Bellows of AIG, and the reason why when you type his name in any of the search engines at the top of the list is his most incriminating email he sent me on May 3, 2004 which remains on the US Government's military.com website.
Major Sam thought that you would like to add my name to your Christmas Card list. I think we can do better.
I look forward to hearing from you.
Very sincerely.

It is also not lost on me the fact that I have yet to meet anyone who can effectively deal with how stupid they feel about not having figured out on their own such a simple plan as to create anti-monopoly laws throughout the world and apply them only to affiliates of the monopoly De Beers that controlled the drilling industry.
I have survived my liver being poisoned in 1979 and had I known more about juicing they may have found a different way to kill me. You should all be thinking smart; moreover, those months of great discomfort doesn't touch sides with just one of the many kisses I have got over the past going on 18 years from the world's most gorgeous and sexy woman; and yes all the envious men and you ugly women, eat your hearts out. Only nutrition will give you the quality of life you want. Healthy food is the medicine.
What if it turns out that the December 5 date Quayle placed at the end of his very precise communique to Major Sam was not a mistake and tied in with this Knuff lawsuit and a way to tell Major Sam to put National Interest above all else?
Quayle does know that the reason Major Sam took his plane Air Force 2 without his approval was not simply because Major Sam and his wingman Randy had a carte blanche Presidential Order to use any and all resources of the US Government to get the job done, but because Major Sam and Randy had decided that they were not happy with the order they were first given and did the job in a way that they thought was best which they knew would result in President George H. Bush hitting the roof which he did and why he summoned them to the Oval Office for a showdown which didn't bother America's two most accomplished US Fighter Pilots who led the start of the Gulf War, they just wanted to have the President sign the order personally and nor did it bother them in the least that they allowed him to blow off steam.
Now can you imagine how funny it had to be to hear so prim and proper Bush Sr. mouthing off using the F word?
So who do you see playing yourselves in our blockbuster movie?
What if Cyndi Lauper is already clued in?
What about her husband?
I am currently trying to reach this one lawyer Gregory D. Jordon whose homepage carries the following story about Judge Martin Lowy:
Texas Judge Sues Lawyer for Defamation
Gregory D. Jordan, an experienced Austin business litigation attorney, Austin business attorney and Austin defamation lawyer, offers commentary on an unusual suit.
Judge Carlos Cortez, an elected judge for the 44th State Civil District of Dallas County, Texas, filed suit in Dallas's 298th District Court on Nov. 1 against Dallas attorney Coyt Randal "Randy" Johnston alleging defamation and extortion. Cortez alleges that Johnston defamed him when he e-mailed a copy of a concocted complaint before the State Commission on Judicial Conduct to members of a Dallas trial advocacy group, the American Board of Trial Advocates (ABOTA).
The suit alleges that three other state district judges who are fellow state district judges of Cortez – Judge Craig Smith of 192nd District Court, Judge Lorraine Raggio of 162nd District Court, and Judge Martin Lowy of 101st District Court – started rumors with Johnston against Cortez to create a political opponent against him had leaked damaging allegations against him in attempt to unseat him during the elections. Those rumors, which later allegedly included Cortez hiring prostitutes and using drugs, formed the basis of Johnston's judicial complaint.
"This is a lawsuit about what we as a profession are going to tolerate and whether it is acceptable for a lawyer and three judges to meet, create rumors about a fellow judge, file a complaint with the judicial conduct commission about the rumors they themselves created then intentionally and knowingly publish that into the public domain to generate a political opponent," said Cortez, a Dallas County civil court judge, in an interview.
Austin business litigation attorney, Gregory D. Jordan, notes "This is a highly unusual case. Proceedings before the State Commission on Judicial Conduct are often cloaked in secrecy. Now much may be revealed in public. This will be an interesting case to follow."
"Just as with much of the litigation we handle, you have two determined and apparently motivated litigants in this dispute. In cases such as these, it is crucial to have a top lawyer on your side. Obviously, judges recognize this need," said Austin business attorney Jordan.
"If the State Bar of Texas and the Judicial Conduct Commission do not remove these people from our profession then we indeed are no better than the lawyer jokes they tell about our profession," Cortez said.
To learn more visit, http://www.theaustintriallawyer.com.

Post script:
Note Tucker did not make up when he wrote me on March 26, 2010, 2 days after doing the taped deposition that Knuff's proprietary technology was email spy software that he was selling to the CIA. The fact that what Knuff told Tucker about his software may be partially bullshit but unlikely, given how we have very strong evidence that Knuff intercepted the communications between myself and Michael Awerbuch and equally important is the fact that someone was bold enough to call up Awerbuch and scare the living daylights out of him who was the first and only person willing to put up $250,000 to challenge Knuff in court, is no laughing or small matter.
Note I forget nothing of importance which was not lost on either Ben-Gurion who could look at both my parents and grandparents and figure out that I was not the dumbest person in the world or anyone who has ever worked with me including Stephen Cohen of Codiam Inc. who knew that before I joined them officially in New York I had jumped through all the necessary hoops when visiting twice De Beers' lawyers located on Bush Street San Francisco where I not only proved out that my quantitative skills were unmatched by anyone they had come across, but I got to see firsthand how all of Wall Street operates.
Note that when you have previously read in my writings that my book which is being written in real time over The Internet given what we know of Knuff's capabilities, will obsolete each and every book written on the subjects History, Economics, Military & Politics [HEMP] ever since De Beers founder Cecil Rhodes wrote in his first will of 1877 of his dream of a Secret Society to rule the world that only De Beers could execute, maybe I needed to spell out also every book written by a President and Vice President.
Note that when I got up this most beautiful warm sunshine morning here at the stone cabin I put on a bathrobe that with the wood fire proved too hot and when I disrobed while making coffee Marie had no problem with it and made a most appropriate comment which still didn't prevent me from putting on summer calf length pants which I first put on inside out, and you had to be here to know how funny it all was.
Note the funniest and best speech giver in the world was my mother who gave the most brilliant speech in Chicago in early spring 1979 to a large room packed with lawyers instead of taking the offer of De Beers' San Francisco lawyers to visit with them when she would have been treated better than the Queen of England because it was no State Secret that were her one client Aristotle Onassis alive at the time, just her asking for one of his Olympic Airlines passenger planes to be made available at a moment's notice would have been no big deal to Onassis who wasn't stupid when he asked my mom to enroll a very mediocre drawer-painter kid who walked all the way to Athens from a very remote and poor village just to meet Onassis who was only impressed with his perseverance; and of course during the time that my mother held the hand of the young teenager all the way to the art school it didn't mean that either my mother or Onassis who made certain that my mother was the only other woman in the room on October 20, 1968 when he had First Lady Jackie Kennedy sign a very important pre-nuptual agreement, were oblivious to what Onassis was of course telling my mother that while he was giving her "time off" he hadn't stopped thinking about all the other important work she was doing for him and which my mother has never spoken about.
Those who know don't talk, those who don't do all the talking; once you tell a secret it is no longer a secret.
I never tell secrets.
That does not mean that very smart people don't trust me with their most intimate secrets because I have proven that I can be trusted with a secret, something few others can say.
Nor was it lost on Onassis who was being watched like a hawk by the Mossad once he started to become a big name in transporting drugs into the US which is how he began as well as ended his career, that my mother was also a close confidant of Attorney General of the US, Senator Robert F. Kennedy whose advanced team asked my mom to come with a list of people Kennedy should NOT meet, when he visited [Durban] South Africa in June 1966 after giving the most hypocritical speech at Cape Town University on June 5, 2 years to the day before he was assassinated by Palestinian Sirhan Sirhan who was being treated by a Beverly Hills psychiatrist whose fees were not the only monies that could be traced directly back to Onassis; and you remember our immediate family photo of March 1966 right before my first trip to Israel in June-July 1966 although Addy Cohen remembers that we were all at her one daughter's batmizvah much earlier in the year; and then there is the one photo showing Durban caterer Ivor Kissen standing behind the spread all laid out on the 9 foot mahogany table with the French antique mirror behind.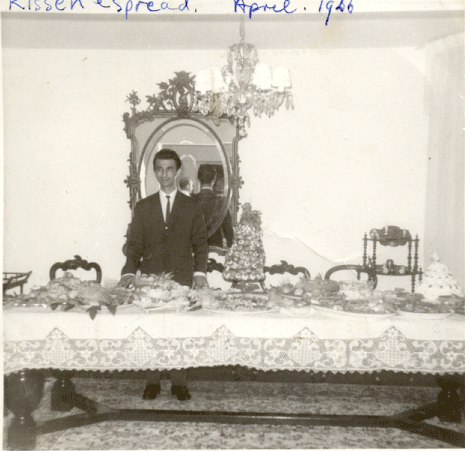 Socrates – The unexamined life is not worth living.
[Word count 20,254]
5,707 total views, 3 views today