Take charge of your daughter – Fwd: Lockout
From: GaryStevenGevisser <garystevengevisser>
Subject: Fwd: Take charge of your daughter – Fwd: Lockout
Date: December 10, 2013 1:07:53 AM GMT+01:00
To: US Marine – Corporal Kevin Gipe <kevingipe>
Cc: rest; Sam Hackner – Chief Executive Officer – Investec South Africa <iamrecruit>, Sam Bozzo – Director-Producer Blue Water <sam>, Emmanuel Ofosu Yeboah <emmanuel.o.yeboah.5>, Roy Essakow – Marc Rich Lieutenant <ressakow>, "J. Rosenblatt" <j.rosenblatt>, TheTonightShow <thetonightshow>, "The coupon clipper is the Jeffrey Jack The Ripper Essakow – co-owner of the Marc Rich and Co. Flower Hill Mall Solana Beach, California" <jessakow>, Simon Schama – Professor of History – Columbia University <sms53>, "Paul \"Bozo the Clown\" Teirstein MD Teirstein" <pteirstein>, Kate Jaro <katejaros>, Lynne Bentel <lynnebentel>, Colin Schneiderman <colbren>, "John K. Pollard, Jr. – alumnus of MIT and Cornell University." <jpollar2>, Thulani Xulu <x_thulani>, "Mark Gevisser – author of autobiography of Thabo Mbeki former President of South Africa. Mark Gevisser is the son of David Gevisser \"male heir\" of American-German Charles W. Engelhard Jr. assassinated by the Mossad on March 2 1971 and buried at St. Mary's Abbey Church Morristown New Jersey" <mark>, "Mark Silverstein Esq. -c/o Alison May – ACLU – roommate of King Golden Jr. at the University of Virginia Law School" <amay>, "Monk Benet – St. Mary's Abbey Church Morris Town New Jersey where Jane Engelhard [1917-Feb. 29 2004] and her husband Charles W. Engelhard Jr. [Feb. 15. 1917-March 2nd 1971] are buried." <Benet>, "Ron Bellows – US Government owned American International Group – Chief Executive Officer, President Barrak Obama – Nobel Peace Prize winner on 10/9/2009" <Ron.Bellows>, "Deborah Sturman Esq – Inspired by Zena Badash-Ash Gevisser Zulman, played pivotal role in collecting billions of $ from remnants of Germany's military machine during WW II, but stopped way too short when realizing it was so close to the home of the German-South African Oppenheimer clan whose Lloyds of London Insurance have never once attempted to hide that they are the money launderers or money launderers, and figured the common herd would think themselves too smart to have it all smack in their faces. De Beers." <info>, Israel Professor Amiram Goldblum – Hebrew University <amiram>, Matthew Hoh – former US Captain who resigned from US State Department <ggreenwald>, "Matthew Margo Esq." <matthewmargo>, 60 Minutes <60M@grundfest>, diamondsclassaction <administrator>, Kirk Hulett – Hulett & Harper <kbh>, Lisa Fugard – Daughter of South African playwrite and actor Athol Fugard who played Jan Smuts in Ghandi <lfugard>, Charles Finch – Manager of Director Nick Broomfield <charles>, "Glenn Greenwald – Guardian reporter who released the Snowden documents." <glenn.greenwald>, "Gil Hoffman – Jerusalem Post reporter now silent." <gilhoffman>, Renee Gild <reneegild>, "Lynne Twist – Founder of Soul of Money Institute – c/o Kay Sandberg, SOMI Program Director Director" <kay>, Nitza Lite <nitzadrew>, Laura Family <DrLauraFamily>, James Carroll – author Constantine's Sword <james.carroll43>, "jpostcolumns" <jpostcolumns>, Martin Rapaport – Rapaport Report <rap>, Kerry-Ann McCullough <mcculloughk>, Novacuringlight <novacuringlight>, "Newell Starks – Deadbeat officer of Citigroup's Citicorp Venture Capital Group who specialize in \"management friendly\"; i.e. \"shareholder hostile\" takeovers – based in Austin, Texas." <newell>, Bool Smuts <bool.smuts>, "warfieldfineart" <warfieldfineart>, "Jim Winters – son of Charles Winters who received a Presidential Pardon on December 23, 2008, the same day Adam Lee Tucker met with ex CIA member Charles Knuff." <jim>, Werner Herzog – Filmmaker <office>, "Major Tuvia Friling – Israel Defense Force, Deputy Commander Golani Brigade, Professor Ben Gurion University, Beersheba, Negev Desert, Israel – Author of ARROWS IN THE DARK Desert" <friling>, Lawrence Binderow – Attorney <binderow>, "Jerry Phillips, Esq." <JPHILLIPS>, "Ira Mishkind Esq. – Gary Steven Gevisser's estate attorney." <ilmlaw>, "King Golden Jr. Esq. – my long time American attorney and \"bosom buddy\" of Roger W. Robinson aka \"Our Man Roger\" who I have known intimately since he joined the National Security Council in March 1982." <Kingdelmar>, "Roger W. Robinson – protege of David Rockefeller and former Chairman of U.S.-China Economic and Security Review Commission" <rwrincorp>, "Valerie Schulte Esq. – National Association of Broadcasters senior lawyer – former 15 year lover of Ted Turner. Ted Turner." <vschulte>, Mary Valder – Personal assistant David Rockefeller <trilateral.valder>, "Mary. Campbell – WSJ" <mary.campbell>, Marcia Kramer – CBS TV New York City <mgkramer>, Sandie Lampe – Celebrity TV Dog Show Host – San Diego <slampe1>, "Shaul Preiskel – Facebook friend of Gary Steven Gevisser and Steven Jacobson, brother of 2006 torture murdered Sandy Jacobson." <preiskel>, Gary Barber – Co-Chairman of the Board and Chief Executive Officer of MGM of MGM <gbarber>, info, "Steven Lee Parkinson – Mothercare – Middleast – In the summer of 2006 on a trip down the Yangze River Mr. Parkinson explained why neither Mothercare or Starbucks who use the same Kuwaiti Royal Family business partner to ensure Starbucks' growth rate of 5 new shops per week and Mothercare's 2 shops per week in the Middle East have no shops in Israel." <customersupport>, Howard Schultz – Starbucks <intinq>, "karolaschneeberger" <karolaschneeberger>, "Devin Standard – eldest son of former President of New York State Bar, Kenneth Standard." <devinstandard>, Kenneth_Silva <Kenneth_Silva>, "Kenneth Standard, Esq.- former President of the New York Bar Association – Harvard Law School." <kstandard>, Tefo Mohapi <g00g0lpl3x>, Joyce Mohapi – Recieved a De Beers-Rhodes Scholarship after being imprisoned during the 1976 Soweto Riots <joycemohapi>, Trevor Manuel – former South African Minister of Finance <patti.smith>, bobbyj, "Andile Madikizela – First cousin of Winnie Mandela and close confidant of Nelson Mandela who acknowledged in private meetings with Andile of his knowledge that the CIA turned him in to the South African Apartheid Regime during the Kennedy Administration." <mad11a>
fyi
Begin forwarded message:
From: GaryStevenGevisser <garystevengevisser>
Subject: Take charge of your daughter – Fwd: Lockout
Date: December 10, 2013 12:10:36 AM GMT+01:00
To: "Geoffrey Rothwell – Principal Economist at OECD Nuclear Energy Agency of the Organisation for Economic Cooperation and Development – Professor Stanford University – World authority on the pricing of uranium." <geoffreyrothwell>
Cc: rest; "Allison M. Macfarlane; Chairman – Nuclear Regulatory Council" <NRCExecSec>, "Zena Badash-Ash Gevisser Zulman [May 30 1929 – ] c/o Arnold Pollak" <arnold>, Ivan Oshry <ivan>, "ray.oshry" <ray.oshry>, Neil Gevisser Gevisser <neil>, Kathy-Louise Gevisser danziger <dkdanz>, Melvin Gevisser <mgevisser>, "Natie Kirsh – Front person for De Beers who in 1969 purchased the public corporation Moshal Gevisser Group of Companies that was formed in 1910 for significantly less than liquidation value." <cs_dean>, Nigel Gevisser <ntsg>, "Colin Cowie – Celebrity Caterer – former longtime lover of South African Jonathan Beare. Jonathan Beare." <PR>, Jonathan Beare – founder Investec <jbeare>, "derrick.beare" <derrick.beare>, K Leavitt <kjleavitt>, Cara <brainwaves>, Eric Van Den Berg of Bell Dewar & Hall Inc – lawyers for De Beers-Oppenheimer controlled South African Sunday Times <evb>, "Jann Turner – daughter of slain white South African Richard Turner [September 21, 1941 – January 8, 1978] co-founder with Steve Biko of Durban Movement." <jann>, "Hlumelo Biko – son of Steve Biko, now running a Wall Street charity-investment portfolio. 11" <ali.ayala>, charles ivie <charles.ivie8>, "Michael \"Tordu\" Awerbuch" <michael>, "David Altman – Founder of Made In USA Inc." <david.altman>, Solly Krok <sollykrok>, "Rabbi Caspers C. Funnye – close cousin of First Lady Michelle Obama." <ravfunnye>, Keisha Whitaker <kbabies1>, Darren Krok <krokdg>, Vic Shayne – co-author of American George Lichter's autobiography <vicshayne>, "Larry Summers – former President Harvard and key male player in Inside Job." <president>, "American-Oppenheimer protectorate Republic of South Africa c/o Mr. Jacob Gedleyihiekisa Zuma – Puppet President of South Africa." <president>, "President Shimon Peres c/o Office for the Israeli Department of Defense Attache; Israeli Embassy, Washington DC Israeli Embassy" <att-sec2>, "Mike Flint – Hollywood producer looking for funding of Angels in the Sky – The Birth of the Israeli Air Force." <mikeflint>, "Michael \"The Big Lie Thief\" Grant" <mageph520>, "Michael Sewitz – Brother-in-law of Gevisser close cousin Gary Levinsohn co-producer with Spielberg of Saving Private Ryan." <drapes7219>, "NANCY SPIELBERG – sister of Hollywood Director-Producer Steven Spielberg – Producer of Above and Beyond-The Birth of the Israel Air Force." <nancyspielberg>, "United Sec. of State John Kerry ℅ Jeffrey R. Krinsk Esq. Krinsk" <jrk>, "Michael Strauss – International Monetary Fund – former student of Grundfest." <mstrauss0>, "Joe \"Could I stop you?\" Grundfest – former Commissioner of the SEC and Stanford Law School – intimate of Diana Henriques. Diana Henriques." <grundfest>, Chinese Embassy – USA <service>, Brazil Embassy – USA <consular>, Nobel Prize Committee <comments>, "Cliff and Ronlynne Benn – Durban, South Africa. South Africa." <cbenn>, Laura Malter – ex CIA <lauramalter>, "adrian.ash2" <adrian.ash2>, Symantha Ash <symantha.n.ash>, "Vice President Dan Quayle who made reference to singer Cyndi Lauper in his December 9, 2011 email to Cyndi Lauper's former lover, US Air Force Major Sam Samples, titled, \"Ball tripping ego maniacal bastard\"." <danqal8y>, "US Air Force Fighter Pilot Terry Sam Samples." <terrysamples1>, "Rock legend Cyndi Lauper – referenced in VP Dan Quayle's response to Major Sam Samples on December 9, 2011." <cl.dreams>, Adam Tucker <adamtucker619>, Adam Hochschild – author of Blood & Treasures – founder of Mother Jones <adamhochschild>, "Jeffrey D. Sachs – Columbia University – author END OF POVERTY." <sachs>, "South African Professor of Economics Mark Darrock – \"De Beers bring order to the diamond marketplace that would otherwise be chaotic\" [July 1, 2006 – China]. [July 1″ <Darrockm>, "tonyleonsa" <tonyleonsa>
Close your eyes after reading each of the following and then give them thought:
1) The existence of humans is a dream and everything that takes place is just a reflection of our conscious and unconscious mind without a thought to the human having a conscious conscience. [Don't you love the word con-science?]
2) Do you think the crimes committed by the 3 million American citizens as well as "illegal aliens" currently in prisons in the United States, approximately 1% of the population, excluding the 10 million native American Indians murdered for their land and the minerals such as gold lying beneath, as well as the Black African slaves who didn't succeed in becoming rich Uncle Toms like President Obama, are guilty of lesser crimes than all members of the United States Congress and President Obama who has yet to comment on how his sponsorship of the Congo Relief, Security & Democracy Promotion Act prevented a greater genocide than the 6 million genocide, mostly children under the age of 12, that followed the United States Congress passing the Congo Relief, Security & Democracy Promotion Act into law in December 2006 after his first visit to South Africa in August 2006, where when meeting with the likes of puppet Mandela, he was sized up by, not a consortium of puppet leaders meeting in Davos, Switzerland who are nothing but the most comical cover, but rather the number one Captain of Murder Incorporated, Nicholas Oppenheimer who then had his Putin come visit with him and be photographed two weeks later on September 5, 2006 looking like he was very angry and ready to give Oppenheimer a backhanded slap?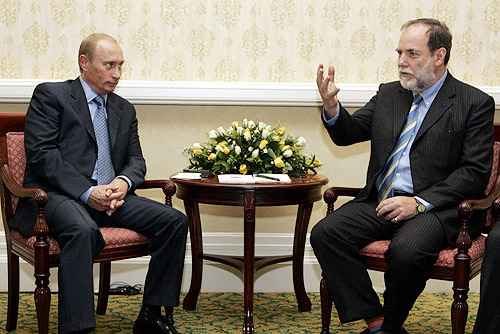 3) What economic principal do you think Nick Oppenheimer was pontificating, and if he were speaking Martian do you think Putin would have thought any different?
4) Do you think Nicholas Oppenheimer has nice things to say about me?
5) Do you think when the lawyers for the South African Sunday Times wrote me on April 7, 2005 – CLICK HERE – 84 days after I met with Jonathan "Trouble Bubble" Beare in Beverly Hills for an early morning breakfast, letting me know that they were refusing my request to place my De Beers INFORMERS WANTED advertisement, they did so on their own accord without getting input from Nicholas Oppenheimer?
6) When two members of BOSS visited with me at my plush offices in Santa Monica following my father placing my Name From Here, You Can Trust Over There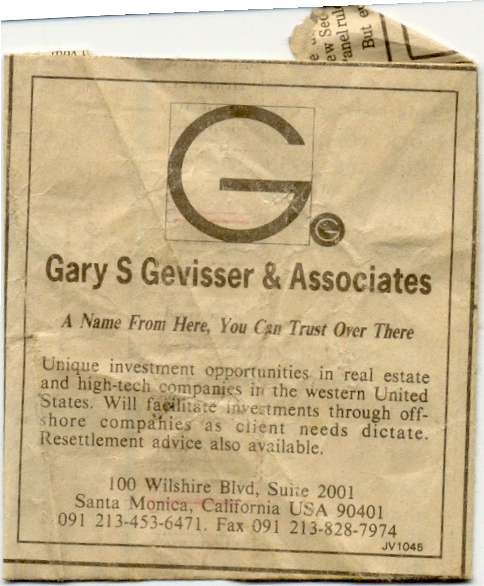 advertisement in the South African Sunday Times, which was well before my all day meeting in 1995 with my "lucky uncle" David Gevisser who was paid $6 million by the estate of Engelhard Jr. right after Engelhard Jr. was assassinated on March 2, 1971 and an overdose of insulin the likely culprit, do you think they were calling to fuck me, as in homosexual sex, or do you think they were threatening me with the death of my father in order to keep their cushy jobs at the South African Consulate in Los Angeles?
7) What sort of credentials do you think my "lucky uncle" Dave Gevisser needed in order to simply transfer all of Engelhard's South African assets to his Oppenheimer partners who would go on to profit handsomely from all Engelhard's stolen wealth without sharing any of it with the 45 million South African Blacks, 80% of the population of South Africa who survived the 46 year uninterrupted rule of the Engelhard-Oppenheimer South African Apartheid Regime even when their puppet Mandela was brought to power in 1994 and could afford to have a tear duck operation so that he could also cry?
8) If you were a member of the United States Congress and could remember which document began with the words, "All men are created equal…" would you propose that tortured to death Steve Biko (18 December 1946 – 12 September 1977) and whose torture began on September 11, 1977 be buried in Arlington Memorial Cemetery alongside his Durban Movement co-founder Richer Turner who was murdered by gunshot 119 days later on January 8, 1978, 67 days before I left Durban's Louis Botha Airport and arrived the next day in the USA, St. Patrick's Day, March 17, as well as the tens of thousands of Black South Africans who never made it to the De Beers-USA terrorist training camps in South Africa and the surrounding areas such as Mozambique, and if there is a space problem to remove the graves of President of John F. Kennedy and his brother Robert F. Kennedy?
9) Can you think of anyone who De Beers fear more than me and hoping that with time their fear will go away as the stupid cowards prefer them in charge rather than having to pay in back wages all the soldiers of the world who have been grossly underpaid to afford all the non-soldiers their rich lifestyles?
10) How long are you going to wait before contacting my cousin Mark Gevisser, the eldest son of David Gevisser, to ask him what he knows about the torture murder of his close relation Sandra Jacobson in 2006; and that of course includes [who] he thinks within the ANC ordered her execution?
11) Do you think that his father's mentioning her murder in his 2006 memoir, THE UNLIKELY FORESTER was intended to send me a message?
12) Do you think David Gevisser was kidding me when informing me that I did the right thing in pulling the very clever A Name From Here, You Can Trust Over There ad which was the brainchild of my mother Zena, and that it also pleased Nicholas Oppenheimer who prior to 11.11.2004 when I broke my 24 year silence De Beers, never had reason to question my ability to keep my mouth shut?
13) When did you become aware that for certain Nicholas Oppenheimer knows what I have been doing ever since De Beers went silent following my response that I was waiting to hear back from Attorney General of New York State, Eliot Spitzer Esq. which was 3 minutes after they emailed me on November 24, 2004 – CLICK HERE – letting me know that they were happy to arrange a time for us to have lunch in New York City?
14) If you were an insurance underwriter, rather than the person responsible for letting the world think that there is fair pricing in energy, what price would you put on my life or do you think that all that is important is that you keep your cushy job?
15) When you see in the cc section the email address of Eric Van Den Berg who wrote me the threatening letter on April 7, 2005, do you think it is far fetched for someone who is not a senior government official to order an assassination?
16) If you have trouble clicking on the hyperlink above the CLICK HERE and you read the letter below:
7 April 2005
"Informers wanted" advertisement

We act for Johnnic Media Investments Limited, the proprietors of the Sunday Times.

We have been handed the advertisement you wished to publish in the Sunday Times as well as a number of emails you have directed to employees of the Sunday Times.

We are instructed that our client is not obliged to accept your advertisement. Your advertisement is defamatory of both De Beers and Anglo American Corporation and as such exposes our client to the risk of action being instituted against it. Our client is unable to verify the truth or reasonableness of the material contained in the advertisement. Our client in the absence of a defence to a claim for defamation is not prepared to publish the advertisement.

Your email messages contain a number threats aimed at our client's holding company and its Board of Directors. Their use is not acceptable to our client. We are instructed accordingly to advise you that our client will not publish your advertisement and by way of this correspondence terminates its correspondence with you. We require you to acknowledge receipt of this letter and to confirm that you will not issue any further threats against our client or any of its employees.

Yours faithfully

BELL DEWAR & HALL
and you are able to understand the words, "Our client is unable to verify the truth or reasonableness of the material contained in the advertisement" do you think they are telling the truth?
17) Do you see any connection between De Beers and my illegal $4 million Texas DEATH SENTENCE judgment?
18) Do you think there were any negative consequences for the failure of the Jewish prosecutors at the Nuremberg Trials of 1947 to file charges of war crimes against Nicholas Oppenheimer's father Harry and grandfather Sir Ernest Oppenheimer?
19) Do you think that because the German-South African Oppenheimers and their American-German partners, the Engelhards have Jewish sounding names, it means that that they like Jewish people other than all those profiting from the corruption?
20) Would you feel good or worse knowing that there must be at least God on my side?
21) Do you think that I should pay attention to people who do not say nice things about me, even if they say they have friends to support that they are nice people and that I am bad?
22) How would you define a friend; someone who just takes from you and fails to challenge you when you do wrong?
23) When Nelson Mandela joined the heavily corrupted African National Congress [ANC] in 1944, American-German racist, anti-Semite, ruthless monopolist Charles W. Engelhard Jr. [1917-1971] was 17 months older; and when the Central Intelligence Agency [CIA] handed the puppet lawyer Mandela over to their Apartheid Regime's Security Police, better known as BOSS [Bureau of State Security] on August 5, 1962, 750 days after the CIA assassinated the first and last democratically elected leader of an African nation, Patrice Lumumba, not the originator of the Zumba, but Prime Minister of the United States of America protectorate, Belgian Congo-Democratic Republic of the Congo, Engelhard Jr. remained 17 months older; do you think that was a coincidence?
24) When Engelhard Jr. witnessed the assassination of his puppet President of the United States of America, John F. Kennedy on November 22, 1963, 149 days after this terrorist of terrorist poison gas bomber of Vietnam declared in Berlin, Ich bin ein Berliner, a speech which left every human being with a conscience including the General of General, Mossad chief, David Ben-Gurion speechless, would you consider his assassination a legitimate Mossad hit?
25) If you were Ben-Gurion and could remember that the Jewish Holocaust of World War II was not a very nice thing towards us Jewish people who knew that when President Roosevelt turned back the ship of German Jewish refugees he was also well aware that De Beers and their partners the American Rockefellers were supplying the US puppet Hitler with his means to conduct war and follow through on his rhetoric that he too didn't like Jewish people, would you think that any American President who followed Roosevelt and who didn't criticize the Nuremberg Trial prosecutors for failing to prosecute one Captain of Murder Incorporated, that their successor would be an honorable human being?
26) Would you consider President John F. Kennedy a friend of the Jewish people even if he swore on a hundred Christian bibles that he meant the Jewish people well, and that he also dined with Jewish people who only said good things about him and his family?
27) Do you think it was just a coincidence that President JFK's appalling speech coincided with Ben-Gurion's last day in office as Prime Minister of Israel?
28) Could you think of a more perfect time for Ben-Gurion to step down for the second time and start making his future home, Sde Boker, not only one of the best armed camps in the world, but a training center to weed out the most intelligent?
29) Do you think it is very possible that Ben-Gurion the next day, June 27, 1963 did not go immediately senile and forgot how well he reorganized Israel's most fearsome Foreign Intelligence Institute, Mossad, following the "debacle" of Operation Susannah in the summer-spring of 1954 that preceded the 1956 Suez Crisis that pitted the armed forces of Israel, Great Britain and France against the United States and Soviet Union, which of course most Americans don't know the first thing about because that would make an entire mockery of the Cold War which was exactly that, and which you can easily pick up from Edward Jay Epstein's 1978 non-fiction book, THE DIAMOND BUSINESS which you have now read.
30) What did you think of Chapter 17, THE RUSSIANS ARE COMING – CLICK HERE – and whether you think it was intelligent that Epstein label the chapter before, WARRING WITH ISRAEL – CLICK HERE?
31) If all Israelis today were to say only nice things about De Beers and the Oppenheimers would that have you conclude that they were not bias?
32) In 1967, you were 14 and well on your way to being a gourmet chef, but you would agree that wouldn't have been enough to impress Ben-Gurion and his most trusted advisors. When you read the following paragraph that I cut and pasted out of Wikipedia – David Ben Gurion, do you think Ben-Gurion placed a spell on Yitchak Rabin that caused him to have a nervous breakdown and be confined to bed for 36 hours?
In May 1967, Egypt began deploying forces in the Sinai after expelling UN peacekeepers and closed the Straits of Tiran to Israeli shipping. This, together with the actions of other Arab states, caused Israel to begin preparing for war. The situation lasted until the outbreak of the Six-Day War on 5 June. In Jerusalem, there were calls for a national unity government or an emergency government. During this period, Ben-Gurion met with his old rival Menachem Begin in Sde Boker. Begin asked Ben-Gurion to join Eshkol's national unity government. Although Eshkol's Mapai party initially opposed the widening of its government, it eventually changed its mind.[36] On 23 May, IDF Chief of Staff Yitzhak Rabin met with Ben-Gurion to ask for reassurance. Ben-Gurion, however, accused Rabin of putting Israel in mortal danger by mobilizing the reserves and openly preparing for war with an Arab coalition. Ben-Gurion told Rabin that at the very least, he should have obtained the support of a foreign power, as he had done during the Suez Crisis. Rabin was shaken by the meeting and took to bed for 36 hours.
33) Do you think Ben-Gurion was unaware that the US spy ship USS Liberty first visited South Africa before the US Government-De Beers placed America's most advanced spy ship in harm's way on June 8, 1967, 3 days into the very bloody 6 Day Day War, the retaliation for the Israeli attack was US fighter-bombers armed only with nuclear weapons with orders to nuke the country responsible; and no other country other than Israel had an Air Force capable of unleashing such violence on an unarmed and totally defensive vessel; but US Minister of Defense, Robert McNamara came to his senses and ordered the aircraft to abandon their mission.
34) Have you thought how comedians would make a living in the days following a nuclear bomb goes off in Jerusalem which you know is not impossible, and whether that would result in all the governments' nuclear regulatory agencies raising the limits of radioactive emissions from all the nuclear power plants, just like what happened here in France following the recent Japanese catastrophe when the next day the acceptable limits were raised 4 times, and no one said a word.
35) Do you agree that the human is not as real as its imagination?
I was not intending to follow up so soon with you, even though I have not responded to your last email that began; "Gary and Marie …" which I currently cannot find, and so if you have a copy handy please forward it to me.
Please do not think for a moment that I am "giving up on you" which is exactly what all the weak energy throughout the world, including all those who have yet to hear of either one of us, would love to hear, when I strongly suggest that you take charge of your big, bad mouth and newly married daughter who is increasingly threatening and I don't care to continue the dialogue with such an idiot.
I am not about to mince words with you or anyone else when it comes to anyone threatening to censor my right to FREE AND FAIR SPEECH even though those in positions of power here on planet mother earth who think they are above it all including the Creator of it all, have never promoted or executed anything close to FREE AND FAIR SPEECH other than to say whatever they need to say in order to get what they want without paying for it.
With that said, I miss our above average intellectual conversations other than when you forget very important things that you have said and you continue to evade Marie's most important question, "Where do you see it [humanity]?" because of course you wouldn't know where to begin looking for it other than in the rest of the animal kingdom and plant life where it continues to thrive; moreover, it looks like the bees might be making a comeback, at least in Corsica which we see as the perfect spot to become the center of arts for the entire planet.
BTW were you aware that Einstein predicted 4 events that would lead to the death of humanity; nuclear energy, causing rapid unemployment after first causing human overpopulation to explode and wars not able to kill off quickly the slaves no longer needed to do the heavy lifting work, thanks to advances in technology spurred on by the advent of nuclear energy; second, the elimination of all the bees which would have all humans dead within 3 weeks, and I don't know the other two.
Your daughter began this morning a FB message conversation with me.
Given her unclear mind, it is not easy to follow everything she has to say. She first writes, "Any thing like:" and then she cuts and pastes what I wrote up on her FB "wall" in response to her applauding the efforts of another Poverty of Thought human to have me banned from FB because they too lacked the mental capacity to debate me on the merits, which of course you understand perfectly that few to none can do, which does not make me the idiot, even if it turns out that the entire human species is Poverty of Thought stricken.
Then she proceeds with "You need to keep out of your mouth …" and then 8 minutes later writes, "Hey, I didn't like this comment.
Do not ever leave a comment on my pictures with personal information that you may have received from my father. Pester your own friends, they seem to let you know they also are displease with your posting.
The rest you should be able to follow easily.
Conversation started today
Rosa Michelle MonicaAny thing like :
8 hours ago you, the adopted daughter, I believe of Geoffrey Rothwell, wrote on my FB "wall" that you supported me being banned from Facebook. Maybe Geoffrey Rothwell has not yet seen what you wrote, but it is most unlikely he has shared with you all that he shared at dinner with me in Paris back on September 16 where both our wives were present and equally aghast as I was by his revelations concerning the nuclear energy that he is paid handsomely to promote. It is also my understanding that he continues to pay your rent which he can afford thanks to his paycheck from the Nuclear Energy Agency that is run by the United States of America but headquartered in France which suffers more than any western alliance country, other than the puppet dictatorships in places like Africa who get the nuclear waste dumped in their backyards with little to none outcry from the peanut gallery of the regressing 'common herd" human….
You need to keep out of your mouth, and off of facebook. It is not your right to display my life with my dad. I do hope that you become removed from facebook, you babble on peoples facebook wall and on your own with information that should be shoved up your ass. Keep my name and life completely out of your future writings. I will continue to report you on facebook if you do so.
Rosa
Rosa Michelle MonicaHey, I didn't like this comment. Do not ever leave a comment on my pictures with personal information that you may have received from my father. Pester your own friends, they seem to let you know they also are displease with your posting.
2,088 total views, 3 views today