They fucking hate fat – Re: What is Netanyahu thinking? – Re: Just testing the air defenses of Israel (copyright) – Fwd: More interesting – Re: Book launch – Live forever – Re: 2facetruth.com
From: gg <gary>
Subject: They fucking hate fat – Re: What is Netanyahu thinking? – Re: Just testing the air defenses of Israel (copyright) – Fwd: More interesting – Re: Book launch – Live forever – Re: 2facetruth.com
Date: July 27, 2014 at 7:21:18 AM PDT
To: Christopher Mooney <cmooney>, "geoffreyrothwell Rothwell – Principal Economist at OECD Nuclear Energy Agency of the Organisation for Economic Cooperation and Development – Professor Stanford University – World authority on the pricing of uranium." <geoffreyrothwell>
Cc: Laura Family <DrLauraFamily>, "Oprah. com" <Membership>, Kerry-Ann McCullough <mcculloughk>, Marcia WCBS-TV <mgkramer>, "Sidney Abelski – lawyer – only child of two Auschwitz survivors." <sidneyabelski>, Sidney Lazarus – son of Gunter The Pig Lazarus c/o Bernard Lazarus brother of The Pig <blazarus>, Gill – Assistant to Jonny Gevisser <gill>, "Jonny Gevisser – Director, The Extra-Mural Education Project, Cape Town, South Africa" <jg>, Renees <renees>, Gary Smith <gary>, Renee Gild <reneegild>, Guy De Chazal – US Government owned Morgan Stanley <Susan.Runge>, Renegade Health Support <help>, livingontheveg, Joyce Mohapi – Recieved a De Beers-Rhodes Scholarship after being imprisoned during the 1976 Soweto Riots <joycemohapi>, Hlumelo Biko – son of Steve Biko murdered on 9/11/1977 – now running a Wall Street charity-investment portfolio <ali.ayala>, "Jann Turner – daughter of slain white South African Richard Turner [September 21, 1941 – January 8, 1978] co-founder with Steve Biko [Decem,ber 18, 1946 – September 11-12, 1977] of Durban Movement." <jann>, Lisa Fugard – Daughter of South African playwrite and actor Athol Fugard who played Jan Smuts in Ghandi <lfugard>, Harold Kolnik <haroldk>, Isfahan Henderson <bealycourt>, Cara <brainwaves>, "Dr. Louann Brizendine MD – author of The Female Brain." <louann.brizendine>, Brain Shirken <BAS29>, cc-Ngould <ngould>, Sam Hackner – Chief Executive Officer – Investec South Africa <iamrecruit>, "Jim Winters – son of Charles Winters who received a Presidential Pardon on December 23, 2008, the same day Adam Lee Tucker met with ex CIA member Charles Knuff." <jim>, "Mike Flint – Hollywood producer looking for funding of Angels in the Sky – The Birth of the Israeli Air Force." <mikeflint>, Matthew Hoh – former US Captain who resigned from US State Department <ggreenwald>, David Levy <Disch1000>, David Schmarman c/o Michael Sagorin <mike>, "John Gevisser – son of David and Hedda Gevisser c/o Jonathan Norton, head of operations, Operation Lionheart Lionheart" <jonathan>, John & Sheila Mulcahy <sheila.mulcahy>, Annabel Linder – South African Radio Show Host <hosts>, Doctors Without Borders c/o Miriam Ross – Survival International Survival International <Mr>, "Professor Jeffrey D. Sachs – Columbia University – author, THE END OF POVERTY" <sachs>, "Alan Lipworth – former partner of Stephen Cohen, Codiam Inc. Inc." <alan>
Begin forwarded message:
From: gg <gary>
Subject: They fucking hate fat – Re: What is Netanyahu thinking? – Re: Just testing the air defenses of Israel (copyright) – Fwd: More interesting – Re: Book launch – Live forever – Re: 2facetruth.com
Date: July 26, 2014 at 6:20:21 PM PDT
To: Jeffrey Fall <jeffreyefall>
Cc: rest; Stevelinde23, Laurie Flynn <laurievincentflynn>, "Jeffrey R. Krinsk Esq." <jrk>, Chief Rabbi of South Africa Goldstein <office>, "Rabbi Capers C. Funnye – close cousin of First Lady Michelle Obama who is married to President OBAMA" <ravfunnye>, Rabbi Luke Ford – First to out South African-American Rabbi Abner Weiss <lukeisback>, robertdevine2010, Keisha Whitaker <kbabies1>, Devin Standard – eldest son of former President of New York State Bar Kenneth Standard <devinstandard>, ray.oshry, Nitza Lite <nitzadrew>, Paul Bozo the Clown Teirstein MD Teirstein <pteirstein>, Kate Jaro <katejaros>, Adam Lee Tucker – Alternate email address <adamtucker619>, "Mark Gevisser – biographer of Thabo Mbeki, former President of South Africa. Mark is the eldest son of David Gevisser, the male heir of American-German, RACIST SOUTH AFRICAN INVADER Charles W. Engelhard Jr. assassinated by the Mossad on March 2 1971 and buried at St. Mary's Abbey Church Morristown New Jersey" <mark>, Chinese Embassy – USA <service>, Jerusalem Post <letters>, "T. Colin Campbell, PhD – Cornell University The China Study" <bjp1>, Rose Tchang – Granddaughter of Sun Yat-sen Sun Yat-sen <nancy>, "Dr. Tea Tea" <fengqingyuan_01>, liujiestacy Stacy <liujiestacy>, Beverly Stacey – Lloyds of London Insurance <beverly.stracey>, Charles Ivie <charles.ivie8>, "Major Tuvia Friling – Israel Defense Force, Deputy Commander Golani Brigade, Professor Ben Gurion University, Beersheba, Negev Desert, Israel – Author of ARROWS IN THE DARK" <friling>, Ron Bellows <ron.bellows>, "Patrick K. Tillman Sr. Esq. – father of American Football athlete Pat Tillman who was killed by friendly fire in Afghanistan." <pat>, "Patrick. J. Fitzgerald – US Attorney – prosecuted Presidential Pardoned Marc Rich's attorney, Scooter Libby." <patrick.j.fitzgerald>, Economic Department Israeli Consulate <economic>, "President Shimon Peres c/o Office for the Israeli Department of Defense Attache; Israeli Embassy Washington DC Israeli Embassy" <att-sec2>, "Deborah Sturman Esq – Inspired by Zena Badash-Ash Gevisser Zulman, played pivotal role in collecting billions of $ from remnants of Germany's military machine during WW II, but stopped way too short when realizing it was so close to the home of the German-South African Oppenheimer clan whose Lloyds of London Insurance have never once attempted to hide that they are the money launderers of money launderers, and figured the common herd would think themselves too smart to have it all smack in their faces De Beers." <info>, "Andile Madikizela – First cousin of Winnie Mandela and close confidant of Nelson Mandela who acknowledged in private meetings with Andile of his knowledge that the CIA turned him in to the South African Apartheid Regime during the Kennedy Administration. Andile first contacted me because he was curious about multi-billioinaire Jonathan Beare who hung out in gay bars in Johannesburg; and no one seemed to know much about him. It was my email postings on The Internet which first caught his eye, and Andile was impressed that I did not fear J. Beare." <mad11a>, Trevor Manuel – former South African Minister of Finance <patti.smith>, "David Altman – Founder of Made In USA Inc." <david.altman>, "Cliff and Ronlynne Benn – Durban, South Africa. South Africa." <cbenn>, Alan Dershowitz – Harvard Law School <dersh>, "Alan Lipworth – former partner of Stephen Cohen, Codiam Inc. Inc." <alan>, "Mawuna Koutonin – FB friend who won't answer the question, Is there any price that the Engelhard-De Beers-Anglo American Corporation [E-DAAC would pay you to keep quiet and/or distract?" <mk>, "Jill Hogan – younger sister of ANC official Barbara Hogan who is the only white South African convicted by the South African Apartheid Regime for treason, and tortured during her captivity." <info>, Annabel Linder – South African Radio Show Host <hosts>, tony, "Gary Firer [1957- ] – Carmel College, Durban, South Africa. Now living in Switzerland-Germany" <garyfirer>, "Ira Mishkind Esq. – Gary Steven Gevisser's estate attorney." <ilmlaw>, JERRY MOCH <jnmoch>, "Jerry Phillips Esq." <jphillips>, "Tony Leon – Fomer head of the South African Oppostion Party to the current ANC regime. Now the ANC South African Ambassador to Argentinia. Tony wrote praising obituaries for both Harry Oppenheimer [1908-2000] and David Gevisser [1926-2009] to Argentinia." <southafrica>, Adam Hochschild – author of Blood & Treasures – founder of Mother Jones <adamhochschild>, Doctors Without Borders c/o Miriam Ross – Survival International Survival International <Mr>, Andrea Kerzner <akerzner>, Lynne Bentel <lynnebentel>, Lynne Twist – Founder of Soul of Money Institute – c/o Kay Sandberg SOMI Program Director <kay>, David Thornton – husband of Rock Legend Cyndi Lauper <DavidT>, "Rock legend Cyndi Lauper – referenced in VP Dan Quayle's response to Major Sam Samples on December 9, 2011" <cl.dreams>, "US Air Force Major, Terry Smiling Sam Samples – led US fighters into War; First Gulf War [1990-1991]" <terrysamples1>, "Vice President Dan Quayle who made reference to singer Cyndi Lauper in his December 9, 2011 email to Cyndi Lauper's former lover, US Air Force Major Sam Samples, titled, Ball tripping ego maniacal bastard" <danqal8y>, Nobel Committee <comments>, Embassy of Sweden – Washington DC <ambassaden.washington>, Brazil Embassy – USA <consular>, Tom Shadyac – Director-Writer I AM – c/o Janet Matthews <firststreetcp>, Gary Barber – Co-Chairman of the Board and Chief Executive Officer of MGM of MGM <gbarber>, "Dr. Rod Smith Ph. d – Alumni of RAND Corporation" <smith>
Jeff, that was really prompt.
Do you think, given how you are not a FB friend of mine, that others such as yourself are equally awaiting my insight and analysis of the important events of the day?
Why punish me with wanting me to think what it is like to be in the shoes of self-indulgent humans who are rarely born fat and nor do babies start out talking.
Wouldn't the highest form of narcissism be found in those with the highest fat diseased TALKATIVE cell count?
I believe you distract not because you work for someone else but it is much easier to console your mind having been fooled by people who you know are not very bright, but understood perfectly how you would react defensively at the messenger who had the courage to share with you information which if you had the right parents-grandparents-teachers-professors they would have protected your common sense by encouraging you to ask the right questions.
It does not escape me that you are not alone in failing to direct your angry insults at those directly responsible for your warped thinking that has you contracting far worse than Ebola where death is fairly quick, a long, protracted pandemic of fat TALKATIVE cells spreading like wildfire first throughout your body.
Examine the logic which has the human mind agreeing with the precision of body language, "BEWARE!" best expressed by the skin, the body's largest organ.
Test it on yourself when next people watching yourself. Watch how healthy children avoid at all cost, even willing to get a spanking, being in the company of their fat, slow, ugly parents-grandparents, aunts and uncles.
Children are born knowing nothing about sexual orientation, religious hypocrisy, nationalism or racism of any kind, but they fucking hate fat.
There is not much good one can expect from any animal once they are addicted to the sugary meat, candy, and processed wheat whose poisons all create heat which the body can never escape from soon enough.
But if the youth before they become lame from the narcissism of narcissisms or their bodies torn apart by bullets and exploding shrapnel can read all this and learn something from it, what do you think that would be?
Let me spoon feed you.
The youth remain the majority of the world's population and the majority will always be those yet to be born who we can all agree never asked to born into a human society that showed how its civilization was " rogressing" by its embrace of nuclear energy without a care in the world that not one of the smartest amongst them had figured out a way to safely dispose of nuclear radioactive material waste, other than to "waste away" the world's militarily weakest, such as as the Congolese and deposit the nuclear waste in war ravaged mineral rich Africa.
You can remember how you thought when you were a young teenager that your parents were stupid, because the vast majority of them were in fact totally stupid.
Since there are no restrictions on fat diseased TALKATIVE cell humans voting on what their warped minds tell them is the best choice of puppet political leaders, why not make it mandatory that no one can join the armed forces of any country unless they have first voted and being given the option of voting for all the politicians who provide funding for military weapons have all their immediate family serve on the front lines until their matriach-patriarch is voted out of office, with no term limits; and if childless then serving until they are killed or their blood politician is voted out of office or otherwise dies off, their closest cousins who would have to agree in order for the politician to be eligible to run for office.
Do you see how this putting "family loyalty to the test" is also a better solution for getting guns out of the hands of poorly educated children soldiers?
Thanks to the light speed Internet and my teachings it is increasingly easier to identify the gun source and all the funding of the gun source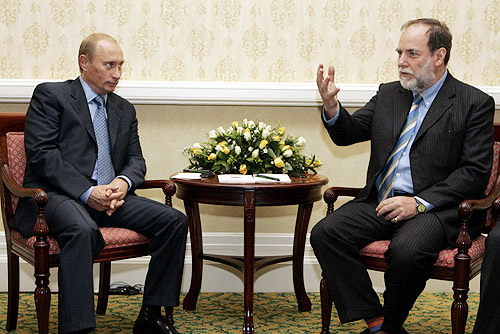 by simply asking an oil-uranium trader like Marc Rich before they are given a Presidential Pardon.
Can you explain why it is that you are not alone in refusing to thank me for making you all aware of the role that CIA oil traders such as Rich play in furthering terrorism? [CLICK HERE].
Surely also, you have read the importance Mr. Flynn places on the September 5, 2006 photo of Putin meet Nick Oppenheimer in Johannesburg:
I found the Putin-Oppenheimer photo beguiling when I saw it for the first time the other day. It looked as if Mr Putin found Mr Oppenheimer rather worrying, perhaps because Mr O is in full flight and seems to be giving Mr P a lecture, putting him right or correcting him. But I have not so far managed a close reading of the photo or the context and would be grateful if you would share your thoughts.
If you thought the word "beguiling" was in reference to seagulls, you would be wrong.
Just because Producer Flynn contacted me, not you or anyone else in the world to better understand the DeBeer-Oppenheimer Empire which before running into me, he thought he was most well informed, doesn't prevent you from sharing with me your analysis of that most important photo which Putin only released to the public in early October 2008, one month before puppet Barak Obama became President-elect Obama.
Of course I have analyzed it before bringing it to all your attentions.
Flynn would today, 16 days after writing his "beguiling", be no less "attracted" to this photo that most of all tells you that Obama has been lying to you ever since he became aware of this most important meeting that both Putin and Nick O. consider most important and why it stands alone on Nick O.'s Wikipedia profile.
Do you really need to know when Obama was first shown the photo?
Of course it is much more interesting to have your mind "space out" thinking what thoughts immediately entered Obama's head.
Amazing isn't it, how most of you currently reading this would prefer that I would "just go away", rather than have logic dictate your thoughts?
So what would I do without people like you and Michael "Tordu-The Coward" Awerbuch making your commentaries?
Of course it is not a pleasant thought to think that you have such well compensated government officials lying through their teeth and worse yet knowing that if asked to explain the photo of photos they would all sound totally stupid.
So how do you explain the reality of so many fools comfortable in the same room and just praying that no journalist is going to have the courage to ask either the media or Obama or his puppet replacement, to explain their read of Putin meets Nick O.?
You should now try placing yourself in the shoes of Flynn, Obama, First Lady Michelle Obama, Putin, Nick O., and anyone else you think is important.
With that in mind; and again do not take it personally when putting yourself in their shoes, examine the careful words of David Gevisser [1926-2009], the one and only "male heir" of South African Invader, America-German Charles W. Engelhard Jr. [1917-1971] who immediately following Engelhard Jr.'s death on March 2, 1971 was informed by America's Commander In Chief, lawyer Richard Nixon that America will remain the staunchest ally of non-democratic, anti-competition, pro South African Apartheid Regime, banking-mining consortium Engelhard-DeBeers-Anglo American Corporation [E-DAAC].
Engelhard Jr.'s "male heir", my and tortured to death Sandra Jacobson's "lucky uncle" David Gevisser wrote the following in his 2006 autobiography, THE UNLIKELY FORESTER:
Sandy had an unusual history for anyone of her background. She joined Umkhonto, the armed wing of the ANC, and saw very active and dangerous service. She and her husband retired to a farm outside Johannesburg after the Mandela miracle. She was recently found tortured and murdered in circumstances which are as yet unexplained, but thought to be connected with internal ANC feuds that dated back to the years of the struggle.
The only thing "recent" about Sandy's death which took place on or around November 4, 1997 when her naked and tortured body was found in the trunk of her car in Johannesburg, was the whitewash South African Police [SAP] investigation which was reopened in March 2006 and closed on the same day as Putin meets Nick, again September 5, 2006, with the SAP concluding the murderer, who had conveniently died in 2003, was simply an opportunist with a money and/or sadistic sex motive, while making no mention of Sandy being a member of the armed wing of the ANC, Umkhonto or that she had given right before her murder sworn testimony to the whitewash South African Truth & Reconciliation Commission that was headed by DeBeers bought Roman Catholic Archbishop Desmond Tutu.
When I first read "recent", I figured her murder took place right before The Unlikely Forester went to print which would have been after August 2006 which was the last date at the end of the Afterword.
The only person in the world who knew I had "misgivings" about the E-DAAC was David Gevisser who knew following our all day meeting in mid-1995 in Johannesburg, that it was just going to be a question of time before I began to speak out, and people like Sandy Jacobson who knew me well, would pay very careful attention.
I only began to speak out in the northern hemisphere's fall of 2000 – CLICK HERE – and unbeknownst to me Sandy had already been silenced.
Imagine if Sandy knew the truth about her grandfather Sol "The Little King" Moshal, and his favorite nephew, David Gevisser, being the most trusted Jewish South African confidantes of Engelhard Jr. who never really tried to hide that he was an "open supporter" of his and his partner, Harry Oppenheimer's Apartheid Regime.
Were she alive today, she also knows that she couldn't raise from the dead all her close colleagues who were murdered back in 1985 by the SAP-Bureau of State Security [BOSS] thanks to an informer within their ranks who would have been spared.
You must remember that when liberal Democrat Senator Ted Kennedy visited his and the US Congress' South African Apartheid Regime in 1985, he received a "cold shoulder" from the fast dwindling black African resistors – CLICK HERE.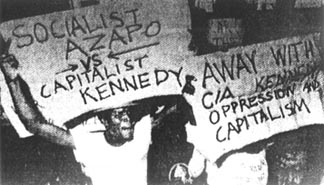 When did it become clear in your mind that the only difference between capitalism and communism run by our capitalist monopolists was all in your brainwashed head?
Try putting your mind to figuring out the timely reopening of my classmate and cousin Sandy Jacobson's murder, less than 18 months after I broke my silence with the E-DAAC-Codiam on 11.11.2004, not mentioning her testimony which appeared in the February 28, 2000 TRC hearing.
How could the SAP report not mention that Sandy had been murdered soon after giving evidence before the TRC or that the biggest Jewish South African hypocrite, David Gevisser, who was the most connected South African following the death of Engelhard Jr. until D. Gevisser's death in late April 2009, had a totally different opinion about Sandy's death, "but thought to be connected with internal ANC feuds that dated back to the years of the struggle."
Since you know from the stink sweat of unhealthy humans that their internal organs are being trampled on to death by the fat cells expanding their terrain and loving every minute making the full of itself poisoned organs increasingly sleep deprived and waking up grouchy and not pleasant to be around – not that many of my detractors seem overjoyed by their sex life – imagine how much more perceptive are healthy children who are told to respect and honor their elders, and yet their "gut feeling" is that these lack of self-control elders are all full of bullshit, which they are.
Logic tells you that if you can look in the mirror or if blind feel the ugly contortions of fat, and want to vomit, it means that healthy humans who put in the effort to eat right and exercise and their smart minds tell them to avoid TV like the plague, are that much more in tune with the heartbeat of the universe.
How can anyone who doesn't like itself which you can instantly see if a frown comes over your face when looking at yourself naked in front of a full mirror, really care all that much about the brutal murder of the malnourished poor outside of their neighborhood, apart from what the News Headline decides when first setting up the emotions of the brainwashed who are not exactly conscious of the tie in with the commercials either before or after.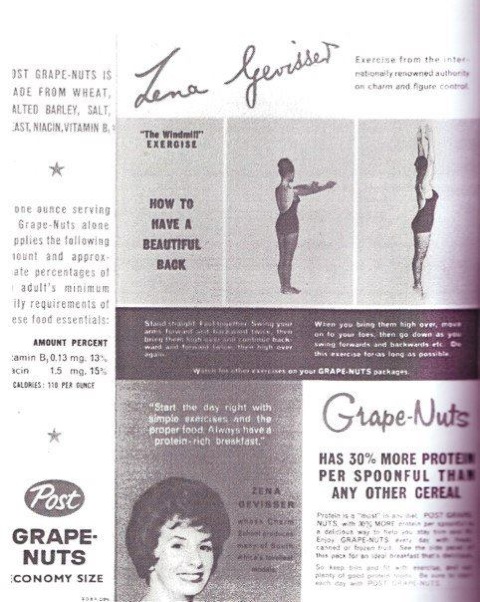 BTW, what do you think I learned from the millions of American made Grape-Nuts cereal boxes with my mother's name and photo plastered on the back which were sold in South Africa during the height of the Apartheid Regime?
Isn't it cool to have your attractive British-English mother on a Grape-Nuts cereal box?
Should I have thought to myself that everyone else I knew whose mother was not on the back of the Grape-Nuts cereal box, meant that their mothers were more special or better connected?
Please take note that in the past 3 days since I placed a counter on my eldest brother Neil's bio page of 2facetruth.com which has the 2 videos from his book's launch in London which were first placed on Youtube on July 12, and both Youtube videos have been viewed by just over 50 which could have people such as me returning time and again to read the comments that remain nonexistent, the number of views of this one 2facetruth.com page is 45. [CLICK HERE]
What can explain why it is that I never met a single human who thought to question what they would do if in the shoes of the minority ruling mineral monopolists.
Go ahead and try it for the first time.
At the same time the E-DAAC created this middle class of talkers, they prepared their talking points, "The Middle Class are being wiped out".
University education in any of the liberal arts, law, political science, philosophy, modern abstract bullshit art, medicine etc etc only teach how to talk, and speechless once running into me.
You had to have laughed when you saw South African army grunt trained TORDU-THE COWARD Awerbuch rushing to defend Stanford University Professor of Economics, Geoffrey Rothwell who is also going to have a wait a little longer before I respond to TORDU's weak energy.
Your homework, should you choose to do it, is to find out everything you possibly can about TORDU and may I further suggest you start with Google Search and why not ask his 700 Facebook "friends".
While I am the first to agree given how DNA only knows to "replicate religiously", that fat diseased TALKATIVE cells are very difficult to reverse, especially if you think you are stupid and are only left to attract others with your self-inflicted damaged body which is not all that easy to get rid of – try going to your local dump and see if they will allow you to leave yourself with your garbage so as help the ants and worms better compost – and very unappealing to attractive and healthy bodies which go "hand in hand", it doesn't prevent future smart thinking young who have yet to pick up a gun to fight for the lifestyles of the middle "all about money" class, from taking the high road and refusing to join the army, unless the army generals are promising them not only all the "spoils of victory" but a military plan which guarantees the rights of the poorest of the poor, starting with Gaza which weapons manufacturers cannot get enough of.
[Word count 2684]
On Jul 26, 2014, at 12:52 PM, Jeffrey Fall <jeffreyefall> wrote:
Unfortunately my life consists of me working for others.

Had I your luxury of a self sufficient existence then my prose would be more poised and elegant as I would not have multiple distractions.

Judge not others until you stand in their shoes

What is worse contracting Ebola or Narcissism?

The first kills you. The second makes you deaf and blind.

[word count: 61]
4,975 total views, 3 views today