Wetherly Capital – California Corruption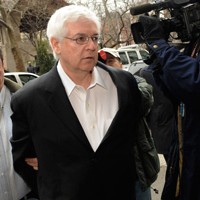 BACKGROUND
On September 17, 2001, Wetherly Capital Group and I (Gary S. Gevisser) entered into a consulting agreement with a start date of October 1st, 2001.
In addition to helping review business proposals for this political lobbyist organization that was attempting to transform itself into the preeminent investment banking firm on the west coast, I was to spearhead their California Agricultural Partners [CAP], a water fund project that would attract international players like Vivendi Environment who has since changed their name to Veolia Environment.
Over the course of the next several months Dr. Rod Smith Ph.d, the preeminent authority on water related issues west of the Colorado Rockies and I developed a comprehensive business plan that included the possibility of Vivendi contributing approximately 42,000 acres of land in the Imperial Irrigation Distract to this fund which would boost the prospects of getting funding from other sources such as all the major pension funds throughout the US with whom Wetherly Capital had relationships.
Without my knowledge Wetherly Capital had their one "renter" Joe Campos arrange two meetings which were held 10 minutes apart, with Democratic California Governor Gray Davis on December 28th, 2001.
It is my understanding that Joe Campos attended both meetings.
The first meeting was with the top officials of Vivendi Environment, Chief Executive Officer Andy Seidal and their General Counsel Staneck.
The second was with Rod Smith who had in anticipation of the meeting prepared for Gray Davis a "White Paper" detailing all the water related problems besetting California.
Rod Smith was unaware that Wetherly Capital Group had been retained by Bill Simon's investment company to help raise US $ 100 million for his Special Situations Fund.
Bill Simon would end up becoming Gray Davis' Republican candidate for Governor of California and neither Davis nor Simon raised during the campaign either these most important meetings or the "White Paper" and nor did Davis follow up with Rod Smith.
When I became aware of how it looked like Vivendi were "dangling a carrot" in front of Wetherly to have such a high powered meeting involving a major foreign corporation who like De Beers do not have a glorious history when it comes democracy and human rights with the head of the 5th largest economy in the world and Davis, I told Vicky Schiff that it looked like there was a "greasing of the wheels" and that I would not go along with it, and that we could not accept Vivendi as a partner in the CAP.
Joe Campos who was renting space from Wetherly since he was still operating as a political lobbyist and Wetherly were now wanting to be investment bankers, goes back a long way with Dan Weinstein the co- managing director of Wetherly Capital, and both of them had done lobbying work for Vivendi Environment when it was better known as US Filter and headed by its founder Dick Heckman who had purchased this acreage from the Bass Brothers of Texas who had initially engaged Rod Smith to assist in the purchase of this asset worth upwards of US $ 100 million.
While to a conglomerate like Vivendi who owned Universal Pictures the asset was not very significant, to a start up fund and to have Vivendi as a limited partner it was a most important asset which Vivendi who were having great financial difficulties in late 2001 knew they could leverage in getting access to Gray Davis.
Wetherly knew that they had performed well in getting Vivendi to meet with the Governor so late in the year where the PR value alone was priceless, since Vivendi could tout loudly their clout and which would send a clear message, not so much to their competitors who are slim and none, but to other politicians throughout the world.
Consequently, Vicky Schiff and Dan Weinstein while knowing that I had also had little difficulty in convincing Rod Smith of the strong appearance of impropriety given all our prior meetings and discussions regarding Vivendi making this 42,000 acres of land contribution in the Imperial Irrigation District, a voting precinct that would prove pivotal in the upcoming November 2002 California Gubernatorial election, and again topping off this planned "voter fraud" was the fact that Wetherly were representing Gray Davis' future opponent Bill Simon, were not going to let go that easily of this "windfall".
At the same time I knew that Vicky Schiff had enough experience with me that I was not going to go along with their corruption, and so it did not surprise me that right after I told her "no go" the share price of Vivendi began a precipitous share price collapse, beginning on January 3rd, 2002 and continuing for an uninterrupted period of 280 days; Vivendi and Vivendi Environment which was 63% owned by Viviendi, losing US $63 billion in market value.
On or around January 11th, 2002, Vicky Schiff called me on my cell phone to let me know that she, Campos and Weinstein were on their way to a meeting with Seidel and Stanek at Vivendi's headquarters in Palm Desert.
I was furious and told her to turn back. She tried suggesting it was just going to be a "brain storming" meeting without any ties to those two meetings back on December 28th.
The trio had made up their minds and there was no way I was going to stop them.
I immediately contacted Rod Smith who tried to reach them but they never returned his calls.
Right after the meeting Andy Seidel flew to a board meeting of Vivendi in Paris.
On January 15th, 2002, Vicky Schiff informed me that Wetherly were "terminating" my consulting agreement but that she was eager to work things out with me and that I should not "jump the gun".
On February 8th, 2002 all members of the CAP including Joe Campos met at Wetherly's new headquarters which were in the offices of Arden Realty located in the World Savings building in west Los Angeles.
Not to mention the meeting took place in the office next to that of the Dick Ziman who is the Chairman of the Board of Wetherly, and at the same time Ziman was CEO and Chairman of the Board of Arden Realty which before being sold to GE Capital in 2006 was the largest Real Estate Investment Trust [REIT] traded on the New York Stock Exchange.
The meeting began at around 2pm when Dan Weinstein finally showed up.
Vicky Schiff presented her memo spelling out all the events that led up to this point in time that was extraordinarily incriminating and Rod Smith presented his memo spelling out his activity including the background that led to his "White Paper" and those two meetings with Governor Gray Davis.
Once I had established that Wetherly Capital were planning on going ahead with getting Vivendi to contribute the 42,000 acres I left the meeting with the documents in hand.
On April 3rd, 2002, I received a fax from William H. Jackson Esq., Wetherly's attorney in which he offered me a settlement of my consulting agreement which he said never existed even though I had been paid in accordance with the agreement, and nor did Jackson make any reference to the "bones of contention" let alone that most important meeting of Feb. 8th, only saying my services had been terminated on Jan. 15th.
Suffice to say I never took their settlement offer but Wetherly Capital did drop pursuing the investment from Vivendi.
In the end the Imperial Irrigation District, under guidance from Rod Smith, did end up purchasing the land.
Whom ever owns the land, owns the water, owns the bank.
History of Wetherly Capital
[ca_audio url="http://www.2facetruth.com/History-of-Wetherly-Captial.mp3″ width="500″ height="27″ css_class="codeart-google-mp3-player"]
Interview with Gary Gevisser Oct 29, 2009
[ca_audio url="http://www.2facetruth.com/ZumaDoggGgevisser20091029.mp3″ width="500″ height="27″ css_class="codeart-google-mp3-player"]
Interview with Gary Gevisser Oct 30, 2009
[ca_audio url="http://www.2facetruth.com/ZumaDoggGgevisser20091030.mp3″ width="500″ height="27″ css_class="codeart-google-mp3-player"]
WRAP UP & ANALYSIS
NEWS
PROPUBLICA.ORG COMMUNICATIONS


GARY GEVISSER AND WETHERLY CAPITAL
13,244 total views, 6 views today