You aren't nearly as attractive – Re: Number of intelligent people – Re: Out of sight out of mind Fwd: OVA-Re: From me
From: GaryStevenGevisser <garystevengevisser>
Subject: You aren't nearly as attractive – Re: Number of intelligent people – Re: Out of sight out of mind Fwd: OVA-Re: From me
Date: September 30, 2013 11:04:06 AM PDT
To: geoffreyrothwell
Cc: rest; "United Sec. of State John Kerry ℅ Jeffrey R. Krinsk Esq." <jrk@classactionlaw.com>, "beverly.stracey@lloyds.com" <beverly.stracey@lloyds.com>, Alexey Shumeyko <alexey.shumeyko@gmail.com>, Cara <brainwaves@sfr.fr>, "kathleendwalter@gmail.com" <kathleendwalter@gmail.com>, K Leavitt <kjleavitt@yahoo.com>, Alexander Walter <alexanderson30th@me.com>, Alexanders On 30th <admin@wigihosting.com>, "Devin Standard – eldest son of former President of New York State Bar Kenneth Standard." <devinstandard@yahoo.com>, Darren Krok <krokdg@aol.com>, "Michael \"TORDU\" Awerbuch" <michael@asasin.biz>, "david.altman@email.it" <david.altman@email.it>, "Alex Davis – female marketing friend of Michael The Thief Grant." <delotchdavis@gmail.com>, charles ivie <charles.ivie8@gmail.com>, "Michael \"The Big Lie Thief\" Grant" <mageph520@yahoo.com>, Pal Marsden <roverelectric@gmail.com>, "sternshow@howardstern.com" <sternshow@howardstern.com>, author and founder Dream Change Change John Perkins – former CIA Economic Hit Man <info@dreamchange.org>, "Patrick K. Tillman Sr. Esq. – father of American Football athlete Pat Tillman who was killed by friendly fire in Afghanistan." <pat@pktlawoffice.com>, "Patrick. J. Fitzgerald – US Attorney – prosecuted Presidential Pardoned Marc Rich's attorney, Scooter Libby." <patrick.j.fitzgerald@usdoj.gov>, Sandie Lampe – Celebrity TV Dog Show Host – San Diego <slampe1@san.rr.com>, "Sunday@cbsnews.com" <Sunday@cbsnews.com>, "thaipoliticalprisoners@gmail.com" <thaipoliticalprisoners@gmail.com>, "Gilbert Takam – brother of magnificent heavyweight World Boxing Federation Champion Carlos Takam who defeated The Thief Michael Grant in Paris back on May 24, 2013" <gimacellin@yahoo.fr>, Embassy of Sweden – Washington DC <ambassaden.washington@foreign.ministry.se>, "warfieldfineart@yahoo.com" <warfieldfineart@yahoo.com>, Chief Rabbi of South Africa Goldstein <office@chiefrabbi.co.za>, Thulani Xulu <x_thulani@yahoo.com>, "Newell \"The Big Lie\" Starks – Citicorp Venture Corporation officer." <newell@nstarks.com>, Ann Neumeister <annneumeister@yahoo.com>, Marcia Kramer – CBS TV New York City <mgkramer@cbs2ny.com>, "khunt@kusi.com" <khunt@kusi.com>, "flexyourbodycoleen@yahoo.com" <flexyourbodycoleen@yahoo.com>, "livingontheveg@live.com" <livingontheveg@live.com>, "EDITOR@SHANGHAIDAILY.COM" <EDITOR@SHANGHAIDAILY.COM>, "elainedaviesoshry@hotmail.com" <elainedaviesoshry@hotmail.com>, Emmanuel Ofosu Yeboah <emmanuel.o.yeboah.5@facebook.com>, "economic@sanfrancisco.mfa.gov.il" <economic@sanfrancisco.mfa.gov.il>, "cambridge@picturehouses.co.uk" <cambridge@picturehouses.co.uk>, "Cliff and Ronlynne Benn – Durban South Africa." <cbenn@mweb.co.za>, "South African Professor of Economics Mark Darrock – \"De Beers bring order to the diamond marketplace that would otherwise be chaotic\" [July 1, 2006 – China]. [July 1″ <Darrockm@ukzn.ac.za>, "DrLauraFamily@drlaura.com" <DrLauraFamily@drlaura.com>, "Mark Gevisser – celebrated investigative journalist and author son of the David Gevisser [1926-2009] the male heir of American-German mineral monopolist Charles W. Engelhard Jr. [1917-1971] whose 2006 autobiography THE UNLIKELY FORESTER mentions the torture-murder of D. Gevisser's first cousin's daughter, ANC military wing member Sandy Jacobson whose brother Steve Jacobson is a Facebook friend of Mark Gevisser who while publishing the biography of US-De Beers-Engelhard Minerals & Chemicals Corporation black puppet Thabo Mbeki, The Dream Deferred in 2007, has yet to comment publicly on either whether or not he and/or his father David snitched on members of the ANC's military wing that contributed to the torture-death of Sandy or the clear message murder of his close relation Sandy Jacobson whose murderers would have known that David Gevisser supported the Armed Struggle of the African National Congress in its fight, not against the United States of America's sponsored South African Apartheid Regime, but against the true Freedom Fighters of South Africa who were easily hunted down on their way to the Apartheid Regime's ANC-CIA terrorist training camps. Nor has Mark Gevisser explained to the world why Mark, his 3 younger brothers and mother Hedda and all those who curry favor with them are so quiet about David Gevisser being the male heir of Engelhard Jr. – Chapter 18 THE AMERICAN CONSPIRACY of Edward Jay Epstein's The Diamond Invention book – who along with his German-South African partners, the Sir Ernest Oppenheimer, Harry and Nick O. clan were the greatest beneficiaries of The WW II Holocaust and the 3rd Reich's Southern Division-The National Party which quickly took root in South Africa, none of which was lost on the long memory Mossad who assassinated Engelhard Jr on March 2 1971 and having him leave an extraordinary paper trail starting right before when he named David Gevisser Chief Executive Officer of Engelhard Enterprises South Africa in 1970 which is the year prior to Engelhard's death which David Gevisser gets twice wrong in THE UNLIKELY FORESTER. Engelhard Jr. was buried not in a Jewish cemetery because racist and anti-Semite Engelhard Jr. was never Jewish and was buried at Roman Catholic St. Mary's Abbey Church Morristown New Jersey" <mark@markgevisser.com>, "Diana Henriques – journalist New York Times – Big Jury Award in Injury Case Over Keyboards – December 10, 1996" <dbhenriques@aol.com>, Jonathan Beare – founder Investec <jbeare@iafrica.com>, "Colin Cowie – Celebrity Caterer – former longtime lover of South African Jonathan Beare. Jonathan Beare." <PR@colincowie.com>, Samantha Ash <samantha.ash.589@facebook.com>, Sam Hackner – Chief Executive Officer – Investec South Africa <iamrecruit@investecmail.com>, "derrick.beare@zenprop.co.uk" <derrick.beare@zenprop.co.uk>, "Rabbi Caspers C. Funnye – close cousin of First Lady Michelle Obama." <ravfunnye@sbcglobal.net>, Roy Essakow – Marc Rich Lieutenant <ressakow@email.msn.com>, "The coupon clipper is the Jeffrey Jack The Ripper Essakow – co-owner of the Marc Rich and Co. Flower Hill Mall Solana Beach, California" <jessakow@proteaproperties.com>, "thetonightshow@nbc.com" <thetonightshow@nbc.com>, "Roger W. Robinson – protege of David Rockefeller and former Chairman of U. S. -China Economic and Security Review Commission" <rwrincorp@aol.com>, "King Golden Jr. Esq. – former in-house General Counsel of Sc" <Kingdelmar@aol.com>, "Matthew Margo – Senior attorney CBS – 60 Minutes." <matthewmargo@aol.com>, 60 Minutes <60M@cbsnews.com>, "lynnebentel@verizon.net" <lynnebentel@verizon.net>, Vice President Dan Quayle <danqal8y@aol.com>, "Rock legend Cyndi Lauper – referenced in VP Dan Quayle's response to Major Sam Samples on December 9, 2011" <cl.dreams@yahoo.com>, "vicshayne@yahoo.com" <vicshayne@yahoo.com>, Mary Valder – Personal assistant David Rockefeller <trilateral.valder@verizon.net>, "mary.campbell@wsj.com" <mary.campbell@wsj.com>, "Office for the Israeli Department of Defense Attache Israeli Embassy, Washington DC." <att-sec2@israelemb.org>, "friling@bgu.ac.il Negev Desert" <friling@bgu.ac.il>, "Glenn Greenwald – Guardian reporter who released the Snowden documents." <glenn.greenwald@guardian.co.uk>, Israel Professor Amiram Goldblum – Hebrew University <amiram@vms.huji.ac.il>, "Andile Madikizela – First cousin of Winnie Mandela and close confidant of Nelson Mandela who acknowledged in private meetings with Andile of his knowledge that the CIA turned him in to the South African Apartheid Regime during the Kennedy Administration. Andile first contacted me because he was curious about multi-billioinaire Jonathan Beare who hung out in gay bars in Johannesburg; and no one seemed to know much about him. It was my email postings on The Internet which first caught his eye, and Andile was impressed that I did not fear J. Beare." <mad11a@yahoo.com>, "Hlumelo Biko – son of Steve Biko, now running a Wall Street charity-investment portfolio. 11" <ali.ayala@endeavor.org>, "Jann Turner – daughter of Richard Turner murdered in Durban, South African on January 8, 1978, 119 days after his co-founder of The Durban Movement, Steve Biko was tortured to death, beginning on September 11, 1977. 8" <jann@jannturner.com>, Keisha Whitaker – wife of Forest Whitaker <kbabies1@aol.com>, "nitzadrew@yahoo.com" <nitzadrew@yahoo.com>, "adamtucker619@gmail.com Adam Lee Tucker" <adamtucker619@gmail.com>, Adam Hochschild – author of Blood & Treasures – founder of Mother Jones <adamhochschild@earthlink.net>, "Jeffrey D. Sachs – Columbia University – author END OF POVERTY." <sachs@columbia.edu>, jeff hubbard <jhubbster@gmail.com>, Jeffrey Fall <jeffreyefall@gmail.com>, Thomas Gustinis <bmtgroup@hotmail.com>, Laura Malter – ex CIA <lauramalter@yahoo.com>, Catherine Robson <lrobson1972@yahoo.com>, LaVern Whitt – Agent of Asher Gevisser ℅ Whitt's agent Neil Bragg of Don Buchwald & Associates Associates <info@buchwald.com>, Neil Gevisser <neil@rhymedisease.com>, Noam Chomsky – I AM movie <chomsky@MIT.EDU>, Alan Dershowitz – Harvard Law School <dersh@law.harvard.edu>, US Marine – Corporal Kevin Gipe <kevingipe@yahoo.com>, Matthew Hoh – former US Captain who resigned from US State Department <ggreenwald@salon.com>, Bool Smuts <bool.smuts@facebook.com>, NANCY SPIELBERG <nancyspielberg@gmail.com>
Gr,
Breath deep.
You know that when people in denial say that they have a short attention span, such as Alexy Shumeyko writing me, "Gary its a long mail", it is true, because relatively speaking they suffer more than me from their brainwaves short-circuiting for which there is no cure, the result of the impossible to perform task of keeping track of their lies indefinitely.
They also know that I don't need you vouching for my credibility to know that I know what I am talking about, especially when it comes to the all important subject of nuclear energy and why it is one would expect someone such as yourself who is in my humble but seasoned opinion the most important American living in Europe, and of course you know that I have more going for me than being "tenacious" given my knowledge of why it is that no student of economics has even bothered to ask why there is such an extraordinary gap in the study of economics that should be devoted to the military factor, which is of course the most important factor because, economics is 100% military.
In other words, for our less common sense listeners, you and all the important personal friends of yours also intimately involved in the setting of nuclear policy along the cumbersome red tape rules and regulations, know they are all incapable of mounting a credible argument in opposition to the irrefutable facts that I present.
If the President of the United States of America is unaware that you and I are talking then it only means he is increasingly removed from the day to day affairs of the President of the United States which is to protect at all cost the United States Dollar, the same with the United States Congress, the Judiciary including the Department of Justice and United States Supreme Court and the 4th Branch of Government, the media that is proving itself as equally systemically corrupt.
Were the entire world to call me a "nut" it still wouldn't change my opinion that each of them may not yet know exactly how stupid they are.
Can't you wait for their most outspoken spokesperson, South African-American Michael Tordu-Coward-Bitch Awerbuch to announce his next Press Release?
As you know your response below is materially important as those copied, no matter their level of intelligence, even if it is only average, will know that we have been discussing subjects of the highest importance to all those who profit from war as well as those who are victims of war; in other words, there is common ground for everyone when it comes to war but again, not everyone shares equally in the graft-spoils of war because of the heavy dose brainwashing executed most methodically by the top profiteers of war who make it their business to keep their names out of the limelight which they help accomplish by throwing their names or insinuations in the movies like the 2006 Blood Diamonds and all the more recent movies-documentaries discussing the rule of tyranny in mineral rich Africa; and all well capsulated in the September 5, 2006 photo of Putin "paying his respects" to the Number One Captain of Industry, Nick Oppenheimer of De Beers.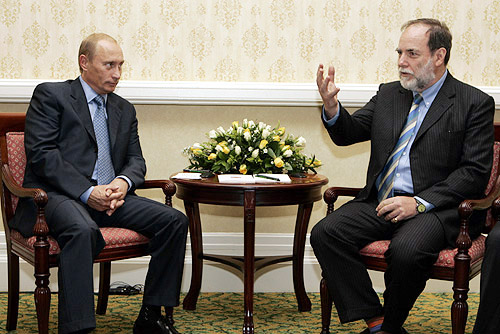 What I have yet to explain is Putin's decision 759 days later, October 3, 2008, to have the Kremlin release the photo because his ego wanted the world to know that he was ready to give Oppenheimer a backhander because Putin didn't believe a word coming out of the mouth of the world's number one military profiteer who forced that meeting.
We know your ESP is good; what do you think Oppenheimer hoped to accomplish when forcing Putin to such a meeting that was obviously attended by others who were not quite as important as Killer Putin, the person to go to when it comes to instilling fear amongst a nation's people?
Everyone knows that I don't need any of the print publishers of The Diamond Invention book to publish my book because I can do that on my own, which I am proving beyond a shadow of a doubt.
I also have not the slightest fear because I fully understand the "chain of command" when comes to the President of a country instructing an assassination unit who are far more wired than at any time in history and there are few, because there are no high level government employees who trust their leadership to do more than what they are told to say and do; and second, I have the utmost faith in a most Divine Authority because it is the knowledge that I have which is based on empirical evidence which is not diminished by all the corrupt who cannot possibly have any believe in an Omnipotent Force which is having so much fun with it's only regressing species.
When looking in the carbon copy section of what I sent you last evening at France time 11:08 PM, the one name a keen observer would notice was missing is that of my old colleague, shareholder class action litigator [SCAL] Jeffrey R. Krinsk of the law firm Finkelstein & Krinsk who couldn't be bothered to have advised very stressed out restauranteur Kathleen Walker of presenting a positive out of a negative situation by suggesting to her son Alexander who is again like Kathleen and her best friend Karin in the cc section, that by giving his mother half of Alexander's it would have her that much more involved with Alexander's which in turn will attract that many more customers just like what she accomplished at her Old Venice restaurant that she started some 3 decades ago with the profits she made from her pizza parlor up in Los Angeles.
Mr. Krinsk knows that he is capable like anyone else in giving solid business advice without having to worry that his legal malpractice insurance premiums would rise and were that to happen he would also know that if stretched thin and that would mean he would require that his big charity entertainer wife Marcie Campbell Soup Krinsk tighten her belt in the number of gardeners she employs to keep their great party house just up the road from OV in perfect order party shape, one alternative would be to contact me and before contacting again De Beers' Lloyd's of London who fix the price of all insurance worldwide, I would call up Marcie and suggest she reorganize her several hundred shoe collection that is all color coded in 3 ring binders and with the excess that she no longer uses assuming for example she has become more flat footed over time and has outgrown the original sizing she would also be entitled to a charity tax deduction assuming that she has no reached the limits.
Breaching national security interests is increasingly in the eye of the beholder although it has always been exactly the same as it has always been, but during the reigns of past Kings and Queens it was just that much more obvious to the peasants who quickly became today's middle class thanks to advances in farming and factory technologies.
In other words, the human has got more stupid over time.
Your very best response, outside of our much more serious communications was your reply to my response to Russian Alexey Shumeyko where your email address was only included in the blind copy section that combined with the cc section represents a statistically valid sampling of the world's dumb literate population.
From: geoffreyrothwell

Subject: Re: Nice-Re: Out of sight out of mind Fwd: OVA-Re: From me

Date: September 29, 2013 11:33:54 AM PDT

To: Gg <garystevengevisser>

You are fucking lucky. I don't know how lucky she is. You aren't nearly as attractive. Please you have other positive attributes. I'd say number one is your tenacity. Why is she lucky to have you? What's luck got to do with it?

I am lucky to have found Genevieve. We've been on and off for 35 years. E.g., in 1996, I published an article on the differences between standardization in the nuclear power industries in the US and France. At the time she was a scientific librarian introducing scientists to this new fangled thing known as… the Internet. She was working with someone and entered a few key words, such as standardization, and found the article that had just been published. Talk about luck.

How did you two get together? And what does luck have to do with love?
10,328 total views, 3 views today