Zena R Gevisser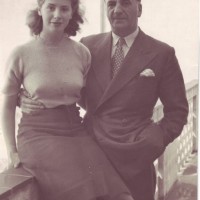 Born: May 30, 1929
Location: Blackpool, England
Father: Albert Bardash – Al Ash [December 5, 1899 – 1965]
Mother: Rachelle Pevy [c 1903 – April 23, 1972]
Religion: Jewish
Education:
Yiddish Kop: Grandmother Neche Badash – Member of Haganah

Immigration 1947: Durban, South Africa from England

Record, Side 1
[ca_audio url="http://www.2facetruth.com/zena01.mp3" width="500" height="27" css_class="codeart-google-mp3-player"]
Record, Side 2
[ca_audio url="http://www.2facetruth.com/zena02.mp3" width="500" height="27" css_class="codeart-google-mp3-player"]
Zena's Memoirs – first published via email on September 25, 2001 – SCROLL DOWN
Literally – "born to perform" Zena Gevisser was pulled out of her mother's womb in an emergency Caesarian – performed in the front bedroom of the family home in Blackpool, England.
Zena weighed a whopping 13 lbs and in no time was used as an advertisement – for Cow & Gate baby foods. Six years younger than her brother, who at the time she was born had moved on to boarding school, she always felt an 'only child'. Not that this caused her any concern. From two years of age she was performing in pantomime and being paid for services.
A leading film company wanted her in movies but her father would not agree always afraid strangers would take control of her young life. With virtually no friends of her age she mixed freely with adults. In the main with her paternal grandmother who was born in Poland had come as an orphan from Poland where her whole immediate family had been wiped out in a pogrom. This same grandmother had her playing whist at whist drives when she was eight. They won many prizes of food hampers and once a whole ten shilling! Wise beyond her years she listened to the problems of the world relayed in her presence and the solutions to many of these problems. Early she had learned to overcome her inborn shyness. Trained by manly her mother in the dance routines for the stage she in turn became a teacher of jive, jitterbug, and all the ballroom dances of the day, particularly to boys who sought her help. Her ever tolerant mother never even commented when the living room carpet became frayed and more or less threadbare! Right through the years of the Second World War she danced and sang until one day, performing a Shirley Temple song (she had become known as "the Shirley Temple of the North of England") her voice broke in the middle of …"an old straw hat, a pair of overalls and a worn out pair of shoes…"
This traumatic event caused her to think seriously about her future and she decided to forgo the limelight of theatre and become a writer. It was 1943 and Zena was 14 years old. Winston Churchill's wife Clementine sent her a letter of thanks for collecting money to build a new Royal Oak battleship destroyed in the war. Slowly she was learning the art of Advertising and Publicity.
A finalist in a national beauty contest she was asked to join the well known model school of Lucy Clayton and at the same time trained with the film star Vivienne Leigh's mother as a Beautician.
Ever eager to learn new things she joined her parents in their wartime hobby – training in Swedish massage. With all this it was not surprising that she had no time for playing with dolls or to her childhood pursuits. The war was over and her dreams of being a foreign correspondent and dropping behind enemy lines in Europe came to an abrupt end. Life was a ball. Dancing Partying – Summer days at the poolside – Attending live theatre at least once a week and much more. Suddenly in 1947 it came, abruptly, to an end. Her father had decided to emigrate to South Africa!!! Landing in Durban the family went to stay at the Minora Hotel. As she went upstairs to leave her suitcase in her bedroom her mother walked into the lounge where a fashion show was being organized. Ever Zena's publicity agent, her mother, seeing the struggle that was going on – informed them that although her daughter was only 18 she had a lifetime experience in stage and mannequin work. By the time Zena came downstairs she had a job which turned into a lifetime of Endeavour. The success of that fashion show in aid of Israel brought her into the Durban public eye and stores and manufacturers clamored for Zena's assistance. In Smith Street, sharing rooms with a beautician, she started The Durban School of Mannequins – An Academy of Deportment. Later it became simply Durban Charm School.
Initially she advertised for girls to become models. However, she soon learned that a mere five percent of any who came to be interviewed would ever be good enough to be professional. The training brought new found confidence and self-esteem to all. Mainly her pupils were teenagers and adults.
Her favorite opening to the opposite sex was the joke about a religious man who went to heaven. At the Pearly Gates they asked him what his wish was seeing that he had been such a righteous man on earth. He thought about this and then said he would like to see his old teacher who had died some years before. They told him to sit around and wait. Eventually, he saw coming towards him in the distance his old teacher. He looked the same as he remembered him. Running to greet his long lost teacher he stopped in his tracks. The teacher was holding the hand of a young girl who was stark naked. "Oh" said the student "I see you have been rewarded for your good life on earth". The teacher replied "No, my son, she is not my reward – I am her punishment!".
Zena then would say to the audience of salesmen… "Are you my reward or am I your punishment" which would break the ice for as perhaps even to-day but certainly in the 1940s, 50's, 60's even 70's a woman lecturing men was not easily accepted.
Schools were opened in what was then Zambia, Northern and Southern Rhodesia, and the Belgian Congo, Swaziland, Windhoek, Pietermaritzburg, Cape Town, Johannesburg and many small towns often by former pupils who stayed on in Zena's classes to train as teachers. Her curriculum on the importance of being a woman and overcoming shyness as well as how to enter the field of public relations and advertising were taught as far afield as Germany, Switzerland and Hong Kong. It would be many years before Universities and Colleges taught degree courses in Journalism and Public Relations even worldwide never mind in Southern Africa.
Raising funds for charity became the order of the day with as many as 52 charities a year. Some for small events and others for national occasions. Her advice was sought by politicians and business executives for their wives and for themselves.
Eventually, Zena found herself lecturing to corporate lawyers and public figures in America and elsewhere overseas on the benefits of investment in South Africa. Wherever she went she was well received. The ignorance of academics and others in fields of power on the subject of South Africa astounded her. In the school holidays she would take her small children (all four eventually) on her overseas trips. Once landing in a capital city in Europe she was met in by a leading civil servant of that country. Handing over her blonde, blue-eyed daughter to this lady she was astounded to be told by her "it is amazing how white your child is with a black father!!" Recovering from shock I asked her what she meant and why did she think my husband was black? Her reply was that I had told her over the phone that I was married to a South African and she therefore assumed he must be black!
Within a week of her arrival in Durban not knowing what to do with herself as training models took up very little of time, initially, she took a job with a lawyer, Rowley Arenstein. His wife Jackie ran a communist newspaper The Daily Worker and Zena found herself involved in all kinds of politics as she typed out the different stories and eventually met Africans, Indians and Whites who were against the Apartheid Government. Ashwin Choudree introduced her to his Ghandi philosophy of non-violence and she became friendly with A.N.C. members and Indian organizations.
She was devastated when sisters had to attend different classes of her teachings because some could pass for "Whites" whilst others were labeled "Colored". This was all during her early years as a mother and when her children were born (all four before she was 29) she made up her mind that they must be trained to live outside of the country and sadly the land of their birth. Albert Luhzuli (his cousin worked for her), Chief Buthelezi, Alan Paton had a dramatic effect on her. Brought up in an anglicized rather than religious Jewish home she found comfort amongst the Zionist families of Durban. Janie and Maurice Gevisser [parents of David "$6 million man" Gevisser and father of author-journalist Mark Gevisser] Mary and Charles Lachman and dozens of other people opened their homes to her and it was a great learning process.
Eventually, Rabbi Avner Weiss arrived in Durban and taught her kashrut and the true meaning of Judaism. His lectures to the children of the community "The Rabbi From Out Of Space" were important lessons for her. From the earliest days of 1949 she visited Israel two and three times a year writing reports for different publications. Her paternal grandmother had been an early resident of Tel Aviv only returning to England when Zena was born. The Gevissers (she married Bernie Gevisser when she was 19 after only a few months in Durban) owned land in Haifa harbour and Zichron Yscov and she rapidly felt at home in Israel.
Reporting on the many wars when Israel was attacked she was the first civilian in the captured area of the Sinai and in later years at her own expense twinned Durban with Eilat. In 1978 she left Durban eventually making her home in Netanya [Israel] and England.
Much of her work carried on in various places and although she gave up lecturing she continued with her writings to this day. Her second husband, Alan Zulman well-known in the clothing industry having started in the early 50's – with a partner – a company which became South African Clothing Industries – collaborated in an Anthology that published recently entitled "The Winking Cat". The first story of the title of the book which is about Ancient Energy offers Zena's philosophy which will overcome all of Life's problems. "Keep Smiling".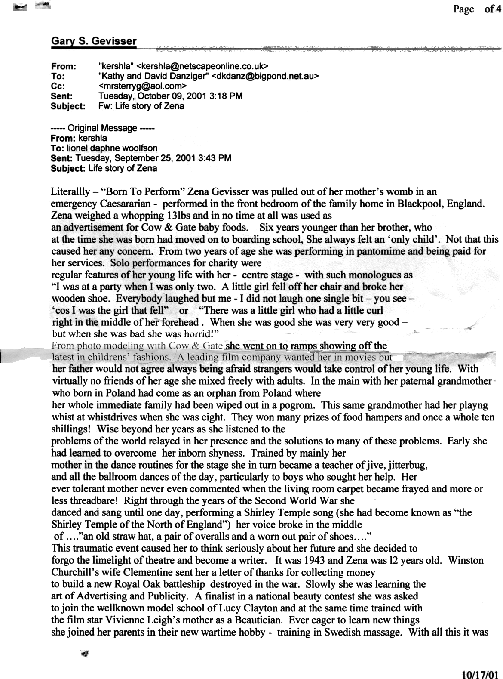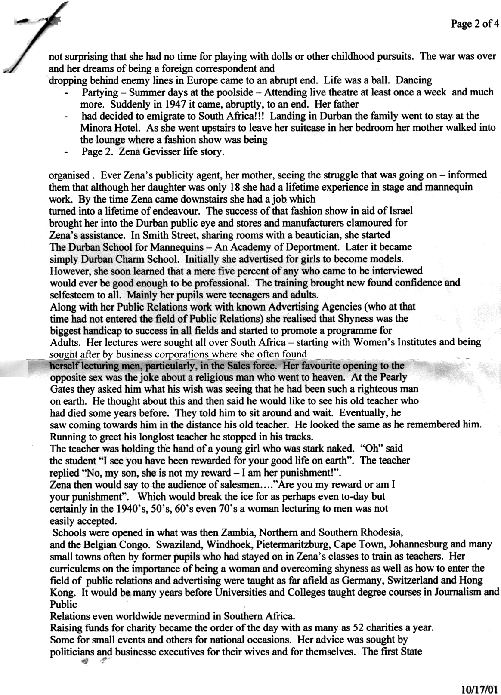 7,841 total views, 3 views today